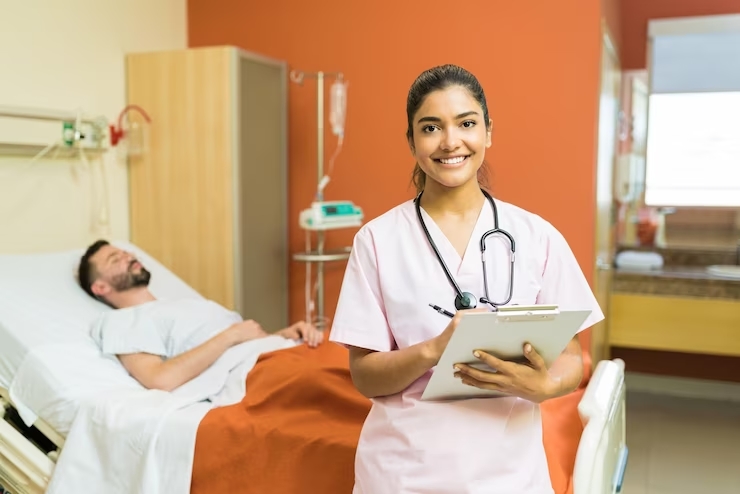 Posted on 22nd June, 2023
Accelerate Your Nursing Career with a Graduate Certificate in Advanced Nursing
By 2026, the demand for registered nurses is expected to expand by 13.9%, and there is a significant need for nurses to fill top positions in the healthcare sector. IHM's Graduate Certificate in Advanced Nursing course will assist you in fulfilling this demand, which will enable you to take the initiative in promoting positive patient outcomes in various roles. Read the blog to know how.
Why should you register for Graduate Certificate in Advanced Nursing in IHM Australia?
By taking up admission in IHM Australia you will gain the opportunity to study in one of Australia's most prestigious and highly ranked nursing school in the world. You will get to learn from highly competent and experienced faculty members. The course content is guided by the institution's cutting-edge research that is acknowledged as being on par with international standards. Your exploration of current and emerging trends, concepts, knowledge, and evidence that provide the policy and practice framework for patient care will be guided by nursing specialists thanks to our extensive network in the healthcare sector.
Get yourself ready to take on a senior role in the ever-expanding nursing sector!
Studying for the Graduate Certificate in Advanced Nursing can help you develop your clinical expertise and get ready for a senior nursing position. This course's flexible design, which takes into account modern trends, enables you to get a broader understanding of advanced nursing practice without limiting your attention to a single speciality.
Graduate Certificate in Advanced Nursing consists of twelve specialist postgraduate programs that helps you in enhancing your knowledge, competency and specialty nursing skills.
These are:
Every student gaining admission into this course will be begin with one single unit and progress to speciality units.
The students have the flexibility to complete one unit per semester
.
Students have the option to finish the course in one year by accomplishing one unit per term or complete it fulltime in a six month period.
You will learn to critically evaluate the clinical frameworks that governs patient safety and risk management, which will help you implement safe healthcare standards in your workplace more effectively. You have the freedom to customise your electives to meet your objectives that will help you in taking up the roles of management, education or research.
To increase the standard of nursing care and patient outcomes, you will be challenged to become a leader in evidence-based practice.
Graduate Certificate in Advanced Nursing is an innovative flexible program that offers a dynamic, engaging, and empowering learning environment that will promote critical thinking, problem-solving, and cooperation abilities. Without sacrificing quality or assistance, you may study flexibly around your work and other responsibilities thanks to IHM's top-rated tech support and access to our knowledgeable teaching staff.
With a course that responds to industry changes and demands equips graduates to address the modern issues that nurses may encounter in their professional life. Additionally, you will discover how to influence good change in the nursing industry.
What kind of roles can you take up on completion of GCAN?
You can take on different roles in a variety of settings on completion of GCAN, i/pncluding in the following settings:
Mental health
Operating rooms
Primary health care
Rehabilitation
Medical and surgical wards
Why should you take this course?
This course is open to Registered Nurses who have earned a Bachelor's degree or its equivalent.
This course is for you if you're serious about honing your nursing skills. The programme is designed to suit the needs of nurses who work in a variety of settings, with different working schedules, and who are engaged in work or family responsibilities.
International nurses who are currently practicing in any country are qualified to enrol in this online program. This is the perfect opportunity to finish your nursing registration with Graduate Certificate in Advanced Nursing – Australian Nursing Practice programme from IHM.
What are the entry requirements for this program?
English requirements, IELTS level of at least 6.5 with no band less than 6, or equivalent scores in OET/PTE/other recognised English examination
You should possess a Bachelor of Nursing degree or an equivalent qualification.
Conclusion
The Institute of Health & Management, Australia (IHM) is on a mission to ensure that nurses are ready to face the challenges and demands they face on the job, by providing them with access to quality education, advocacy, research and leadership opportunities that will make them highly skilled in their profession and provide patients with advanced health care delivery.
Even as more and more nurses are turning to graduate certificates to hone and develop their nursing skills, the Graduate Certificate in Advanced Nursing program gives them the flexibility to advance their career in a way that that works for them. Contact us at IHM if you are interested in registering for this program.
FAQ's
Critical care nurses typically have the following qualifications:
A Graduate Certificate in Advanced Nursing can accelerate your career in several ways.
You will gain specialised knowledge and skills in a specific area of nursing, such as acute care, gerontology, or psychiatric nursing.
It will make you more competitive in the job market and open up opportunities for higher-level positions or specialised roles within your current organisation.
Employers often value advanced certifications as a demonstration of commitment to professional development and continuous learning, which can increase your chances of career advancement.
It can also serve as a steppingstone towards pursuing a master's degree or other advanced degrees in nursing.
In addition to their qualifications, critical care nurses often have experience working in general nursing before transitioning to critical care, allowing them to gain a solid foundation in patient care and nursing skills.
Pursuing a Graduate Certificate in Advanced Nursing offers several benefits.
It allows you to gain specialised knowledge and skills in a focused area of nursing practice. This expertise can make you a valuable asset in the healthcare industry, increasing your career prospects and potential earnings.
It demonstrates your commitment to professional growth and lifelong learning, which can enhance your professional reputation and open up new opportunities for advancement.
You will get networking opportunities with faculty, fellow students, and professionals in your field, allowing you to establish valuable connections and access resources that can support your career development.
The knowledge and skills acquired can contribute to improved patient care and outcomes, making a positive impact on the lives of those you serve.
The duration to complete a Graduate Certificate in Advanced Nursing is 26 weeks.
This course is for registered nurses with a bachelor's degree or comparable qualification and who are currently in practice.
Have Questions For Us?
We will answer everything.