Course Duration: 6 weeks, 3 sessions/week, 3 hours/session
Delivery Mode: Online
You must:
Hold a university medical degree (MBBS or equivalent) obtained after a minimum of four and half years of full-time academic study at a medical university recognised by the AMC
Have completed the compulsory rotatory internship in basic medical disciplines after attaining the medical degree
Have held full and unrestricted registration/licensure in their home country or country of training, and there has been no withdrawal of registration
The following is desirable, though not mandatory:
Work experience as an independently practising doctor in any hospital or with other groups of doctors with a minimum of 6 weeks within the last one year or one year within the last 3 years.
Once you successfully complete the MCAP-AMC, you'll be well equipped to ace the Australian Medical Council (AMC) Written Examination – Part 1. Through the program, you will learn all about the Australian healthcare system, and the current standards of practice.
To be prepared for your career in Australia, make sure you review information about immigration, registration, and employment. You may also need to apply for a visa issued by the Australian Department of Home Affairs. Learn more about immigration and employment in Australia.
Graduates applying for a skilled visa in Australia require a certain minimum number of points. Check your current points, and call our admissions team to discuss any questions.
To get registered, as an IMG (International Medical Graduate) you must follow these steps: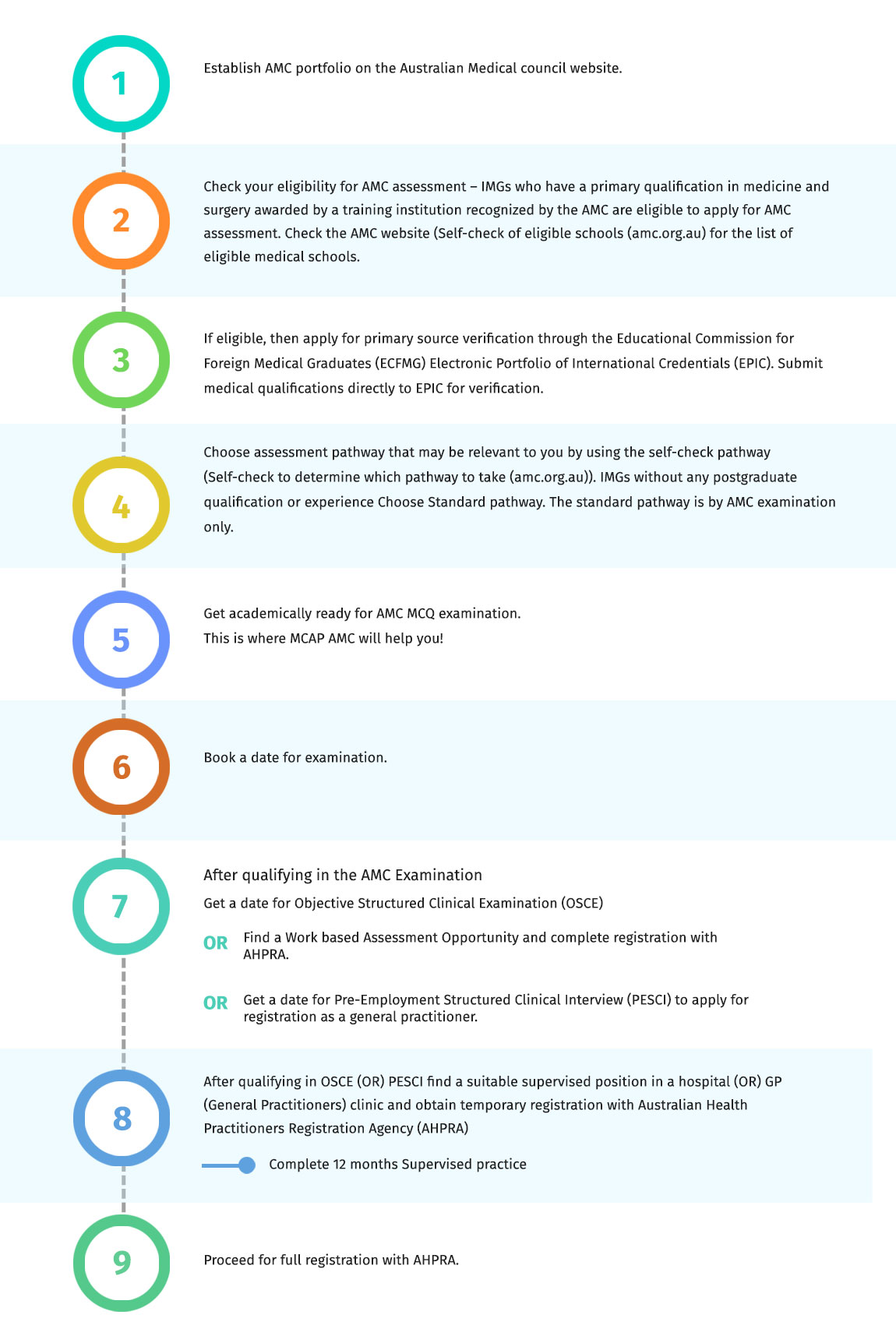 Learning Resources
You will be able to access learning resources through Canvas, the IHM Learning Management system.
The learning resources include:
AMC recommended books including the handbook and John Murtagh's general practice, Subject-wise books, journals, guidelines and the eTherapeutic Guidelines
Solved month-wise recalls with explanation and references
Handbook cases by the Educator along with the course
Special sessions for ECG, radiology and recalls along with theory sessions
| | |
| --- | --- |
| Tuition Fee: | AUD $1,200.00 |
Pay upfront and Save 10%.
Applicable for International (1 year fee) and full-fee students. Not applicable for funding students.
Attention Students!
We would like to inform you about a recent surge in cyber scams. Your security is of utmost importance to us, and we want to ensure that you stay safe from potential threats.
Scammers have been employing sophisticated tactics to deceive individuals and steal sensitive information. It's essential to be vigilant and cautious when dealing with online communications and transactions.
For IHM's students, it's good to know that IHM's bank account details are not shared through email. Instead, the information is accessible through the secure Student Hub under Student Invoice & Payment. This method ensures that only authorised users with secure login credentials can access and view the information.
Additionally, making payments through the IHM website provides another secure option for transactions, ensuring that personal and financial details are handled in a safe and protected environment.
For any questions or concerns related to payments or account details, students should reach out to IHM directly through official contact channels (ihmaccounts@ihm.edu.au) to ensure the highest level of security and privacy.
Application: Submit your online application by clicking "Enroll now" on the course page's upper right corner.
Enrollment Fee: After completing your application, you will be taken to the payment gateway, where you can make your payment immediately.
Confirmation of Admission: Once you've paid the enrolment fee, we'll give you a confirmation of admission along with the orientation package so you can get ready for classes.
Our partnerships are built through positive, transparent, and engaging collaboration, and we're grateful for the strong relationships we've built over the lifetime of IHM. These partnerships may vary in their nature but they all share the common fact that there's mutual benefit and a strong sense of purpose to move the healthcare industry forward.
We encourage Nursing institutions, Hospitals, Healthcare Organisations and nursing associations to submit their expression of interest to become our partners!
Our industry and clinical partners provide physical access to products that benefit the simulation experience for students at IHM. Other partners provide opportunities to develop clinical skills at their facilities, such as nursing homes and hospitals. We also provide opportunities to upskill staff with the latest course.