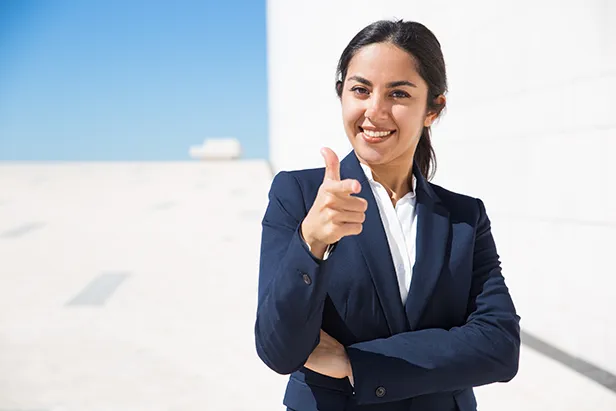 Growing Employment and Further Education Outcomes
for Registered Nurses
As a provider of career-focused education for the Nursing sector, IHM places great importance on developing the skills and capabilities of students. As Registered Nurses work is a skills-based profession, and simulations are an integral part of the program and provide a substantial opportunity for students and potential employers to assess employment opportunities and pathways for IHM students. These placement partners are an essential conduit for IHM to remain up to date about industry needs, labour market demand and the training and education requirements to increase the opportunity for successful career transitions for IHNA students.
IHM's nursing qualifications covers the application of skills and knowledge required to provide nursing care for people across the health sector. Registered nurses (RNs) work for hospitals, medical clinics, residential aged care facilities, and Disability support providers. They may also work for other organizations, such as outpatient facilities, rehabilitation centres, or senior centres. Their main job is to promote patient safety, wellness, and health in a healthcare setting. Other responsibilities are provided below.
Assessing, planning, implementing, and evaluating nursing care for patients according to accepted nursing practice and standards.
Working in consultation with other Health Professionals and members of health teams and coordinating the care of patients.
Providing interventions, treatments, and therapies such as medications, and monitoring responses to treatment and care plan.
Promoting health and assisting in preventing ill health by participating in health education and other health promotion activities.
Answering questions and providing information to patients and families about treatment and care; and
Supervising and coordinating the work of Enrolled Nurses and other health care workers.
Reference (Unit Registered Nurses – ANZSCO – Australian and New Zealand Standard Classification of Occupations, 2013, Version 1.2)
Education, training, and experience for Registered Nurses includes a bachelor's degree in nursing. Alternatively, some people who already have a university qualification, undertake a Master of Nursing (Graduate Entry) degree to obtain registration with AHPRA as a Registered Nurse.
Registration with the Nursing and Midwifery Board of Australia is required.
Registered Nurses –
Predicted gap between demand and supply of labour force
The below graph shows the results of the combined scenario and the constrained labour force demand scenario for the acute nursing sector. Using these two scenarios as the basis to examine the relationship between workforce supply and demand, it shows that within five years of the starting point, demand for the acute care nursing workforce exceeds supply, to reach a relatively small workforce gap of approximately 6,400 by 2030.
Comparison scenario, registered and enrolled nurses, acute sector, 2012 to 2030
(Reference: Nurses – Australia's Future Health Workforce reports, 2014)
The below graph shows the comparison scenario for nurses working in aged care. From 2014, demand begins to exceed supply, with the workforce gap extending across the projection period to be approximately 13,000 nurses in 2030 (a 26 per cent gap). The major contributing factors to this result are the ageing workforce and low entry numbers.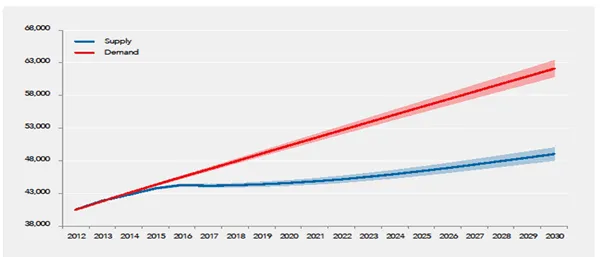 Comparison scenario registered and enrolled nurses, aged care sector, 2012 to 2030
(Reference: Nurses – Australia's Future Health Workforce reports, 2014)
However, it could be observed that the afore mentioned modelling studies done by Health Workforce in 2014 is no where near the expected employment projections for Registered Nurses, in accordance with the recent numbers released by Jobs and Skills Australia (JSA) reports. JSA produces employment projections to show where likely future job opportunities may be. The latest data are for the five years from November 2021 to November 2026. Over this period, the number of workers is expected to grow strongly and is likely to reach 331,200 by 2026. Please see the below graph on employment projections for Registered Nurses.
PayScale

for

Registered Nurses

–

Industry Average
An entry-level Registered Nurse (RN) with less than 1 year experience can expect to earn an average total compensation (includes tips, bonus, and overtime pay) of AU$30.86 based on 457 salaries. An early career Registered Nurse (RN) with 1-4 years of experience earns an average total compensation of AU$32.68 based on 2,615 salaries. A mid-career Registered Nurse (RN) with 5-9 years of experience earns an average total compensation of AU$38.64 based on 1,107 salaries. An experienced Registered Nurse (RN) with 10-19 years of experience earns an average total compensation of AU$40.04 based on 625 salaries. In their late career (20 years and higher), employees earn an average total compensation of AU$39.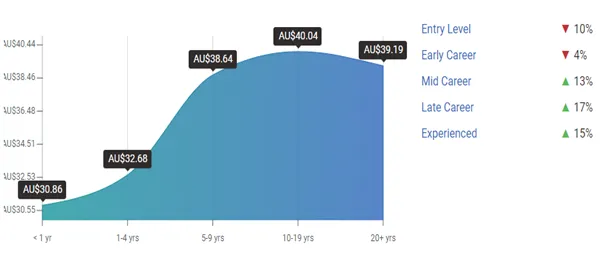 Pay by Experience Level for Registered Nurse (RN)s
(Reference: PayScale: Average Registered Nurse Base Salary Per annum)
Occupational Titles and Popular Career Paths (RN)s

for Registered Nurse

The occupational titles for Registered Nurses as per Australian Bureau of Statistics include:
254411 Nurse Practitioner
254412 Registered Nurse (Aged Care)
254413 Registered Nurse (Child and Family Health)
254414 Registered Nurse (Community Health)
254415 Registered Nurse (Critical Care and Emergency)
254416 Registered Nurse (Developmental Disability)
254417 Registered Nurse (Disability and Rehabilitation)
254418 Registered Nurse (Medical)
254421 Registered Nurse (Medical Practice)
254422 Registered Nurse (Mental Health)
254423 Registered Nurse (Perioperative)
254424 Registered Nurse (Surgical)
254425 Registered Nurse (Paediatrics)
254499 Registered Nurses nec
Reference: (Unit Registered Nurses – ANZSCO – Australian and New Zealand Standard Classification of Occupations, 2013, Version 1.2)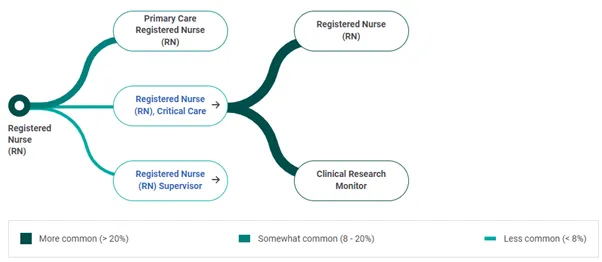 The above table provides information on the most common career paths for Registered Nurses. Thickness and colour of lines indicates popularity of movement from one job to the next.
(Reference: PayScale Report: Popular Career Paths for Registered Nurses)
Shape a Meaningful Career Growth in Social Work with Six Different Social Work Careers Paths
With a social work degree, you can accomplish a lot of things. The profession has a wide range of practice areas, therefore there are many prospects, and those opportunities are growing every day. In fact, social work is one of the industries in the US with the strongest growth rates, according to the Bureau of Labor Statistics.
A social work degree from a university recognised by the Council on Social Work Education (CSWE) is required if you wish work as a social worker. The Bachelor of Social Work (BSW) and Master of Social Work (MSW) are the two most popular social work degrees. A bachelor's-level social work program prepares you for entry-level career as social worker.
What can you do with a BSW degree?
The majority of BSW professionals are employed in client-facing positions in direct practice. Others are employed by social service organisations at various levels of administration and direct service.
Social workers with a BSW degree may also engage in advocacy work and grassroots community organising. Although you might work for mental health organisations, you cannot offer clinical services like diagnosing and treating mental health conditions or offer psychotherapy.
BSW-level professionals work in:
Case management
Child welfare
Aging services
Welfare services
Behavioural intervention services
Victim advocacy
Substance abuse
Public health
Prevention services.
What can you do with a MSW degree?
Social workers with an MSW degree may work for the same organisations as BSW practitioners, but they have more freedom and a wider range of responsibilities.
MSW-level social workers are employed in:
Mental health
School social work
Forensic social work
Military social work
Medical social work
Research
Social policy
Juvenile justice
Program administration
International social work
Since social workers are the main providers of mental health services in the country, many MSW social workers work in the field of mental health.
As a MSW practitioner, you should sit for an examination to become a Licensed Clinical Social Worker (LCSW) if you are interested in clinical social work. Although specifics differ between jurisdictions, this typically entails at least 3,000 hours of clinical supervision after receiving an MSW. Due to the shortage of mental health practitioners in many jurisdictions, clinical social work is a prominent and in-demand profession.
As society finds creative ways to address social issues and assist those in need in new ways, the field of social work is developing and increasing.
The following are a few exciting but
less well-known areas of work for MSWs

.
Military Social Work
With the challenges faced by active-duty service members, military families and veterans, military social workers play a significant role in ensuring access to the necessary support services. They address issues related to deployments, combat situations, military trauma and assist with transitions between official life and civilian life.
Oncology Social Work
The role of oncology workers is incredibly valuable as they provide emotional, social and psychological support services to individuals and families affected by cancer. They coordinate resources, navigate healthcare systems explain treatment options, connect people with monetary aid when needed. Additionally, they also help mitigate the impact of a cancer diagnosis through palliative care support for those nearing the end of their lives and provide bereavement assistance for grieving families.
Police Social Work
In years we have seen an emerging trend of collaboration between workers and police departments. These professionals offer onsite services for people in need during situations like violent incidents or mental health crises. They provide crisis counselling make health referrals as and when necessary while also employing de-escalation techniques.
Veterinary Social Work
The field of work brings together animal welfare with human support. Veterinary social workers assist owners in accessing services they may require while managing pet related grief effectively. Furthermore, they facilitate communication, between owners and veterinary teams to ensure proper care is provided for their companions.
They might also participate in therapy sessions involving animals handle crises and make sure that both people and their beloved pets are taken care of during periods.
Organ Transplant Social Work
Collaborating with organ transplant teams social workers specialising in transplants provide support throughout the transplantation journey. They offer support, psychosocial services, financial advice, patient education and help, with coordinating care.
Social workers who specialise in organ transplantation advocate for patients and assist in discharge planning and address concerns related to end of life and bereavement.
Forensic Social Work
In this field of work professionals engage with various aspects of the legal system. They provide services related to both civil litigation and criminal. This includes conducting assessments and offering expert opinions on matters like child custody, cases of abuse, mental health evaluations and mandated treatment. These individuals play a role in supporting those involved in proceedings at different levels.
As the field of social work continues to evolve, it opens up fascinating career paths. By pursuing a social work degree, you can make contributions to society, uplift diverse communities and positively impact lives. You have ample opportunities for specialisation in areas as mentioned above. Social work presents prospects for career growth and personal fulfillment.