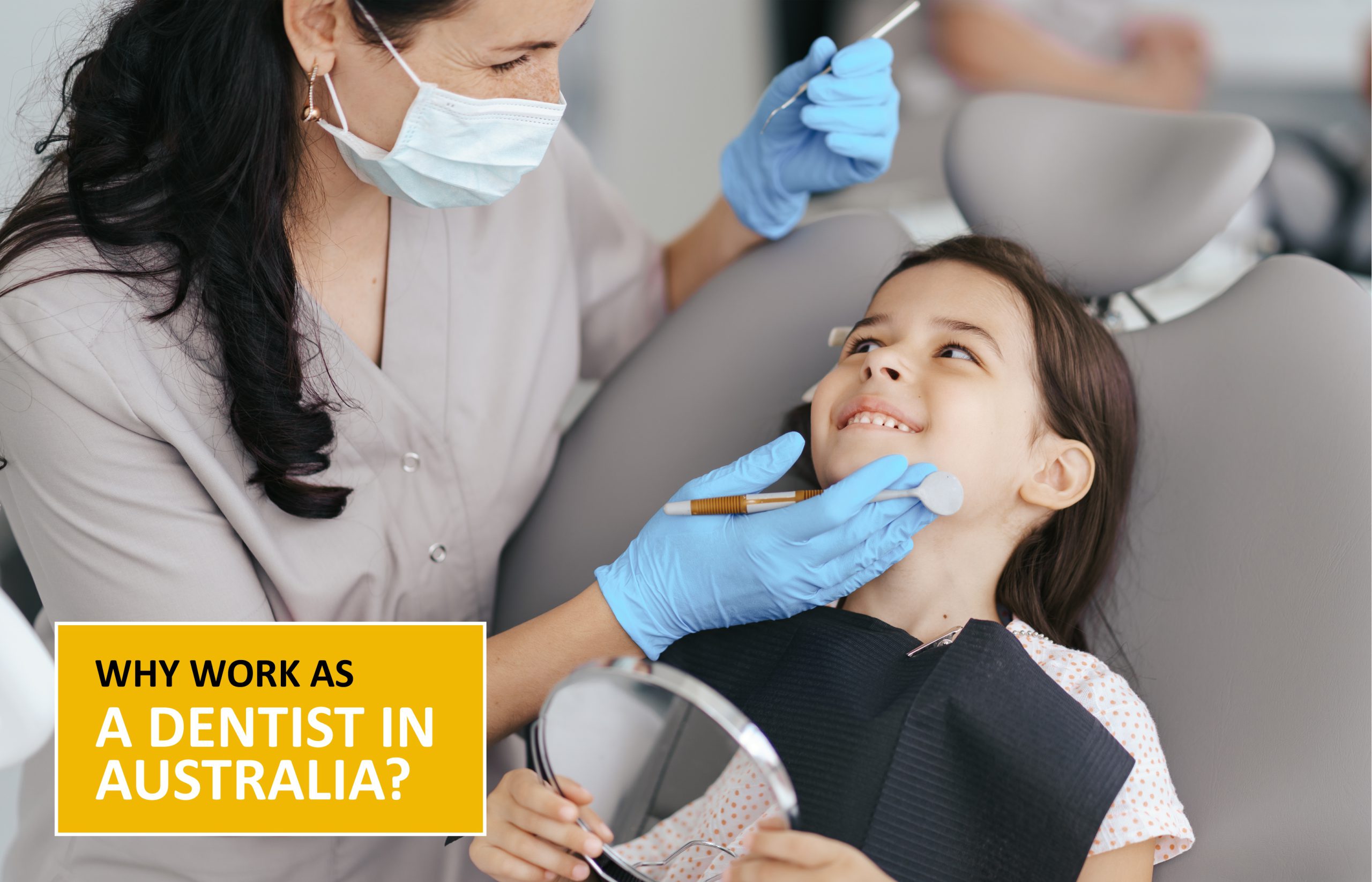 Posted on 16th September, 2022

8 Minutes read
Why work as a dentist in Australia?
Concerned about what career path to choose after graduating from high school?
If that is the case, do not worry! You are safe.
The discipline of dentistry offers a wide range of career options and a good salary for those who want to pursue it. There are various sub-branches of dentistry that focus on the head and neck area. If you have a cavity that must be filled or if your teeth are missing, you might consider having an implant done. There are as many justifications to be a dentist as there are practitioners of the profession. As a result, it is a rewarding and challenging vocation that offers the potential to assist individuals and improve the health of communities.
With population expansion, changes in health care legislation, and the impending retirement of a significant cohort of dentists trained in the 1960s and 1970s, the demand for new dentists is fast growing. Practicing dentist-to-population ratios vary widely but range from roughly 42 to 108 dentists per 100,000 people, according to the Australian Dental Association.
People are becoming dentists because they have the option to do so:
1. Restore their patients' dental health and positively alter their circumstances: Dentists have the pleasure, privilege, and delight of positively improving a patient's life by restoring oral health, and they may do this in as little as one visit by providing preventive care, executing dental restorative operations, removing pain, and correcting dentofacial aesthetics.
2. Become self-sufficient in their chosen fields: After completing dental school, dentists may immediately start their own practises. This provides a great deal of autonomy, making it easier for people to pursue their own professional and financial objectives.
3. Get paid well: The ADA Health Policy Institute 2018 Survey of Dental Practice discovered that the median operating earnings for a private, established general dentist in 2018 were $190,440, while the average net earnings for a dental specialist was $330,180. Both location and field of practise have an impact on annual earnings.
4. The job path you choose might vary widely: At any point in their careers, dentists may make use of the field's many clinical, research, and academic possibilities, although 80% of new graduates enter private practise in general dentistry.
5. Always be open to change: Dentists have a lot of leeway in terms of their work schedules and general quality of life since they may pursue a variety of various career paths and practise models.
Despite the misconception that the dentist works alone, dentistry is a very collaborative field. The dentist finds a great deal of professional fulfilment in his or her position as a key member of a team, whether it be the dental team with a dental specialist, consultant, or laboratory technician, collaborating with the patient to restore and maintain oral health, or the dentist's involvement with an interdisciplinary team, functioning with some other health specialists to enhance overall health.
FAQ's
Overseas-trained dentists who lack a certification allowing them to register as general dentists in Australia can complete an Australian qualification recognised by the Dental Board of Australia or go through the examination process with the Australian Dental Council .
A career in dentistry has the potential to change people's lives. The high entry barrier is a major roadblock for many. Admission to university courses requires complete dedication, and competition is fierce.
Have Questions For Us?
We will answer everything.
Get in Touch
We are here
to help you!
Get an answer on courses, costs, careers as well as facilities, entry requirements or just about anything else relating to studying at IHM.
We are here to help you!