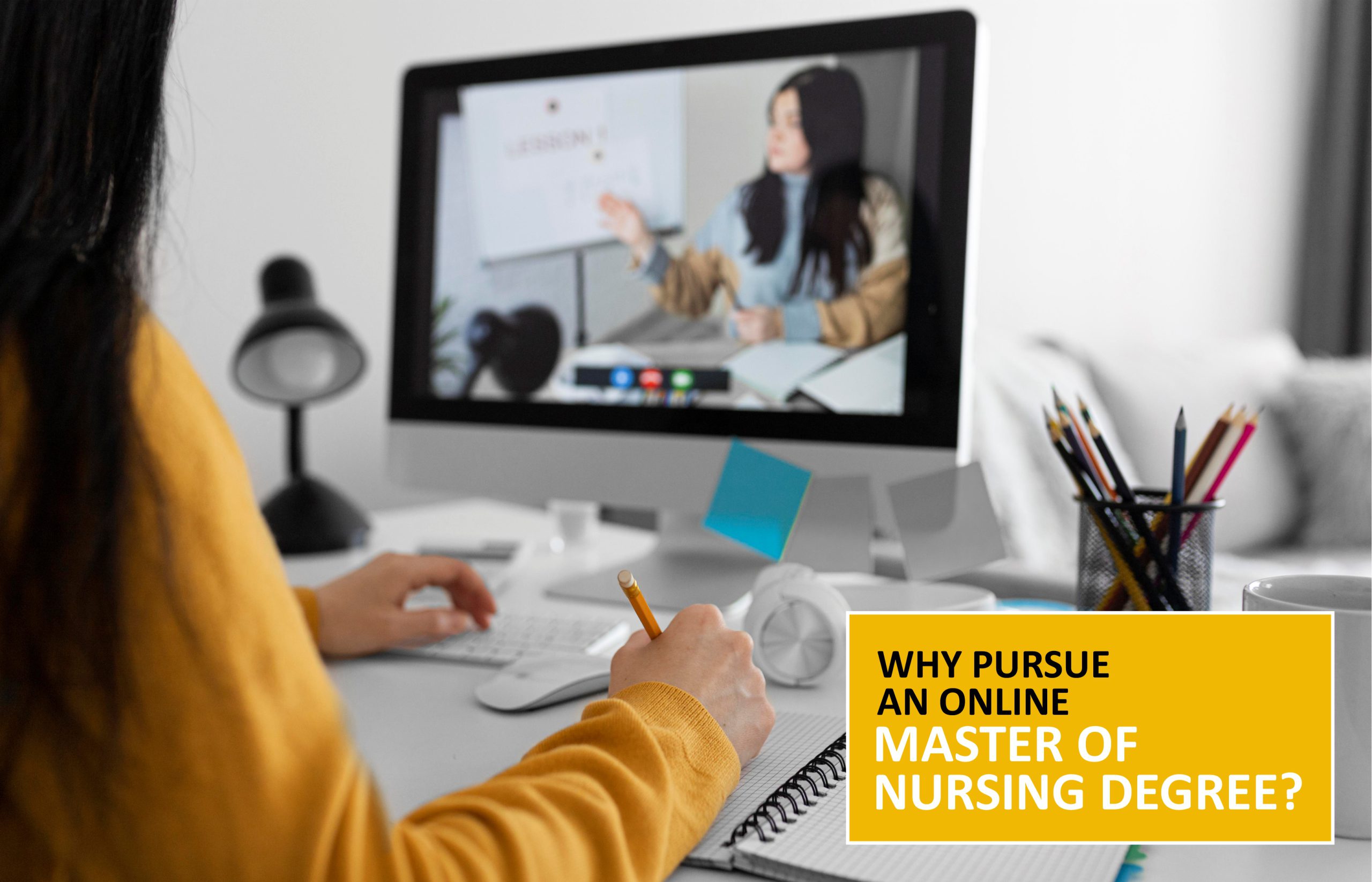 Posted on 16th September, 2022

6 Minutes read
Why Pursue an Online Master of Nursing Degree?
You undoubtedly have a hectic enough job as a nurse. It can seem like too much work to add a master's programme in nursing to your already hectic schedule, but it's worth it to upgrade your expertise for leadership roles. Working a full-time job while also attending college can be a significant time commitment. Thankfully, the increasing popularity of online nursing master's programmes has made it more accessible than ever before to pursue your education.
If you want to move up in your career, here are some of the best reasons to get your Master of Nursing online:
1. Become a nurse practitioner: Many registered nurses choose to earn a master's degree as a continuation of their education because it is necessary for advanced practise nursing licensure, which opens up opportunities for higher-paying positions with more responsibilities.
2. Can enter into the academic sector-Having a master's degree in nursing not only enhances your nursing abilities, but it also enables you to mentor healthcare workers. In addition to the great need for nurse educators, you can choose to move forward and pursue a Ph.D. to work in the academic world. 
3. Gain more skills: Getting a master's degree can help you advance professionally. You can learn skills that you didn't have time to learn when you were in college.
4. Potential for leadership roles: Many Master of Nursing graduates find themselves with competitive job prospects for administrative or managerial positions in nursing as a result of their higher education level. Some colleges also offer a master's in nursing with a focus on leadership.
5. Improve your hours of work: Twelve-hour shifts are frequently required of registered nurses, which can be challenging for anyone. Professionals in nursing with master's degrees may find employment in managerial or other professions that may require lesser than twelve-hour shifts.
6. Respect in the workspace: Your coworkers and other healthcare professionals may turn to you for assistance or direction in certain risky medical circumstances if you have master's-level knowledge and experience.
Probable Job Roles after a Master's Degree
Nurse Manager
Nursing Director
Nurse Educator-in academia or professional development
Case Management
Care Coordinator
School Nurses
Forensic Nurse Examiner
Prenatal Care Coordinator
Now is the time to take the next step toward a master's in nursing.
It takes a lot of work to earn an advanced nursing degree. However, if you're prepared, the factors listed above can be the last push you need to make the decision. To learn how to take the next significant step in your nursing profession, get in touch with us or visit our website right away.
FAQ's
The goal of the Master of Science in Nursing curriculum is to equip nurses with the advanced knowledge and abilities required to perform in a wider range of roles. The curriculum equips nurses with knowledge of clinical leadership and nursing education.
The primary distinction is that an MSN RN can do both bedside patient care and leadership, management, and educational duties, whereas a BSN RN focuses more on direct patient care.
According to a CNN survey, 83% of hiring managers think that degrees in nursing earned online are legitimate and may be used to satisfy employment requirements just like a traditional degree would.
Have Questions For Us?
We will answer everything.
Get in Touch
We are here
to help you!
Get an answer on courses, costs, careers as well as facilities, entry requirements or just about anything else relating to studying at IHM.
We are here to help you!