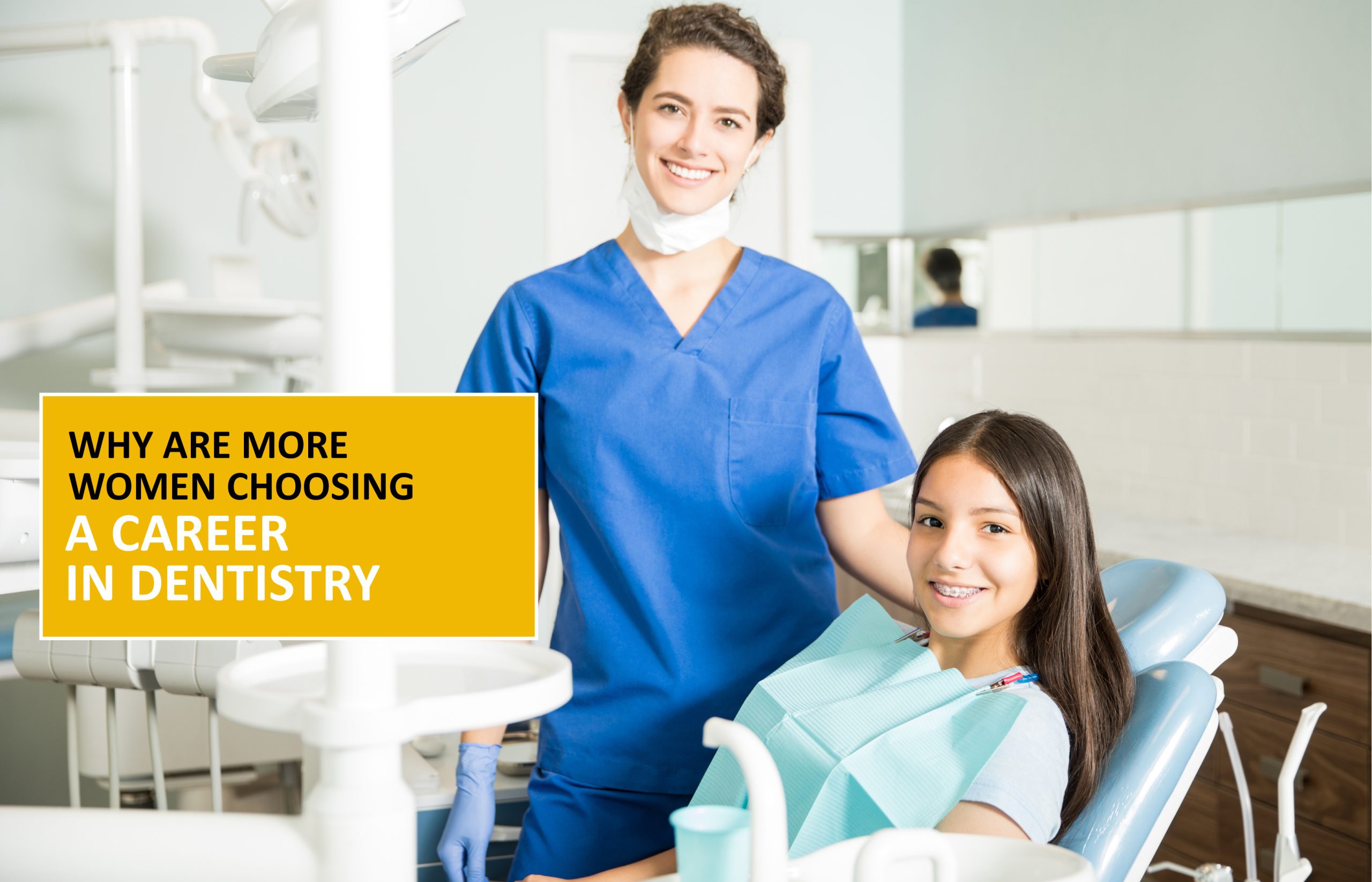 Posted on 17th September, 2022

6 Minutes read
Why Are More Women Choosing a Career in Dentistry?
There is no specific time to highlight the accomplishments of women, particularly the fact that there are now more women dentists than ever. Dentistry has always been a male-dominated field, but in the last ten years, more and more women have started going to dental school.
Dentistry is a very compassionate field, making it perfect for anybody who wishes to assist others. Women often get into dentistry because they believe they can help, particularly people who are scared to visit the dentist. Moreover, dentistry is a combination of art and science, and any dentist would agree that nothing is more satisfying than watching a patient grin once their dental hygiene has been restored. Dentistry may also be a difficult job since dentists, male or female, are constantly trying to do their best for their patients, so it's important to have a great deal of perseverance.
Female dentists may find it difficult to strike a healthy work-life balance, but if you look around, you'll notice that many of them do it with success. Here is a list of some pointers justifying the statement, "Why are More Women Choosing a Career in Dentistry?"
1. You're seeking adaptability. Working in dentistry has several benefits, including the flexibility of hours. This adaptability is especially attractive to working women who want to integrate a profession with childcare commitments. Working at a dentist's office is more enticing to many women than a normal 9–5 career since it is family-friendly. Additionally, the potentially increased average incomes associated with the field of dentistry may imply that women who work part-time can still make a respectable living.
2. If you enjoy combining science and art, dentistry offers a unique opportunity to combine technical skills with creative flair. Shape and sculpting are now equally as significant as functional factors due to the growing emphasis on the aesthetics of the teeth, as shown in cosmetic dentistry operations like dental implants and veneers. Women, especially those who have an affinity for more creative endeavours, are often drawn to careers that allow them to blend their creativity with their technical expertise.
3. If you enjoy interacting with others, dentistry may be a good fit for females who enjoy working with people and have a caring personality. Your job will require you to interact effectively with patients, many of whom may be anxious or concerned about their approaching surgery, whether you are a dental surgeon, hygienist, or dental assistant. Therefore, a key talent for anybody contemplating a position in dentistry is the ability to mix professionalism with a soothing, caring attitude, which is often shown more strongly by women. Like other professions, dentistry requires a high level of patience and strong communication skills. Female dental professionals may thrive in these categories.
4. Do you want a job with promising advancement potential? The potential earning power of a job in the dentistry business might make this an especially alluring career option for women. According to a survey by payscale.com, an early-career dentist with 1–4 years of experience earns an average total compensation of AU $100,103. Furthermore, the chance to "be your boss" by managing your own practise and extending the organisation might provide even better opportunities for individuals seeking to advance their dentistry careers. Women may do well in this field if they like the challenge of balancing their technical skills with their ability to run a business.
Given their intelligence, creativity, and resourcefulness, women are all powerful forces to be reckoned with. They serve as role models and aid others in successfully pursuing careers in dentistry. So, if you want to join them, you must start by enrolling in a specialised course right away.
FAQ's
According to a recent estimate, the ratio of female students has climbed to 63.4 percent. Dentistry was formerly thought to be a male-dominated field of work. However, according to NHS statistics, the percentage of women in dentistry has been gradually increasing over the previous decade.
You can be your ultimate boss in dentistry. Dentists might very well complement their personal and professional life to satisfy their own requirements and objectives. Dentistry offers opportunities in both private and public contexts, such as private practise, teaching, research, global health, and administrative structure.
Have Questions For Us?
We will answer everything.
Get in Touch
We are here
to help you!
Get an answer on courses, costs, careers as well as facilities, entry requirements or just about anything else relating to studying at IHM.
We are here to help you!