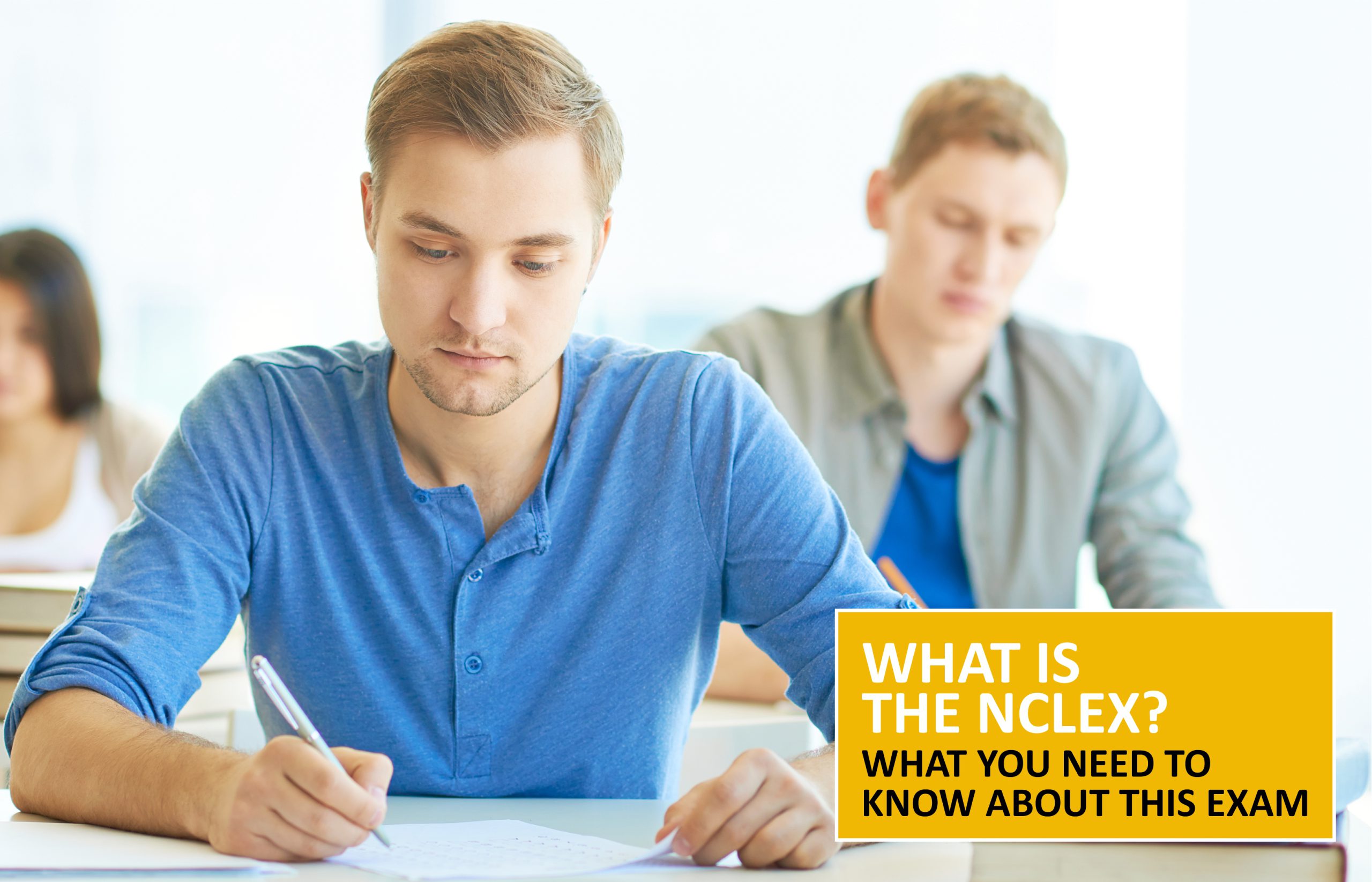 Posted on 23rd September, 2022

7 Minutes read
What is the NCLEX? What You Need to Know About This Exam
You've always appreciated helping others and making a difference in their lives. Your friends and family can vouch for the fact that you are quick-witted and sympathetic, so they weren't surprised when you expressed interest in the nursing profession. You are undoubtedly aware that a considerable amount of training and clinical experience stands between you and a potential future profession as a nurse. However, you may not acknowledge that graduating is not the final stage. Obtaining a licence to practise nursing in your state is the final thing on your must-do list before getting your ideal nursing job. If you've begun studying the procedure for earning a nursing licence, you've probably encountered a few relatively simple prerequisites, such as background checks and application costs. However, there is a prerequisite you may not be as familiar with: the NCLEX.
But what is the NCLEX exactly? Simply described, it is a test that aspiring nurses must pass to demonstrate their competency. However, this only tells part of the story. Read on to learn the answers to some of the most common questions about this important test.
What is the NCLEX?
The National Council Licensure Examination (NCLEX) is one of the two standardised examinations that nurses must undertake to become a licenced practical nurse (LPN) or a registered nurse (RN). In addition to obtaining a nursing licence, candidates must possess an authorised nursing degree and complete the NCLEX-RN. This phase is essential because it allows authorities to officially confirm your nursing knowledge and evaluate your competence to practise nursing professionally. Would you want to be approached by a nurse who has not demonstrated compliance with these specifications? Most likely not!
Who must pass the NCLEX exam?
The simple answer is that everyone who wants to work as a nurse must undertake and pass the NCLEX examination. There are two separate versions of the NCLEX test, dependent on the candidate's degree of academic achievement. Those who possess a diploma in practical nursing and want to become licenced practical nurses (LPNs) must pass the NCLEX-PN. Anyone with an associate's or bachelor's degree who aspires to become a registered nurse (RN) is required to pass the NCLEX-RN.
What kind of questions are on the NCLEX exam?
To assess a candidate's competence for complicated cognitive activities, NCLEX questions are then formulated by the application of higher levels of cognitive ability. There are several types of questions that can be used, including multiple-choice, fill-in-the-blank, hot-spot, multiple answer, and structured response. There can be more than one correct response to every other given statement. However, selecting the "most accurate" response for the hypothetical situation will demonstrate your capacity for critical thinking and effective decision-making in the context of nursing practise.
The NCLEX exam structure encourages you to consider each scenario that is offered. By providing four or five distinct situations, it confuses the reader, but as a nurse, you must act in accordance with your area of expertise and give priority to your patients' needs. There are certain inquiries that are unexpected, but you can only respond to what they are asking of you. To fully comprehend the questions being asked and the first treatment you should provide the patient, it is advised to approach each one carefully. You'll need to spend a lot of time studying and memorising crucial nursing topics in addition to the other questions on the NCLEX that require basic memorisation and understanding of information that can be found on any exam.
If passing the NCLEX exam sounds overwhelming, remember that you'll be better equipped after nursing school than you are now. The NCLEX will only be yet another stumbling block you must overcome to achieve your goal of becoming a nurse. You'll feel confident in your ability to pass with relative ease with the appropriate training and knowledge. Now that you are aware of what the NCLEX is, you can prepare for it. But you must finish nursing school before you can focus on preparing for the test.
FAQ's
The NCLEX is a test that determines if a candidate has the bare minimum of knowledge required to provide safe and effective entry-level nursing care.
Its goal is to guarantee that applicants are ready to start working as entry-level nurses. The NCLEX assesses applicants on their ability to integrate their knowledge into nursing settings and evaluate what to do next. Fundamentally, the exam assesses a candidate's ability to critically think like a nurse.
The NCLEX is not based on a proportion of successfully answered questions. You may complete a series of questions between 75 and 265 and get a pass or fail result. Your score is determined by the computer's estimation of your ability to properly respond to moderate questions at least 50% of the time. The NCLEX is designed to your specific abilities and must seem challenging since the computer selects questions with a 50% probability of being accurate. If you miss tough questions but successfully answer medium-difficult questions at least 50% of the session, you have a high chance of success.
Have Questions For Us?
We will answer everything.
Get in Touch
We are here
to help you!
Get an answer on courses, costs, careers as well as facilities, entry requirements or just about anything else relating to studying at IHM.
We are here to help you!