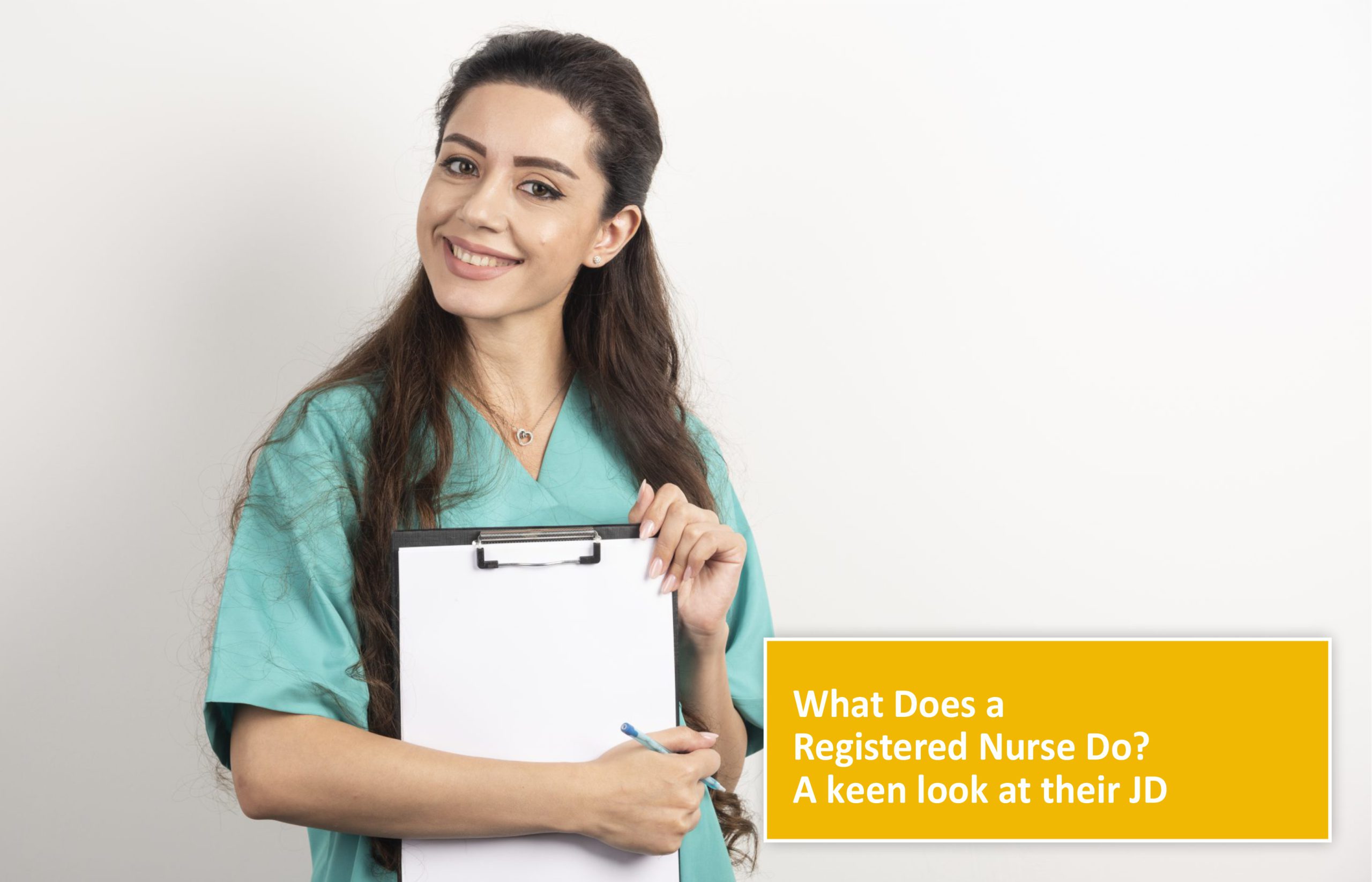 Posted on 8th July, 2022

6 Minutes read
What does a Registered Nurse do? A keen look at their JD
Working as a nurse is not difficult in Australia, and it is a highly sought-after profession. To attain this goal, you must be well-informed and aware of the road to take. It is crucial to note that being recognized with this title might be a fantastic opportunity. This job is on Australia's list of most sought-after employment and pays extremely well.
Due to the genuine and lasting influence that RNs have on the lives of their patients every day, they have a competitive income, significant employment stability, and a high level of personal and professional satisfaction.
But what precisely is a registered nurse, and what does one do daily? Read on because we are going to answer all of your doubts!
What are the responsibilities of Registered Nurses?
Registered nurses undertake a wide range of responsibilities daily depending on where they work, the patient population they care for & the full size of the nursing team they're assigned to.
However, Registered Nurses are not limited to working in hospitals, which may surprise people. RNs can work in various settings, including clinics, schools, assisted living facilities, and homes.
Nevertheless, a typical registered nurse job description looks like this –
Giving drugs to patients and keeping track of any reactions
Maintaining complete and accurate reports of patient data
Developing, administer, and evaluate patient care plans
Providing patient and family education on therapies and care plans
It's also critical for RNs to stay current with new tools and technologies to provide the greatest treatment for patients and assistance for other healthcare professionals.
What kind of jobs can you get as an RN?
Once you've obtained your RN licence, you can pursue a range of nursing careers, such as paediatrics or hospice nursing. While nurses may begin at the bedside, you can easily advance to the profession of your dreams with little time, experience, and a desire to learn new things.
RN nurses can work in cardiac care as nurse managers, perioperative nurses, and labour and delivery nurses in a hospital. Hospital RNs also give medications, change dressings, and keep track of their patients' treatment in their records.
Nurses who work in clinics might reach out to the doctor to schedule the daily appointments. Clinic nurses often care for patients who have non-life-threatening injuries. Therefore, their work is less hectic.
Trauma nurses, ICU nurses, and neonatal intensive care unit (NICU) nurses are all examples of critical care nurses. Also, there are dialysis nurses, telehealth nurses, and palliative care nurses working in ambulatory care.
What skills are necessary to become an RN?
Critical thinking, clinical judgement, delegating, and case management are some of the most crucial abilities for RNs to master. Overall, person-centred care requires developing those abilities and being adept. Organisational skills, stress control, and communication ability are all vital.
Nonetheless, all RNs possess several characteristics: they are critical thinkers, problem solvers, and aware of patient needs, both expressed and unspoken. And if you discover that you are poor in one area, there is some good news: you will have many opportunities to improve.
How to become an RN?
If you want to work as an RN, you should know the educational and licensure requirements. You'll need an associate's degree in nursing, clear the NCLEX-RN exam, and apply for your nursing license in the state where you want to work.
If you're an internationally qualified registered nurse, you'll need to take the NCLEX-RN exam and OSCE-RN test, which are meant to help IQRNs improve their professional knowledge and skills.
RNs are an indispensable component of any healthcare system. You must have intelligence, extensive training, compassion & careful care to meet the registered nurse job description. Are you considering a career in nursing, which is both fast-paced and rewarding? Then we have just the course for you to help you live your dream!
Have Questions For Us?
We will answer everything.