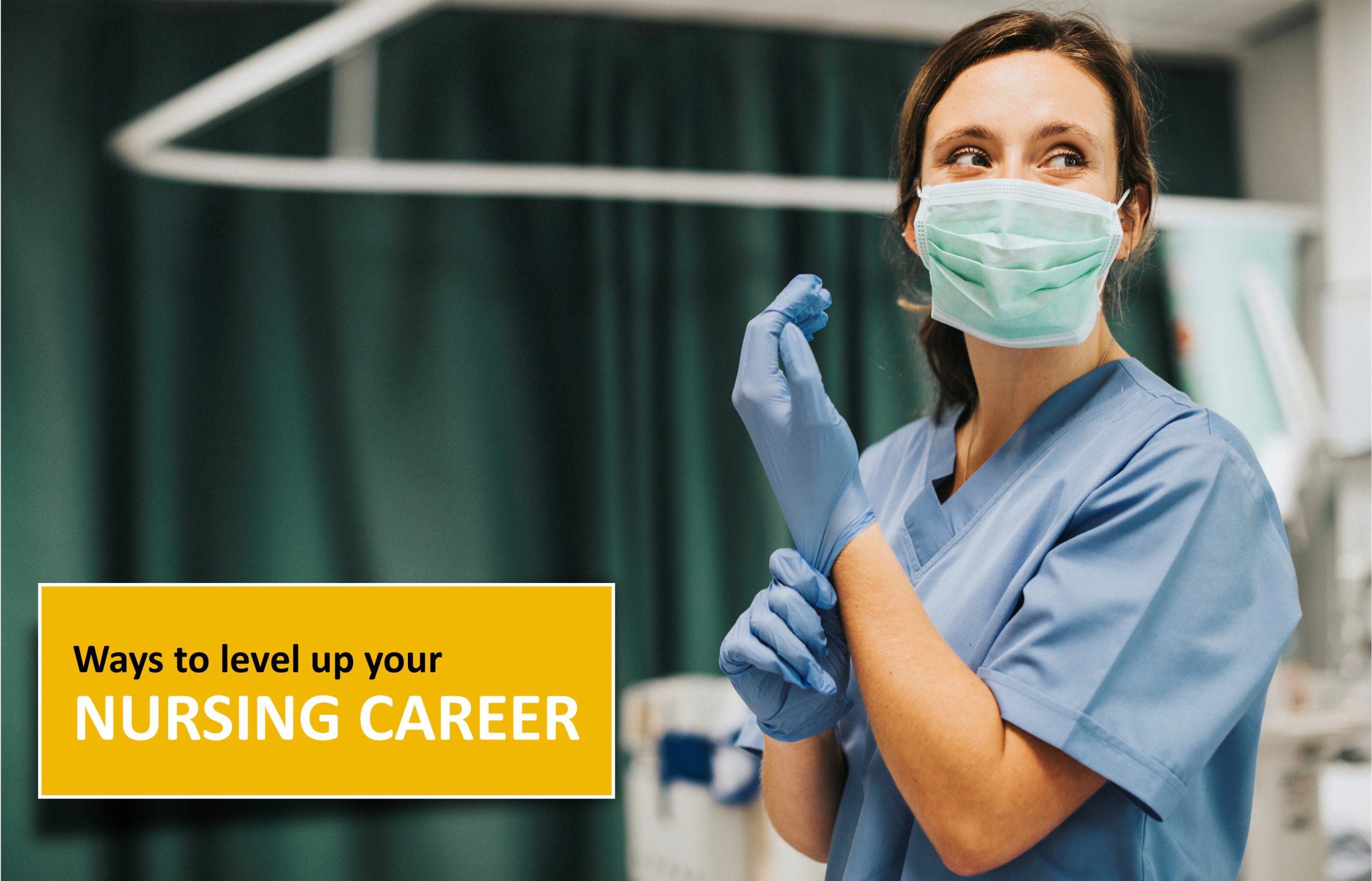 Posted on 11th July, 2022

7 Minutes read
Ways To Level Up Your Nursing Career
The beauty of a nursing job is that the options are endless, and you may take your career in whatever direction you want. Innovative ways of working are rapidly shaping the nursing career path as technology progresses and life expectancy increases.
But how can you learn more about these new options and prepare to take on these jobs to advance your nursing career? We've compiled a list of 5 recommendations for nurses looking to take on a new endeavour or advance their careers.
5 tips to advance your career as a Registered Nurse:
Getting forward in your nursing profession is similar to getting ahead in any other field. However, since it will be a significant adjustment, careful consideration necessitates. You'll be pushing yourself to attempt new things, whether it's a new field, facility, or country.
Like any other professional transition, it's a good idea to make a plan of action to assist you in searching for what works best for you.
1. Find a suitable nursing mentor
Courses and degrees aren't the only way to advance your nursing profession. You'll need to acquire the softer skills associated with leadership, such as developing others and effectively coping with difficult situations. As a result, having individuals in your corner who can offer you a professional reference or connect you with resources is a priceless benefit.
If you're looking for a mentor, check out official mentoring programs offered by your company, professional nursing groups, your state's professional nursing group, or ask your co-workers.
2. Consider specialising
Unlike other healthcare professions, nursing allows you to change specialty during your career. The different specialties will certainly necessitate different qualifications, education, or experience. However, this does not imply that it is unattainable for you to achieve!
It aids you in advancing your nursing career and allows you to use your specialisation to manage specialist and specialty departments or work in a community setting. It could work as a springboard for clinical education or research.
3. Further your nursing education
While returning to school is a significant commitment, it can significantly impact your nursing career path. Regardless of how long you've been a nurse, there's always something new to learn. Determine which talents you'll need to advance in your job and begin researching ways to learn about a new specialty or style of working.
4. Explore different fields
Dip your toes into it, to better grasp what your future choice(s) might look like. Working in as many nursing units as possible is one approach to do this in nursing. It can help you regardless of your final decision because hospitals value nurses who have worked in multiple units.
This breadth of expertise may also make you more appealing as a management candidate, therefore helping you advance your career in nursing!
5. Never Stop Learning
Nurses have numerous opportunities to innovate and advance their professions. Always be on the lookout for methods to develop yourself and your industry expertise, whether through schooling, volunteer work, or hosting monthly meetings with co-workers. The nursing profession is always in flux; when your job changes continuously when emerging technologies become available.
With the development of artificial intelligence tools, it will be possible to predict disease and assist individuals at risk in remaining healthy. These positions provide nurses with the opportunity to level up their nursing careers.
Final Words:
Are you wondering what you should do next to advance your nursing career? If that's the case, discover what
options
you have and how you can utilise them by allowing us to assist you in progressing in your career.
FAQ's
Every nurse aspires to improve in their industry. There are several methods to progress in your job, but most of them start by taking an advanced course to further their knowledge and experience. Stay up to date. Always search for methods to advance your skills and understanding of your field, whether through formal study, community service, or scheduling regular meetings with co-worker's. The nursing field is dynamic. The way you conduct your job is continuously changing because of latest innovations, knowledge, and technology.
In patient care, nurses play a crucial role. Patients' physical, social, emotional, and spiritual needs are their primary concern. Compared to any other healthcare worker, nurses spend the most time directly delivering hands-on patient care as frontline hospital professionals. The importance of patient care and how to provide the best possible patient care and satisfaction is acknowledged by nurses. The goal of nursing units is to provide individualised patient care that is compassionate and based on the most recent research to provide care that paves the way for the adoption of evidence-based practises as established standards.
There is a high demand for enrolled nurses as well in Australia. According to au.talent.com, the average salary of an enrolled nurse is $62,166 per year.
Multiple degrees of education and experience are required for the extensive variety of nursing positions. Clinical nurse educators are paid the most as they develop educational programs for nursing professionals within healthcare facilities. These educators create curriculums and oversee new nurses and nursing school students in a clinical setting. It's their job to identify the individual learning needs of each nurse.
Have Questions For Us?
We will answer everything.