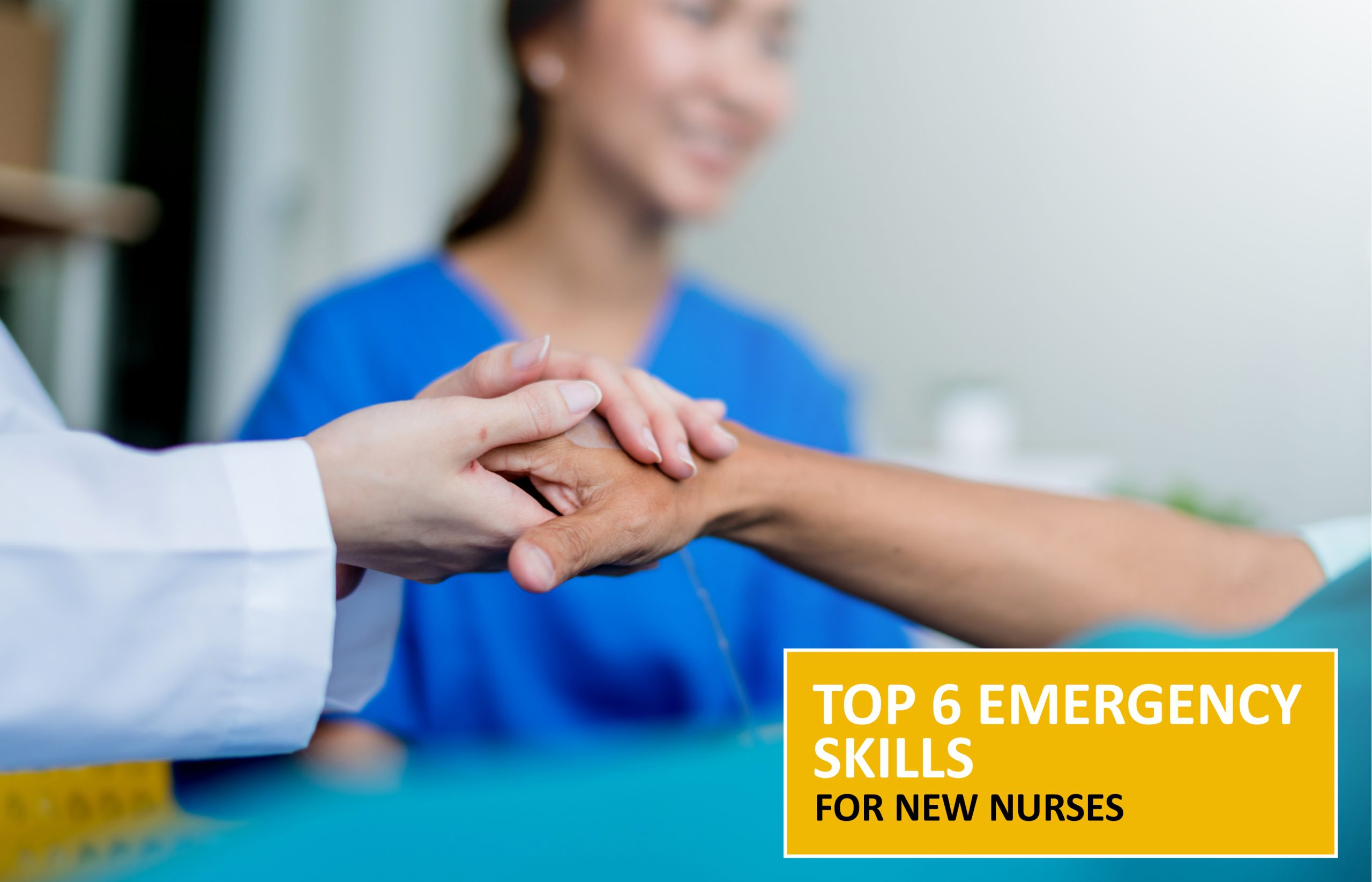 Posted on 7th October, 2022

7 Minutes read
Top 6 Emergency Skills for New Nurses
As a newly qualified nurse, an emergency scenario with one of your patients is inevitable, and it can literally mean the difference between life and death. Even the most accomplished clinician might easily become overwhelmed when confronted with an emergency for the first time under these stressful situations. Taking measures to start preparing for emergencies allows you to use your privilege and assist others in need. When a terrible event dominates the facts, it's natural to feel powerless, helpless, and terrified. During this situation, people tend to feel an enormous burden of accountability, making it difficult to determine how to respond or how to integrate the new graduate nurse skills list.
1. Stay Focused:
Firstly, remain cool by concentrating on the work at hand. Make certain that you are safe. When you are upset, it is challenging to aid those around you.
Next, evaluate the circumstances. Is the event still going on?
Attempt to acquire an understanding of the nature of the vulnerability. Nurses acknowledge that caring for people in their darkest hours is both a privilege and a need. The need for caring, safe, and skilled care is stronger than ever at times of sorrow and calamity.
2. Have a Plan:
Unless the situation is life-threatening, you don't have time to determine your next steps if your airway, breathing, or circulation are impaired. Having a strategy has two key advantages. Initially, it maintains your concentration on what your patient eventually needs. Second, a guiding procedure assists you in remaining calm, and level-headed, and avoiding vital errors.
3. Be Prepared:
The majority of people ought to be at least somewhat prepared, which includes having extra food and drink on hand, but nurses have the additional duty of looking after others in an emergency. Keep a fully-stocked emergency medical kit nearby, such as inside the trunk of your vehicle to be ready for anything. A useful, thorough list of supplies would include:
An Aluminium finger splint
Quick cold pack
Cotton-tipped swabs and cotton balls
Disposable latex-free examination gloves
Tweezers and scissors
Hand sanitiser or soap
Antibiotic cream
Wipes and antiseptic solutions
4. Debrief:
You still have the stuff to undertake once the emergency is over. Evaluate the circumstances now and talk to the nurses and physicians who have more experience if you have any queries. Utilize this priceless opportunity to learn from your mistakes, get feedback, further your knowledge and abilities and upgrade your emergency nursing skills.
5. Communicate:
In an emergency, it is crucial to communicate with the patient. If your patient is awake and able to speak, they are an invaluable source of data available. The patient is the only one who can share their experiences with you, despite the fact that you can evaluate all of their vital indicators. Maintain the patient's attention on the larger picture and keep asking them questions that are pertinent to their treatment. Disputes with employees or patients during an emergency generate unnecessary confusion. Your team's goal is to solve problems while maintaining patient attention. Be aggressive, nonetheless, in your speech. Request assistance. If you're unclear about what to do, never allow your own ego to stand in the way. If you can't manage everything, don't pretend that you can. Count on your teammates to assist you in making tough decisions under stressful situations since they have the information, expertise, and experience to do so.
6. Follow Your Training:
When in doubt, get back to the fundamentals and follow your gut. Take your patient's medical history to spot any issues that might not be visible right away. You may concentrate on the issues that demand immediate care after determining which sections don't. You'll respond faster and more decisively if you can recall helpful acronyms like the Basics of first aid when a crisis arises. Summarize the incident and analyze it like your profession is on the line.
A professional nurse's emotional well-being is essential, and if you are not in the correct frame of mind when providing treatment, you may eventually wind up causing a great deal of harm to your other patients. After an emergency, be careful to give yourself some time to think and gather your thoughts. Do whatever helps you to reboot: sit down, calm your mind, take a couple of deep breaths, contemplate, or speak with someone.
FAQ's
Some of the common nursing competencies required to succeed as an emergency nurse include
Stay Focused
Follow Your Training
Communicate
Debrief
Have a Plan
Communication with the patient is essential in an emergency. If your patient remains awake and is able to communicate, they are indeed a tremendous tool for collecting data. Regardless of the fact that you can assess all of the patient's vital indications, only the patient can communicate their experiences to you.
It takes both art and science to be a successful nurse with any specialization. The skills of emergency nurses contribute during each shift by leveraging their extensive knowledge, wise clinical judgement, and compassionate nature. The physical and emotional well-being of the patient is addressed by nursing, so nurses may create effective treatment plans without compromising empathy and personal connection.
Have Questions For Us?
We will answer everything.