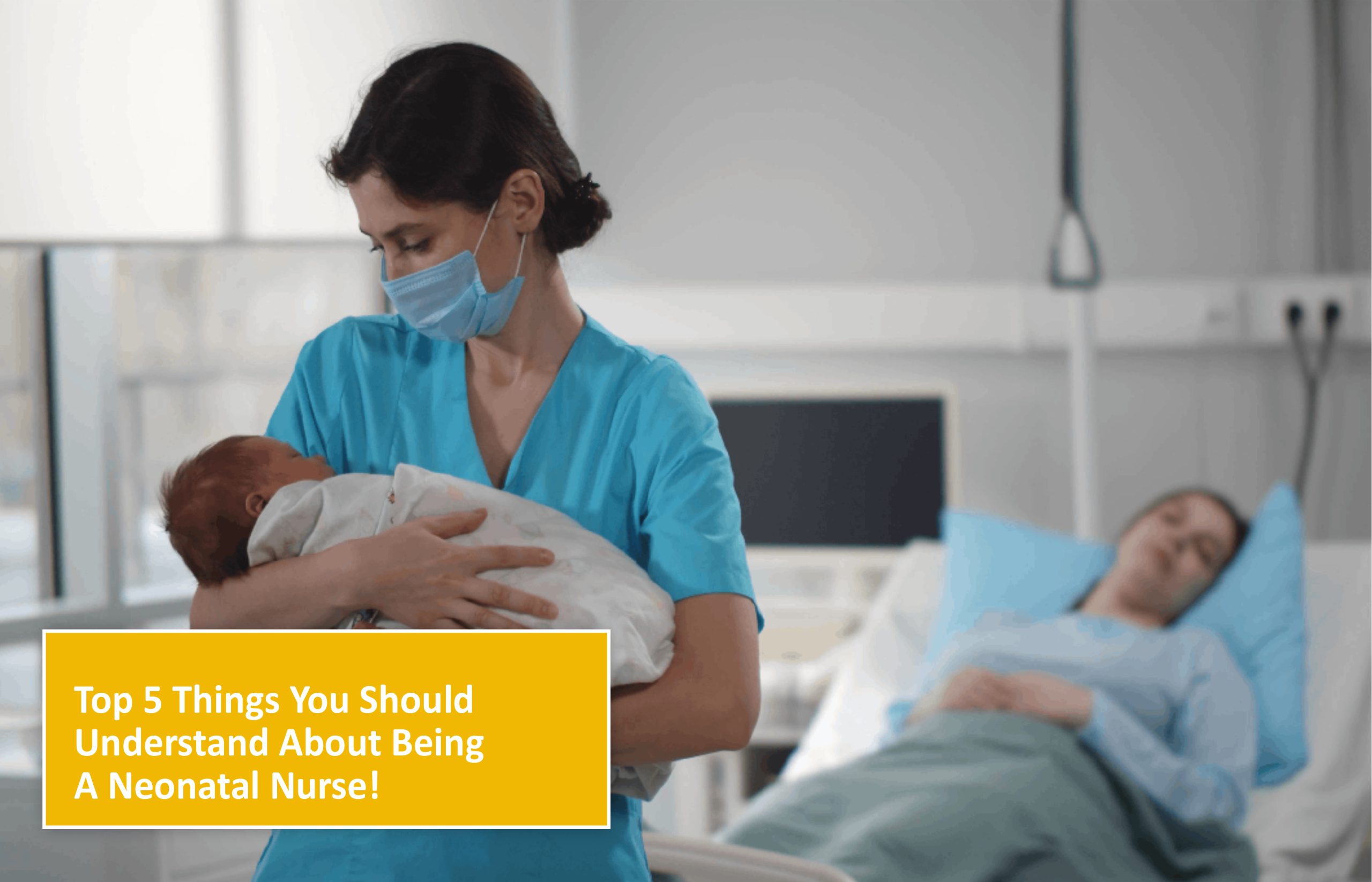 Posted on 8th July, 2022

7 Minutes read
Top 5 Things you Should Understand about being a Neonatal Nurse!
Many people are drawn to the nursing profession because they want to make a difference in the world and help others. When you've finished your education and are ready to work in a hospital or other medical setting, the next step is to decide which nursing specialty you want to pursue.
Becoming a neonatal nurse is a great fit for those who desire to help babies and families. But you already know that being a neonatal nurse isn't all baby rattles and cooing babies. And you would want to have a better understanding of this role before making any decisions.
So, to assist you in making your decision, we've compiled five things you should know about being a Neonatal Nurse before determining whether neonatal nursing is the correct career path for you.
Five things to know before you take that decision:
1.What is a Neonatal nurse?
The first thing you should know is what a neonatal nurse is? A neonatal nurse is regarded as a registered nurse specializing in providing supportive health care to newborn infants under four weeks. Neonatal nursing is concerned with caring for newborns born with issues, including prematurity, birth deformities, infection, heart anomalies, and surgical issues.
Although the neonatal phase is defined as an infant's first month of life, certain babies may require ongoing care. Working with children necessitates a unique set of abilities, personality traits, and mindset. Many people would be broken if they spent a day in a neonatal intensive care unit (NICU).
The unit is where premature newborns having health complications or a difficult birth are admitted. They will be separated from their moms, many of them will be in anguish, and not all of them will be able to leave the NICU.
2.What are the skills and responsibilities of a neonatal nurse?
Neonatal nursing is a difficult field to work in. It's a technical job that demands a lot of monitoring, complex treatment administration, and specialized care for infants with serious medical concerns. For addressing these problems and continuing a lengthy career, dedication and strong resilience are required skills.
A neonatal nurse practitioner will need a variety of talents in addition to the educational qualifications and competencies needed to become an RN, including strong multitasking skills and communication skills, empathy, optimism, and a keen sense of observation.
Apart from these, there are many duties that a neonatal nurse is expected to carry out daily, ranging from attending births, taking detailed histories, caring for and monitoring the health of infants directly after birth, and teaching new parents about taking care of their child.
3.How to become a neonatal nurse?
The next big process is to understand how to become a neonatal nurse. To work as a neonatal nurse, enroll yourself as a registered nurse (RN) or a midwife, requiring a degree in Bachelor of Nursing and Midwifery degree. After graduation, you might be able to work in a neonatal intensive care unit (NICU) or a specialized nursery unit.
A postgraduate qualification for a neonatal nurse degree is not required for a neonatal nurse, but many employers commonly recommend it. It could include a Graduate Certificate or Master's degree in the specialized subject and some required placement. Many education consultants might want you to have basic neonatal experience before being admitted to one of these programs.
Things become less linear once you've earned your degree and license. It might be possible to find a neonatal nursing job right out of school, but if you want to work in the NICU, you'll probably need to gain experience first. If possible, establish yourself as a nurse in an institution with a NICU and gain expertise in baby care—paediatrics and well-new born nurseries are ideal options.
4.How much do the nurses get paid?
The average hourly in Australia varies based on your skill level and length of experience. The average hourly pay is from $39.32 to $43 per hour (Payscale Australia) or approximately $83,000 per year. Entry-level positions pay slightly less, but highly experienced professionals are in high demand and can attract a neonatal nurse salary of more than $120,000.
Other factors that influence salary include geographic location, metropolitan, regional, or rural areas of the country, demand, and the quality of applicants for the post.
5.Who should choose this role?
Working as a nurse exposes you to a wide range of emotions daily, particularly in an intensive care unit. An important component of the job is working with upset parents separated from their children and providing them with the assistance and information they need to care for their infant when they return home.
For high-risk cases, this may entail at-home follow-up treatment. If you're looking for a physically and emotionally demanding yet rewarding career, being a neonatal nurse can be a good fit.
Neonatal nursing is not for the fainthearted, but it is a nursing job that allows you to work with the patients you care about the most. Explore a world of learning and new opportunities by registering with us today!
Have Questions For Us?
We will answer everything.