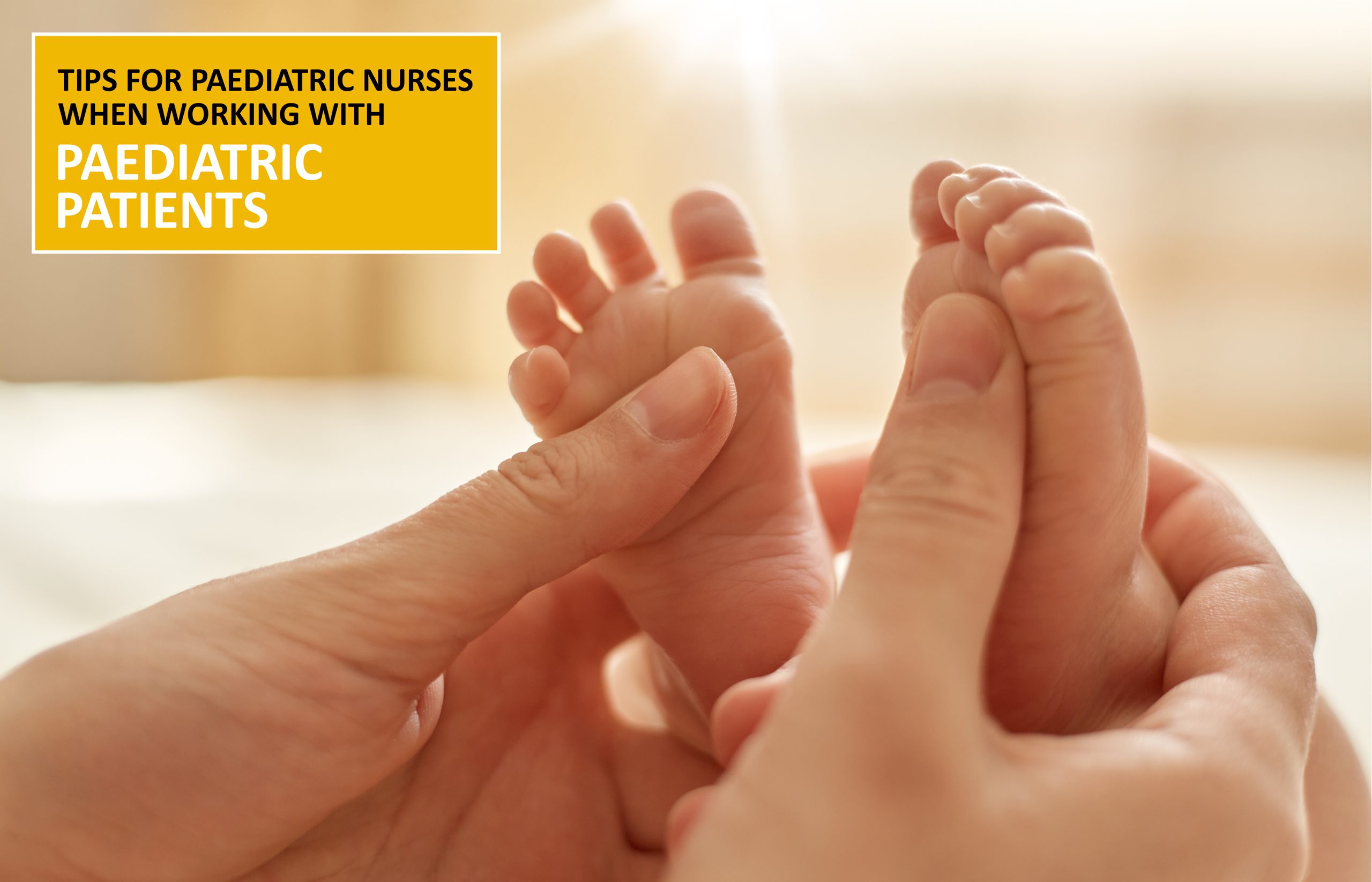 Posted on 22nd September, 2022

8 Minutes read
Tips for Paediatric Nurses when Working with Paediatric Patients
Being a paediatric nurse is not an easy decision to make. If you want to be successful in your job, you must be particularly patient and sympathetic. Children need unique attention and care since their healthcare requirements vary depending on their age and emotional state.
Nursing care for children takes a significant amount of work. Here are some nursing tips to assist you in getting started in delivering nursing care to paediatric patients:
1.Vaccine shots must be administered using colourful bandages:Vaccines are commonly administered to paediatric children as they develop. It's difficult to persuade children to remain quiet when you administer their immunisation. Their minds are frequently preoccupied with the agony of their prior shot.
You may, however, calm them down by training them and distracting their attention. Simply display a variety of coloured bandages and let them pick one they like. Suggest that they hold their preferred bandage while you administer the immunisation. Providing them with something to look forwards to will persuade them to complete their injection. Their excitement at receiving the colourful bandaid of their choice also helps to redirect their focus away from the discomfort of vaccination injections.
2. Create an emotional connection using their comfort toys: When caring for a young child for the first time, identify yourself properly and establish trust via the kid's toys. Engage with the patient and his toys for a few minutes to demonstrate that you are nothing to be afraid of. Since a child's first perception of his nurse lasts a long time, it is critical to develop a solid relationship during your first visit.
For IV insertion, cut the tourniquet in half: Tourniquets for IV insertions come in a variety of sizes. If you can't locate the correct tourniquet size for your patient, just split a rubber tourniquet in half diagonally. It will give you a stronger grasp on a tiny limb while you are looking for a vein for IV insertion.
3. Drape a blanket across paediatric patients throughout needlesticks: Toddlers undergoing IV insertion or blood extraction frequently scream at the peak of their lungs and do everything they can to avoid the process. They can be securely immobilised by enveloping them in a comforter during needlesticks. Ask for assistance in supporting the other side of the blanket and leave out the section where you will do the surgery. The blanket may be used to immobilise the child's upper and lower limbs without causing muscle or skeletal harm.
4. Allow them to sip a chilled, refreshing drink before administering unpleasant-tasting medicine: Although sometimes the taste of prescription syrups and solutions for young patients has improved over time, administering them oral medications remains difficult. Make this process simpler for your young patients by allowing them to sip on a cool, sweet drink before administering their oral meds. Cold liquids numb the child's sensitivities, while the sweetness of the drink masks the horrible taste of harsh medications.
If it is not contraindicated, provide smoothies as well. After taking the medication, the kid might wash down the disagreeable taste with a delicious popsicle.
5. Insert stickers inside their IV dressing: When caring for paediatric patients who are concerned about their treatment plan, use colourful stickers to brighten their day. . This is particularly beneficial in keeping their IV access sites intact since kids often claw and remove their IV dressings while in the hospital. You can avoid this by affixing stickers to their IV dressings and reminding them to take proper care of them. Just make sure that the sticker does not interfere with the daily examination of the IV site for symptoms of infection.
Transitioning to paediatric care may be difficult at first, but if you are enthusiastic about this subject, you will undoubtedly succeed. Inquiring for advice from senior colleagues in this profession can also be beneficial, as you will be able to get essential nursing care recommendations that are not often present in textbooks.
Have Questions For Us?
We will answer everything.