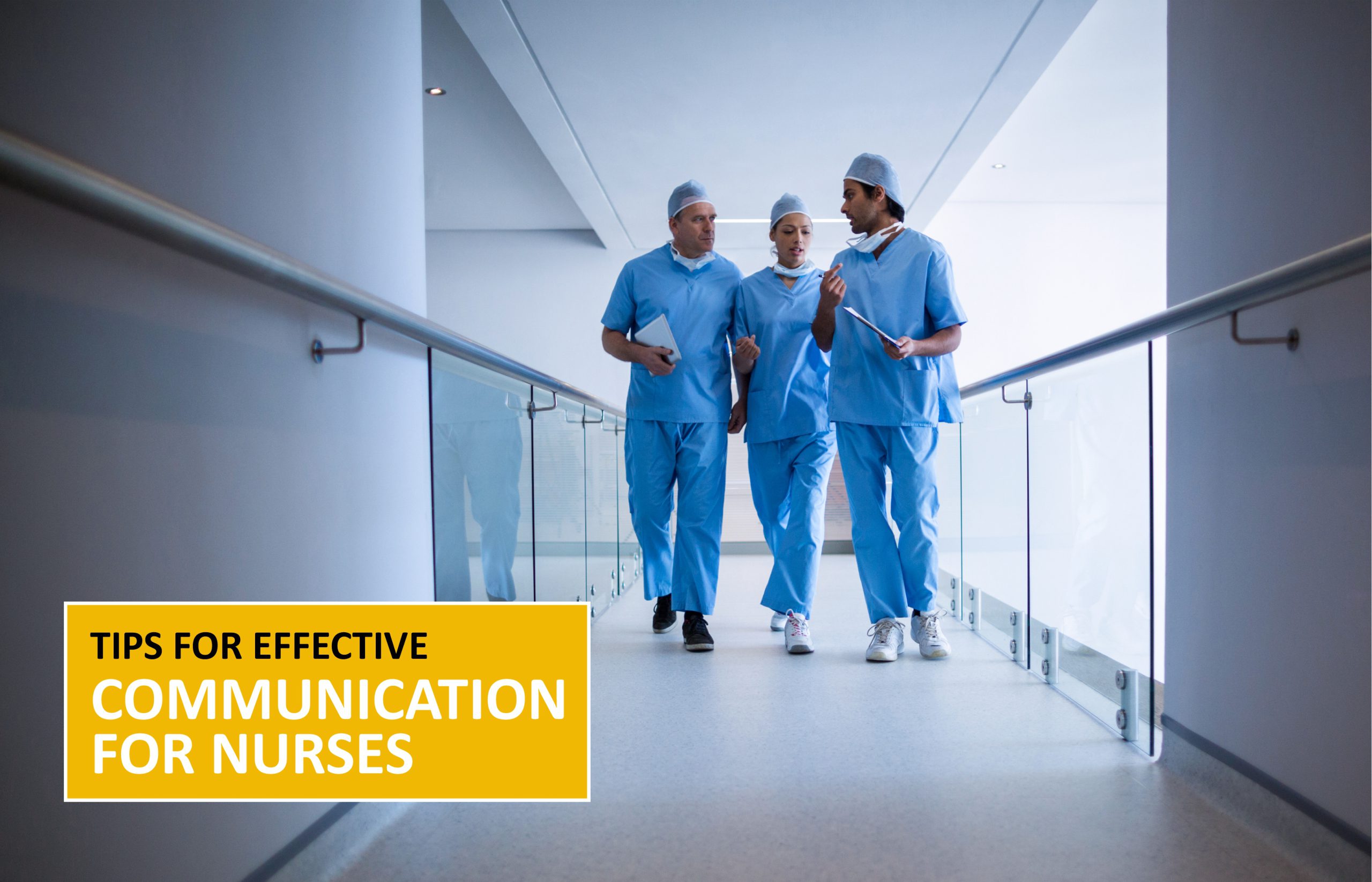 Posted on 7th October, 2022

6 Minutes read
Tips for Effective Communication for Nurses
If you want to make it as a nurse, healthcare professional, or nurse manager, you must be able to communicate well under pressure. The ability to effectively communicate under pressure is essential for any healthcare professional, clinical nurse, or nursing leader.
What Role Does Communication Play in Nursing?
Effective communication skills in nursing are crucial for working in teams with other professionals and specialists from other domains. The approach is also essential for providing care that puts the patient first. Nurses who put in the time to really hear and understand their patients' worries are in a better position to respond to any problems as they develop, which in turn leads to happier patients.
On the other hand, patients who do not understand their healthcare providers' instructions and who do not adhere to their prescribed treatment plans may experience negative outcomes. There may be a medical miscalculation as a result of a breakdown in the team's functioning. According to a survey by the Joint Commission, 80% of significant medical errors can be traced back to misunderstandings between healthcare providers following patient transfers.
Patients are more inclined to tell their nurses and doctors the whole truth about their symptoms when they have developed a trusting relationship with them. Healthcare effective communication in nursing is a major means of developing a trustworthy, collaborative connection with patients and their families, as stated in Arnold and Boggs' book Interpersonal Relationships: Professional Communication for Nurses. Expertise in interpersonal communication in nursing has a direct bearing on the quality of decisions that are made, the degree to which patients are motivated to adhere to treatment procedures, and the achievement of desired clinical outcomes.
Effective Communication Skills for Nurses:
When interacting with patients, nurses who practise effective communication do so with the goal of learning more about the person they are caring for and what they value in terms of care. Possessing effective verbal and nonverbal communication skills, as well as practising active listening and patient teach-back tactics, are all part of this. There are some essential communication skills for nurses that we will discuss here.
1. Verbal Communication:
Decent verbal communication skills are essential. Always try to express yourself precisely, accurately, and truthfully. It's also crucial to tailor your language to your listener, taking into account factors like their age, ethnicity, and health literacy level. Carefully monitor your tone of voice and keep your temper under control if you're experiencing stress or frustration; this will help you maintain a professional demeanour while interacting with patients. Avoid using technical jargon and use plain, full words instead.
2. Nonverbal Communication:
Building rapport also requires the use of nonverbal cues such as expressions, gestures, body language, mannerisms, posture, and manner of speech. A little smile may make a big difference. By keeping eye contact and nodding, you might convey that you are interested in what the patient is saying. Do not stare when smiling.
3. Active Listening:
It refers to acknowledging with the intention of comprehending the other person's perspective. The best and most productive listening styles necessitate entire focus and engagement. In order to develop trust and commitment with their team, this capability is crucial for clinical nurses, nurse executives, and other healthcare professionals. Both verbal and nonverbal communication skills are a part of active listening. For instance:
Do not interrupt while nodding.
In order to communicate that you are engaged, lean in closer and keep eye contact.
Add only a few encouraging words like "I get it" and "go on."
4. Patient Education:
The majority of patient-healthcare team contact is handled by nurses. The declaration of medical illnesses, diagnoses, potential treatments, and drug regimens is part of this. Family nurse practitioners who interact with patients and families to offer health and education counselling must be exceptionally adept at this competence. Patients teach-back, a successful communication technique, involves asking patients to revisit facts to them. This approach enhances patient comprehension and promotes adherence to treatment recommendations. Patients and their families may become anxious or defensive if information is not interpreted properly.
5. Presentation Skills:
When you are handing over patient management to another nurse or other healthcare professionals, effective presenting skills are particularly useful. These abilities will also assist you in effectively demonstrating your knowledge and competence in a range of professional situations, including making presentations at conferences, taking part in job interviews, presenting case studies to doctors, and more. Planning your presentation and practising beforehand are wise strategies. Watch your body language as well as your vocal communication. For a clearer explanation, use images in your presentation, and know your audience's needs and expectations for the presentation.
Nurses might also have to go through their own psychological barriers and challenges. It may be stressful to discuss death, illness, and other delicate matters with patients and family members. Most nurses report feeling anxious when addressing patients' medical requirements and illnesses, according to a research published in the Journal of Advanced Nursing.
Start acquiring essential communication skills now.
Regardless of whether you are registered in a graduate nursing program or an undergraduate nursing program, practising these communication skills must be a part of your curriculum. Having a lot of opportunities to interact with patients and your co-workers will make it simple to develop these skills while working.
Have Questions For Us?
We will answer everything.