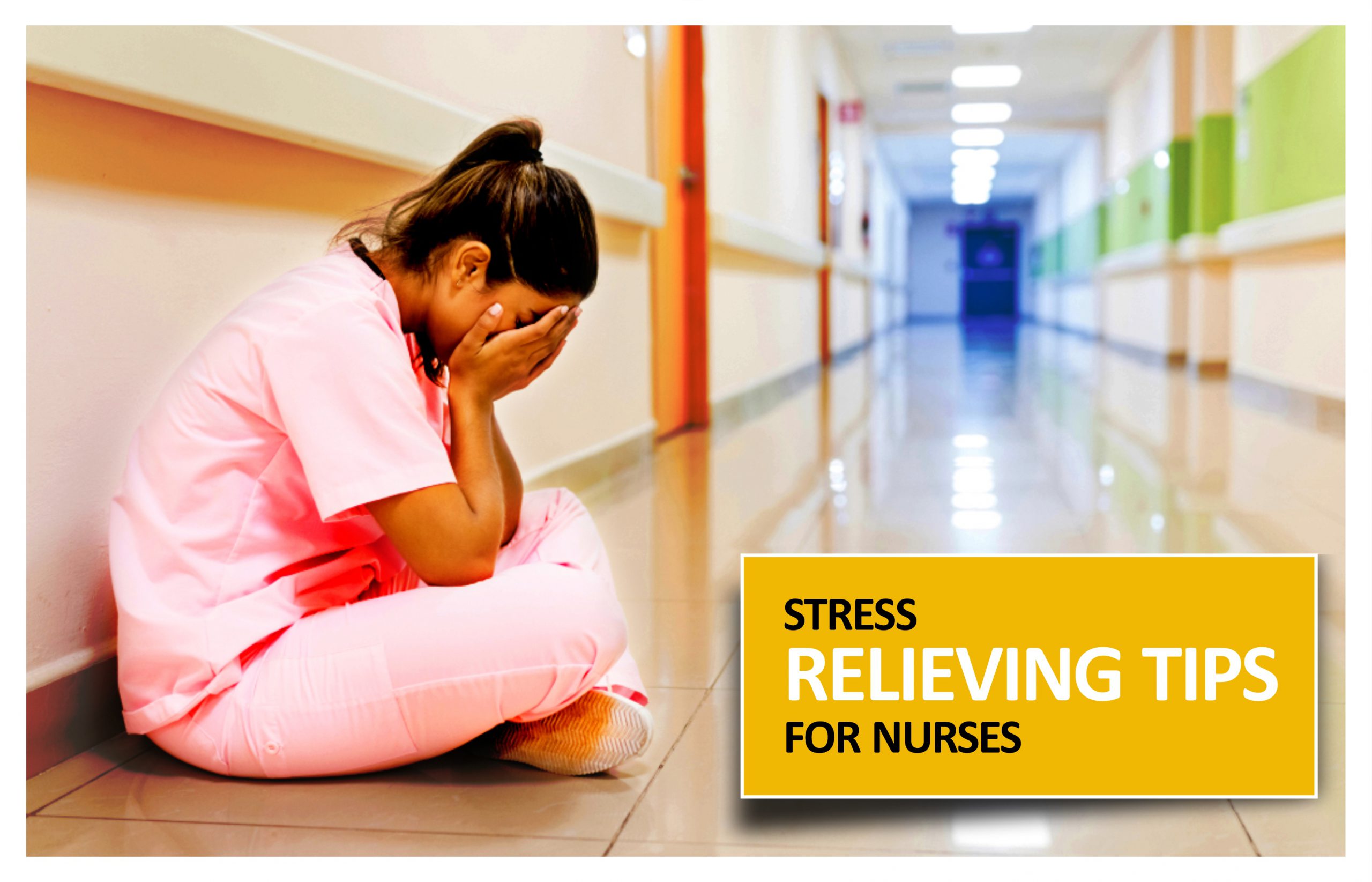 Posted on 10th August, 2022

6 Minutes read
Stress Relieving Tips for Nurses
In nursing, stress is inevitable; thus, its management is crucial. The nurses' and their patients' well-being might be jeopardized by high-stress levels and associated mental health disorders. The risk of medical errors is increased by psychological stress, which also adds to staff burnout and retention issues. The COVID-19 outbreak has brought to light the physical risks that nurses and other healthcare professionals face while delivering life-saving treatment. However, the mental toll of their profession and the underlying potential risks of nursing stress are less obvious. Untreated stress may result in physical problems such as high blood pressure and sleeplessness, as well as mental health disorders such as depression and anxiety. Nurses may handle stress in a variety of ways to enhance their general health and retain their vitality in their employment. Moreover, nurses in leadership roles and educators may help reduce stress among nurses.
Tips for Managing Nurse Stress:
The following measures can help minimise stress among nurses:
1. Regulate your diet: Consuming fruits and vegetables, complete grains, and lean meats increases energy and improves digestion. It may also improve sleep quality.
2. Get lots of sleep: Stress may result in poor sleep, which can contribute to further stress. Diet and exercise may help stop the cycle of obesity.
3. Stretching and exercising: When nurses are already working long hours and performing physically demanding tasks, finding time to exercise may be challenging, but the advantages are enormous. Exercise produces endorphins and increases serotonin levels, therefore improving mood, appetite, and sleep patterns.
4. Practice mindfulness, relaxation techniques, or yoga: Stress may be reduced by practises that quiet the thoughts, intensify consciousness, and control respiration. Creating a way for people to report signs of stress or mental health problems that need help can also help control stress.
5. Relax by engaging in hobbies: Focusing on personal hobbies provides individuals with something to anticipate, a healthy vent for stress, and a mental diversion from work-related issues. Activities that allow nurses to discuss their unique obstacles may strengthen teams and foster empathy. Participation in occupational health and safety initiatives offered by the organisation offers some effective approaches to handling stress.
6. Express your emotions: Informing friends and family about difficulties at work might help reduce stress. Professional, social, and religious groups may also serve as platforms for the exchange of experiences. It is beneficial for nurses to realise that they are not alone, but it is also crucial to recognise that everyone is unique. Individuals encounter significantly different challenges and issues in terms of family obligations, stages of support from family and friends, economic status, and established physical and mental health conditions, even though a nursing group may face many of the same obstacles, including toxic working environments, long hours, and separation from family.
7. Journaling: Many individuals find that writing down their thoughts and emotions helps with mental clarity.
8. Limit exposure to the media, especially social media: Setting limitations for the time and length of media intake minimises emphasis on unexpected events, which is vital during health emergencies.
The tips for new nurses is to recognise the significance of self-care. It might be difficult for individuals who have devoted their lives to assisting others to embrace a basic truth: their lives and health are just as valuable as those of their patients. Since their competence to perform their duties depends on their health, they have a responsibility to safeguard their personal wellbeing.
It is much more likely that nurses who manage to effectively handle stress will enjoy the benefits of their employment, along with the insight that comes from assisting others during moments of emergency. Numerous individuals find that their employment teaches them more tolerance for others, facilitates greater thankfulness and spiritual connection, and increases their appreciation for their loved ones.
FAQ's
According to PayScale, the average salary for a Registered Nurse in Australia is AU$67,175 per year
Many nurses like their work, although it can be quite stressful. There are fewer stressful nursing positions, however, most nurses are employed in high-stress leadership roles. Workplace stress may lead to compassion fatigue and burnout. Thankfully, leaving your work is not the only option to manage stress. However, some nurses choose to completely avoid high-stress positions. The Intensive Care Unit (ICU) is a high-pressure setting, and the nurses must care for patients who have severe injuries and diseases with increased morbidity risks and are susceptible to stress. Patients in need of life-saving measures are moved to a separate facility after they have been stabilised. More than half of all critical care nurses suffer burnout syndrome. Professional challenges and trauma confront nurses on every shift.
Have Questions For Us?
We will answer everything.
Get in Touch
We are here
to help you!
Get an answer on courses, costs, careers as well as facilities, entry requirements or just about anything else relating to studying at IHM.
We are here to help you!