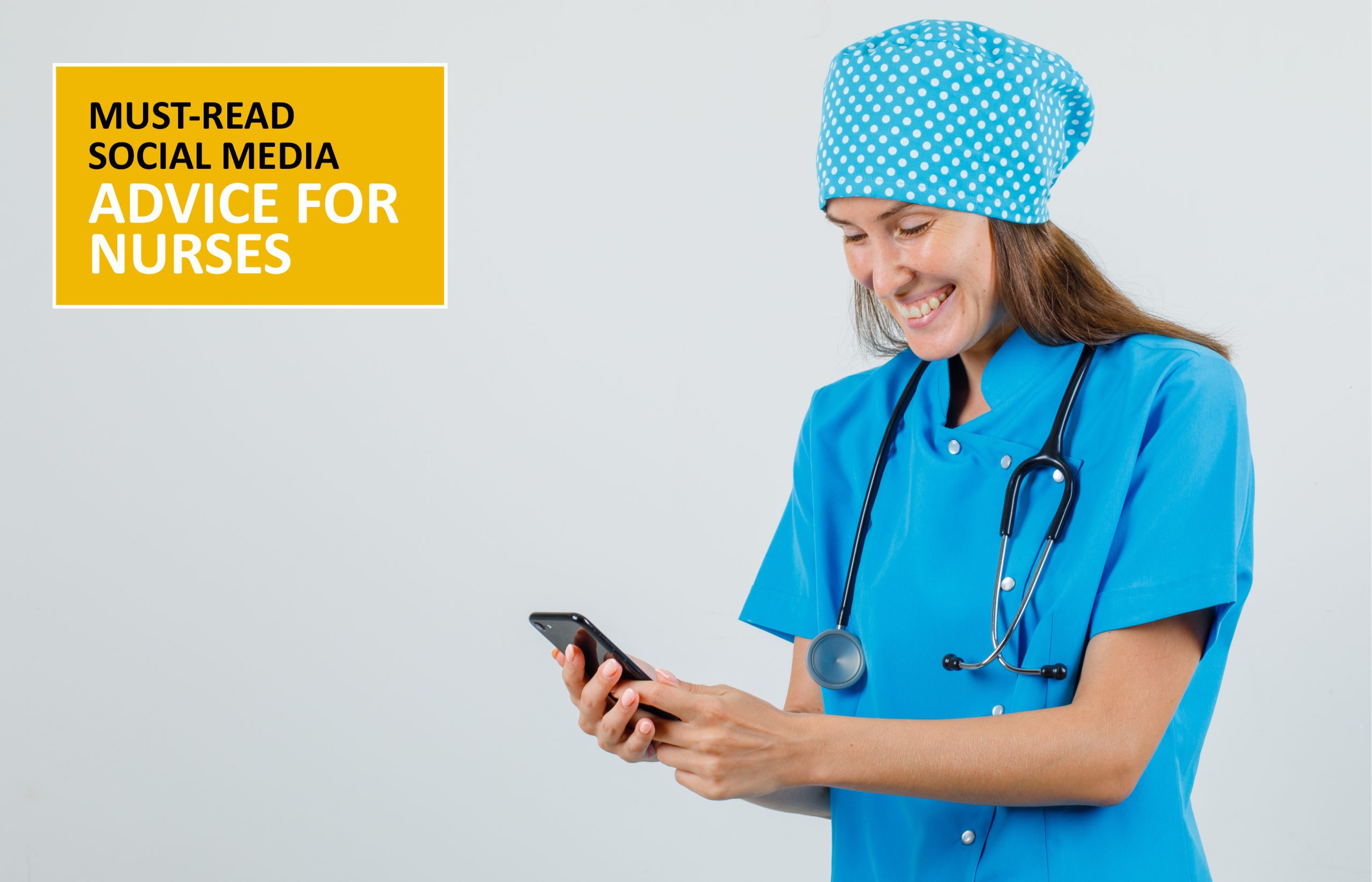 Posted on 12th October, 2022

6 Minutes read
Must-Read Social Media Advice for Nurses
Social media and other forms of technology-based communication platforms, such as Facebook, Twitter, Pinterest, and Instagram, have seen exponential growth in the past few years. It is believed that Facebook receives one billion registered users every month, while Twitter receives around 300 million. All kinds of information can be easily shared and translated via these social media platforms. Social media is a common place for nurses to talk about patients, healthcare, and the nursing profession. Some nurses, however, have exploited the usage of such sites, leading to serious legal issues for their employers as well as for their own professional credentials as registered nurses. When nurses write about their patients on social media and include patient names or other identifying details, they may find themselves in a challenging situation. Sometimes nurses get into trouble because they made a remark about the hospital or their present working environment that wasn't appropriate. Therefore, nurses need to exhibit extreme caution while posting online.
If you want to avoid trouble while having a discussion about your professional position on social media, consider this nurses guide to social media:
Do not disclose any information about your patients: It is against the law and punishable by a fine for nurses and other healthcare professionals to intentionally or unintentionally expose details about their patients, which may happen when they are using social networking sites like Facebook or Twitter.
Always uphold your professional limits: Although the proliferation of electronic media has a tendency to blur borders, it is essential to keep in mind that your professional standards remain unchanged regardless of the setting. You have undoubtedly heard of an employee being placed on leave or dismissed as an outcome of improper postings made on social media. It's very uncommon for those working in health care to erroneously believe that they may make slanderous comments about their co-workers or employers as long as they don't identify themselves, but this is not the case. Depending on the circumstances, this might be a violation of the patient's right to privacy or the employer's right to secrecy.
Engage in conversations pertaining to health care: It is essential to have a professional demeanour at all times; nevertheless, this does not imply that you are not allowed to have an opinion or that you should avoid taking part in conversations on health care. It is not inappropriate to maintain your visibility and relevance within the business by engaging in conversation about the things that interest and motivate you. Your efforts to educate others outside of the health care industry may also motivate young individuals or those seeking a career change to follow in your footsteps. In contrast, if a prospective employer does research you, it will indicate that you are serious about your job and invested in the industry.
Why should you take precautions to protect yourself on social platforms?
The breach of patient confidentiality is a significant challenge for nurses. Nurses who inadvertently disclose personal patient information are subject to a civil penalty that may range anywhere from $100 to $50,000. In addition to the potential for monetary penalties, nurses who violate the terms of their licences run the risk of being suspended. Simply doing a search using the terms "social media" and "nurse" will provide a large number of articles detailing how nurses have lost their jobs as a result of writing or publishing comments and images on social media about patients or hospitals. There is not a single nurse who is exempt from the consequences that come from inappropriately posting anything on social media.
Let there be no confusion: Registered nurses are permitted to engage in communication on social media. However, they must exercise extreme caution about the content of their posts. It is suggested that medical professionals must adhere to these social media guidelines for nurses:
If you are concerned about your safety, your family and your house, avoid posting online that you are at work.
Do not post on social media while you are at work, and under no circumstances should you use the internet provided by your employer in order to post on social media.
You must be aware that nothing you do online will ever really protect your anonymity.
You must familiarise yourself well with the social media rules of your company.
Ensure that your personal profiles do not reveal the name of your employer.
Don't engage in any behaviour that you would feel uncomfortable admitting to your mother, your friends, your employer, or a prospective boss.
You must avoid doing anything that can bring shame or disgrace to your chosen line of work.
In many cases, nurses unintentionally break regulations or even publish offensive remarks online about a patient, healthcare facility, or a specific case. However, the ramifications of violating the confidentiality of a patient or showing insensitivity to an employer or fellow colleagues are quite serious and may even be devastating to the nurses who commit the offences, both in terms of their earnings and their ability to practise nursing. However, you should also keep in mind that you are a representation of your profession beyond the actual sanctions that may be imposed. Make a good first impression on the world with your much-loved profession.
FAQ's
There are numerous pointers that must be considered including the ones mentioned below:
Experience and Education Go Hand-in-Hand.
Don't Be Afraid to Ask Questions.
Talk to Senior Nursing Students.
Go Beyond Required Reading.
Adopt Smart Study Habits.
When using social media, registered nurses must adhere to the following guidelines, which include the following: Registered nurses should not communicate about themselves, the nursing profession, their families, their hobbies, and their interests. Never, ever discuss any patients or employees who can be identified. It is best not to reveal your place of employment on any of your social media platforms.
In a study that looked at how nurses use social media, the researchers found that Facebook, Twitter, Instagram, and LinkedIn are the four most popular sites that nurses utilise. The use of these websites allows nurses to not only keep up with the most recent events and developments, but also maintain contact with their friends and loved ones. Each of these platforms offers potential for marketing efforts to be directed at the appropriate nurses. You may improve your chances of filling open jobs with qualified candidates by using strategic recruiting practises.
Have Questions For Us?
We will answer everything.