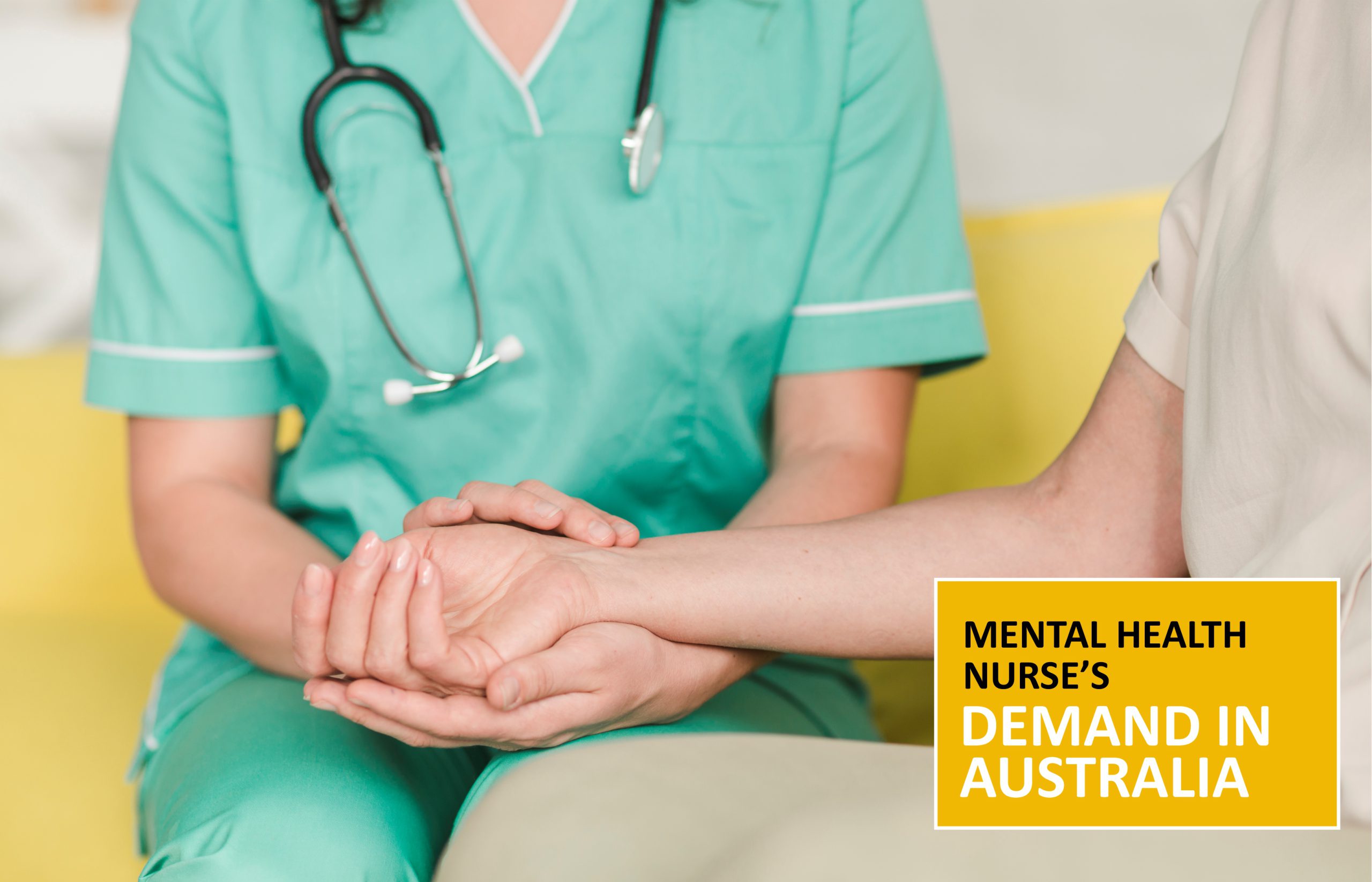 Posted on 19th September, 2022

8 Minutes read
Mental Health Nurse's Demand in Australia
When it comes to caring for people with mental health issues, nurses engage in a one-of-a-kind interpersonal process that actively encourages and sustains practises that boost people's capacity to function effectively in their homes and communities.
While all healthcare workers are essential in the post-COVID-19 era, mental health nursing is a critical lifeline with an individualiszed approach due to the obvious nature of the field.
Care for people who are experiencing mental health issues, commonly known as psychiatric nursing, is a specialist area of nursing practise. Specialists in mental health nursing have extensive training in the evaluation, diagnosis, and management of mental health conditions. Their goal is to provide the best possible clinical results for the patient, and they often collaborate with other medical experts to achieve this.
Mental health nurses are in high demand:
According to data from the Australian Institute of Health and Welfare, there were 7.2 million visits to mental health care facilities between June 2018 and September 2020.
These numbers indicate the whooping percentage of people in need of mental health nurses and associated facilities.
There has never been a good time to enter the field of mental health in Australia due to the high demand for professionals in the industry. In 2019, the ABS National Health Survey found that millions of Australians were experiencing increasing levels of anxiety, psychological discomfort, and depression.
Up until the middle of 2021, the mental health problems had gotten worse, with 1 in 5 Australians expressing high or extremely high levels of psychological anguish, which was directly related to the COVID-19 epidemic. The most vulnerable groups to poor mental health have been children, women, and individuals with disabilities.
Australian mental health professionals have had their hands full, to put it mildly, trying to accommodate patients due to the steadily rising number of mental health problems. Many mental health professionals are concerned about their ability to provide all patients with proper care as a result of this difficulty. As a result of the Australian mental health industry's vigorous efforts to address the labour shortage, the workforce increased by 6.5% annually in 2021.
Australia's comprehensive nursing profession is now experiencing a staffing deficit. Although there has been a minor rise in the number of new Nurses over the last several years, the need has not been fulfilled, and around 20% of the empty nursing posts in mental health nursing. This demonstrates conclusively that professional Mental Health Nurses are in high demand. If you are contemplating a career as a Mental Health Nurse, you may find it more appealing than other fields of nursing for a variety of reasons.
Typical employers of mental health nurses:
The NHS
General, psychiatric and secure hospitals
Residential and nursing homes
Community and rehabilitation units
Special units within prisons

For one, it's a rapidly developing subspecialty of nursing that's making a difference in people's lives in many different ways. As a result, there is a growing need for trained experts to meet the needs of those in need of assistance with their mental health. Consequently, Mental Health Nurses have more job stability, better compensation and benefits, and many possibilities for career advancement and sub-specialization.

Key skills for mental health nurses:

Sensitivity and compassion for other individuals.
A solid grounding in several theories on mental health and disorders.
The ability to cooperate well with others.
Exceptional oral and written communication skills.
Perseverance and the willingness to establish healthy boundaries with your job.
Have Questions For Us?
We will answer everything.