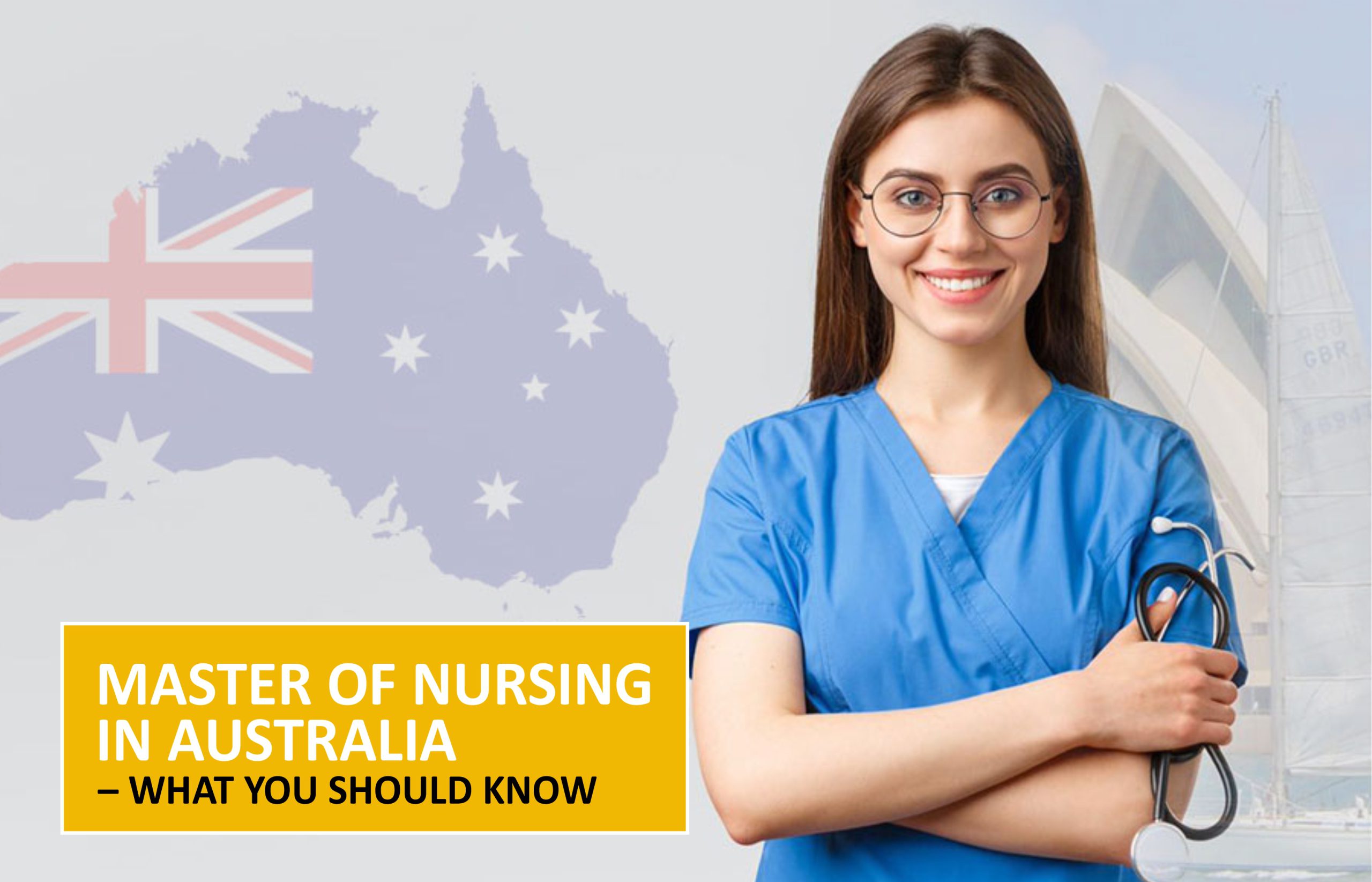 Posted on 12th January, 2022

6 Minutes read
Master of Nursing in Australia –
What you should know
Service to man is service to God. And that is exactly what nurses do—they provide service to patients. There is no doubt that nursing is one of the noblest professions that there is. As a career, nursing has gained even more importance with the Covid-19 pandemic causing havoc.
The world entered the pandemic with a shortfall of up to 6 million nurses. Another additional 4 million nurses are expected to retire by 2030 (Source: International Council of Nurses).
Why is there such a dearth of nursing professionals? Well, not everybody can be a nurse. You need compassion and patience to provide adequate care to the patients. Also, you need to learn theory and acquire practical skills.
The Master of Nursing education program combines theoretical and practical knowledge. You will be better equipped to take full control of the nursing profession as it undergoes a rapid transformation in the ever-evolving healthcare environment.
As a nursing graduate, you can advance your nursing profession and position yourself for leadership roles. It helps you develop critical decision-making abilities that may prove crucial in the workplace.
Let's now talk about Australia as a destination to study Master of Nursing course.
Benefits of Studying Master of Nursing in Australia
The purpose of the Master of Nursing course curriculum is to prepare you with the advanced knowledge and skills necessary to function as a nurse. The nursing graduate certificate program develops expertise in the areas of nursing and clinical leadership.
The Institute of Health & Management (IHM) in Australia is a reputed nursing educational institute that offers the Master of Nursing degree program to aspirants from all over the world. As a stronghold of quality education, the Master's program in nursing is so structured to prepare nursing aspirants to provide top-notch health care services.
Opportunities Galore
In Australia, the demand for nurses is more than the supply. It is reported that Australia's requirement for nurses will significantly exceed supply with a projected shortfall of approximately 85,000 nurses by 2025. So, if you are looking for a nursing career in Australia, the time is right.
Scope for International Students
Australia is also the third most sought after study destination for students worldwide, after the US and the UK. There are approximately 400,000 registered and enrolled nurses in Australia, with 33% of nurses born overseas (Source: Australian Bureau of Statistics). Historically, nurses who migrate to Australia come from England, New Zealand, Canada, India, Malaysia and China.
Good Quality of Life
Australia is also one of the most liveable countries in the world in terms of quality of life, education and career. The happiness index for Australia is 7.27 out of 10. This places Australia in the 12th position in the list of the happiest countries in the world. No wonder that it is the chosen destination for many international students. So, if you are looking for a study-life balance, Australia will be just about perfect for you.
Rewarding Career
Registered Nurses (RN) in Australia earn an average salary of AU$69,193 per year (Source: PayScale). However, a registered nurse with a Master's in Nursing can earn on an average AU$90,000 per year (Source: PayScale). Nursing is a great career option, especially in Australia. Nurses who have graduated with a Master's enjoy higher employment opportunities, pay, and growth in the job.
Diverse Culture
Australia is a country that is ethnically diverse. You will be able to experience world culture at a completely different level. So, if you are thinking of pursuing your advanced nursing career in Australia, be prepared for a vibrant and colourful life.
Advanced Hospitals and Medical Equipment
While undergoing the nursing graduate program in Australia, you will be working in state-of-the-art hospital settings and will also be exposed to high technology medical equipments. This will help you realize your career goals in probably the best way possible.
Summing Up
Nursing is one of the most respected professions on earth. The Australian community appreciates the efforts of the nurses. It was announced that nurses are Australia's most highly regarded profession. They were rated as 'very high' or 'high' for ethics and honesty by 94% of Australians.
The Master of Nursing program offered by the Institute of Health and Management (IHM) will equip you for a wide range of positions in the industry and in the Australian healthcare setting.
With the Australian Government opening its borders to international students, enrolling in the nursing masters degreeprogram is no longer a problem. So far, we at IHM have trained 3000+ nurses. To know more about our Master of Nursing program, please download the brochure.
Cheers!
Have Questions For Us?
We will answer everything.