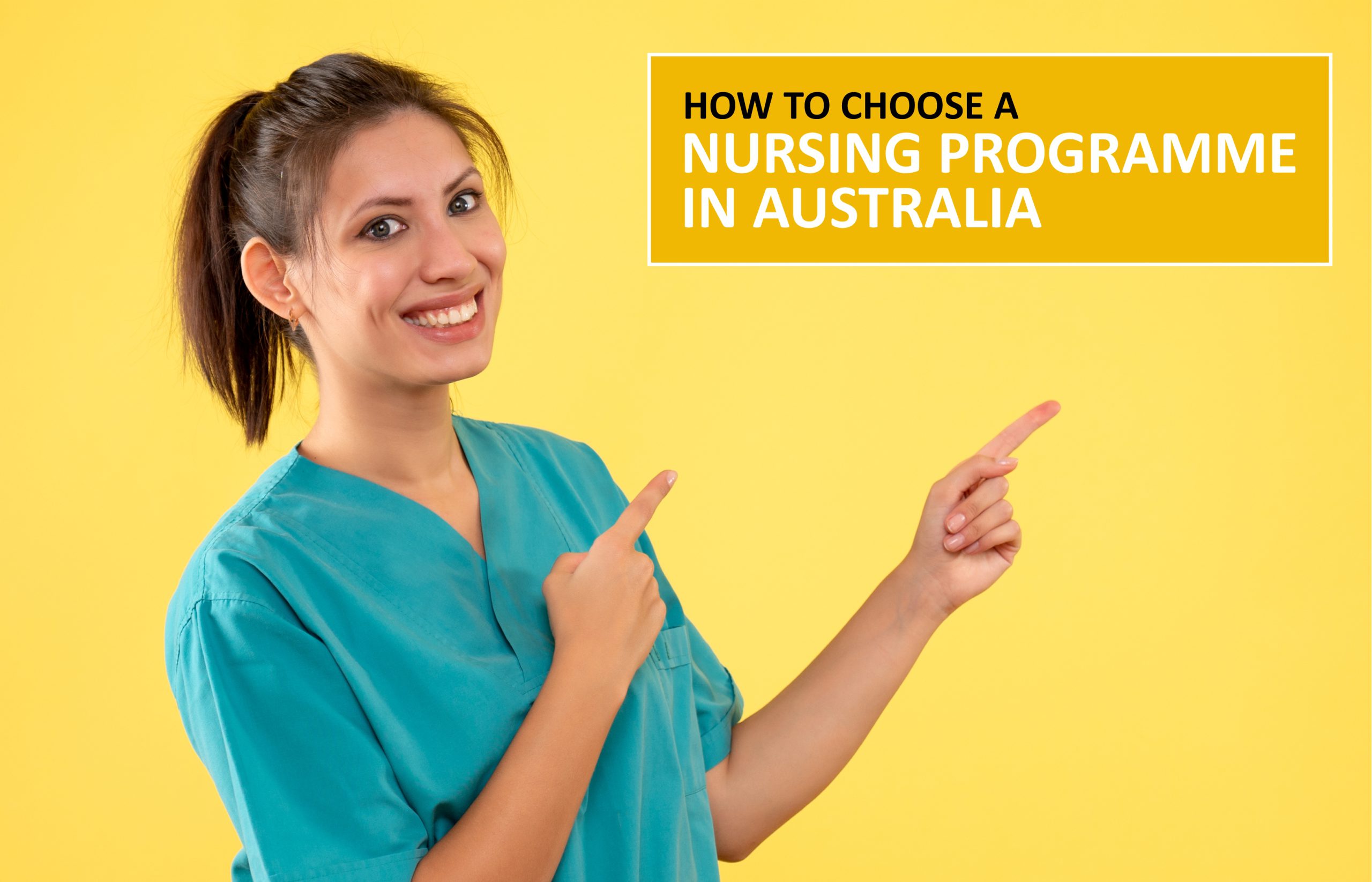 Posted on 12th October, 2022

7 Minutes read
How to Choose a Nursing Programme in Australia
Australia's educational system actively encourages creativity, initiative, and critical thinking among its students. Quality education has long been a point of pride for the country. Students from other countries who study in Australia and graduate with a relevant degree are able to compete effectively in the global job market. Australian nursing programmes have been refined to better equip students with the academic knowledge and honed practical skills necessary to provide first-rate medical care.
The scientific knowledge, training, and skills earned over the course of a nursing career are applied to the care of people and communities. Nurses work to improve people's health by focusing on disease and injury prevention, patient care, and recovery. Nursing graduates find employment in a wide variety of settings, such as hospitals, general practises, community settings, jails, residences, and residential facilities.
Nursing courses at Australian institutions are well regarded across the world. The QS World University Rankings for 2022 have shown that 11 of the top 50 nursing schools in the world are based in Australia.
Selection process: The choice of where to study nursing is a serious one. There are several factors to think about whether you are just starting out in nursing or are thinking about going back to school. You will be guided in your decision by considerations including the programme's content, fees, time allocation, and campus location.
By following these 8 guidelines, you'll be well on your way to selecting an appropriate nursing programme in an Australian institution.
1. Determine What You Want in a Programme.
How long will the programme take?
What's the classroom structure like?
What specialties are offered?
How much time is spent in clinical rotations?
2. Determine What You Want in a School
Where is the school?
What is life on campus like?
What social and recreational options are there for students?
Are there job opportunities on campus or nearby?
What kind of technology is available on campus?
3. Consider Nursing School Rankings
4. Visit Plenty of Schools
5. Verify State Approval & Accreditation
6. Ask About NCLEX Exam Pass Rates
7. Consider College Career Placement Programmes
8. Factor in Tuition Costs
That being said, you might be wondering why take on a nursing degree.
Put your skills to use and help make a difference: Making a positive impact on another person's life is really rewarding. Nurses work to improve health outcomes, offer comfort, and enhance people's lives.
Flexible: A nurse's abilities may be used in other fields. You are free to relocate anywhere around the globe and pursue a job in any industry. Depending on your interests and qualifications, you may pursue a career in a variety of settings, from the front lines of trauma treatment to public health or a community health centre.
Time Commitment of a Registered Nurse: The nursing profession is accommodating to those who need adaptable schedules. Your schedule is flexible, allowing you to work anywhere from 4 – 12 hours every day.
Stimulating work: A nurse's day is never boring since it's always full of surprises. There will always be something new to learn, which will keep you engaged and enthusiastic. At least you won't spend all day in front of a screen.
Nursing Demand In Australia: The need for nurses will never go away. In the next decade to 15 years, the scarcity of nurses is only expected to worsen as the world's population keeps rising. The need for competent nurses to raise patient satisfaction, improve quality of life, and deliver better levels of care, particularly in rural and isolated locations, is on the rise as the older population lives longer than ever before.
Australia's demand for nurses is expected to greatly outstrip supply in the medium to long term, with a predicted deficit of over 85,000 nurses by 2025, or 123,000 nurses by 2030 under present circumstances, according to research by health.gov.au titled Australia's future health workforce: nurses.
Registered nurses have the option of specialising in one specialty or rotating across many. There are many areas of healthcare to pursue, from paediatrics to obstetrics. If you're a registered nurse looking to broaden your horizons, try working as a public health nurse, a camp counsellor, a travel nursing assistant, a nurse in a college, or in the military. Once you get your nursing degree, switching specialties is easy if you aren't sure which one is best for you.
FAQ's
Not really, it depends mostly on an individual's capabilities and motivating factors to accomplish their nursing degree within a stipulated time period. The curriculum is universal with all the core concepts to be covered equally.
According to a comprehensive report by health.gov.au entitled Australia's future health workforce: nurses, the workforce planning projections in their publication demonstrate that in the medium to long-term, Australia's demand for nurses will substantially outstrip the supply, with a projected shortfall of approximately 85,000 nurses by 2025, or 123,000 nurses by 2030 under current projections. In the report, the workforce planning estimates suggest that the demand for nurses in Australia will considerably exceed the supply.
Nurses that specialise in caring for the elderly are constantly in high demand. High-level competence in the care of older persons is crucial for safeguarding the health of our elder Australians as our population ages and more people live with chronic diseases.
Have Questions For Us?
We will answer everything.