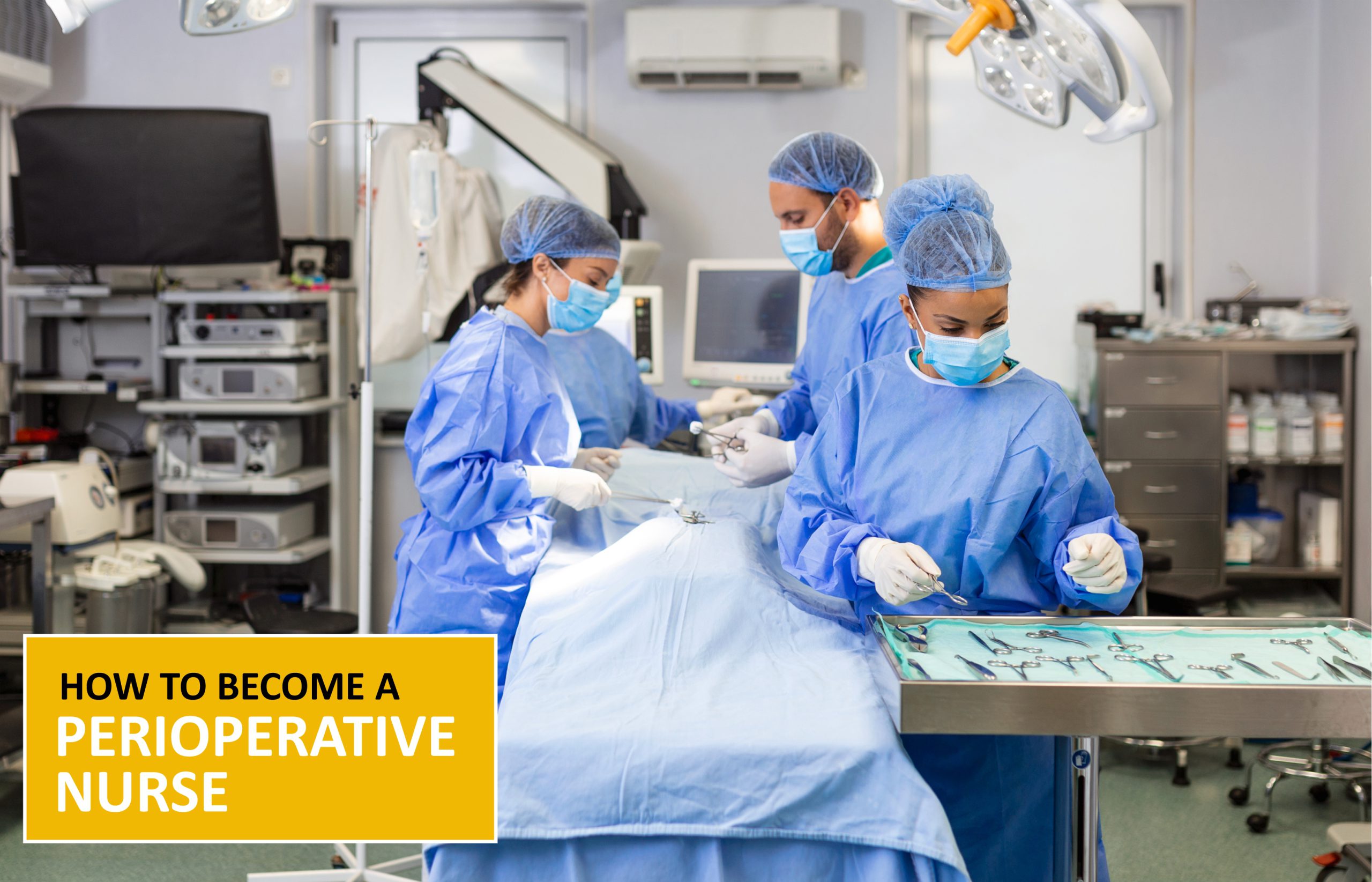 Posted on 21st October, 2022

7 minute read
How To Become a Perioperative Nurse
If you're thinking about entering the nursing profession and would want to work in an operating room, you're not alone. But what exactly does a perioperative nurse do? These types of registered nurses are accountable for giving care to patients prior to, during, and after surgical operations. Additionally, they are liable for supporting surgeons in operating rooms. Knowing the job description and duties of a perioperative nurse, as well as the skills you may acquire, is important if you're thinking about making this field your career path.
This blog will describe the work of a perioperative nurse, the requirements for entering this field, and other relevant information.
Role of a perioperative nurse:
A perioperative nurse is a registered nurse who provides care to patients before, during, and after surgical procedures. These nurses are also known as scrub nurses or operating room nurses. In order to provide care for patients before, during, and after surgical procedures, registered nurses must complete specialised training in a field known as perioperative nursing. These nurses play a crucial role in assisting the surgical team and ensuring that patients have a speedy and effective recovery following their operations.
A perioperative nurse is responsible for assisting surgeons and ensuring patients are comfortable during an entire surgical procedure. The majority of their time will be spent on the following regular duties:
Filling out necessary papers and intake documents.
Providing guidance to those seeking medical attention.
Facilitating productive conversations between healthcare providers and patients' families and friends.
Helping surgeons carry out their work.
Working with and getting surgical equipment.
Washing medical equipment and sterile environments.
Managing the surgical room and guiding other nurses working there.
Keeping a patient calm and facilitating throughout the surgery.
Keeping tabs on a patient's vitals throughout an operation.
Having the means to provide patients with the aftercare they need.
Who Is This Role Intended For?
To thrive in the field of perioperative nursing, you need a certain set of skills. The nature of the nursing care you provide may have an influence on these attributes. When your primary responsibility is to care for patients before surgery, it's important to be upbeat and well-organized so that you can put them at ease. Being present in the operating room throughout the process requires the ability to think critically and cope with the tension that always arises. Patients in need of postoperative care, as well as their loved ones, require a great deal of patience. You also need to be skilled at making evaluations so that you can act swiftly in the event that a patient's health suddenly worsens.
How to Become an Australian perioperative nurse?
There are numerous pathways to becoming a perioperative nurse; although, a simple guideline that you can implement is applicable here: ; although, a simple guideline that you can implement is applicable here:
A Graduate Certificate in Advanced Nursing- perioperative nursing from a recognised educational institution is required to practice as a perioperative nurse in Australia.
You have to be 16 years of age or higher.
Successful delivery of coursework equivalent to a 10-year certification in Australia is necessary.
To enrol in this training program, an overseas student must possess an IELTS band score of 5.5.
Students must demonstrate language, literacy, and numeracy (LLN) ability at Orientation.
Applicants above the age of 22 will be accepted without minimal academic requirements but will be examined individually to satisfy the standards.
Registration through the NMBA:
You may become a registered nurse with the Nursing and Midwifery Board of Australia before you start working as a perioperative nurse. Getting registered requires submitting an application on the whole. The only people who may apply for registration are those who are in their last year of nursing school or who have graduated within the past two years.
The average salary for perioperative nurses:
Indeed.com reports that a perioperative nurse's annual basic income is $81,026. This sum is subject to change based on the specific location and hospital. Gaining more years of experience usually results in higher remuneration for these professionals.
The daily routine of a nurse who works in perioperative settings:
If you're considering a career as a perioperative nurse, it's beneficial to familiarise yourself with a typical day on the job. These nurses often serve in the operating room of a hospital or medical centre. They cooperate as part of a surgical squad full of doctors, nurses, and others in the healthcare profession. Their shift intervals typically range from 12 to 24 hours, however, this varies with each healthcare facility.
Registered nurses are eligible to work as soon as they have completed their education requirements. You can hone your abilities and get ready for a job in perioperative nursing by gaining work experience in the nursing field. Search for positions assisting perioperative nurses or other surgeons to get valuable work experience in the operating room. This might help you get a feel for what it's like to work as a perioperative nurse and decide whether it's the correct medical speciality for you.
Have Questions For Us?
We will answer everything.