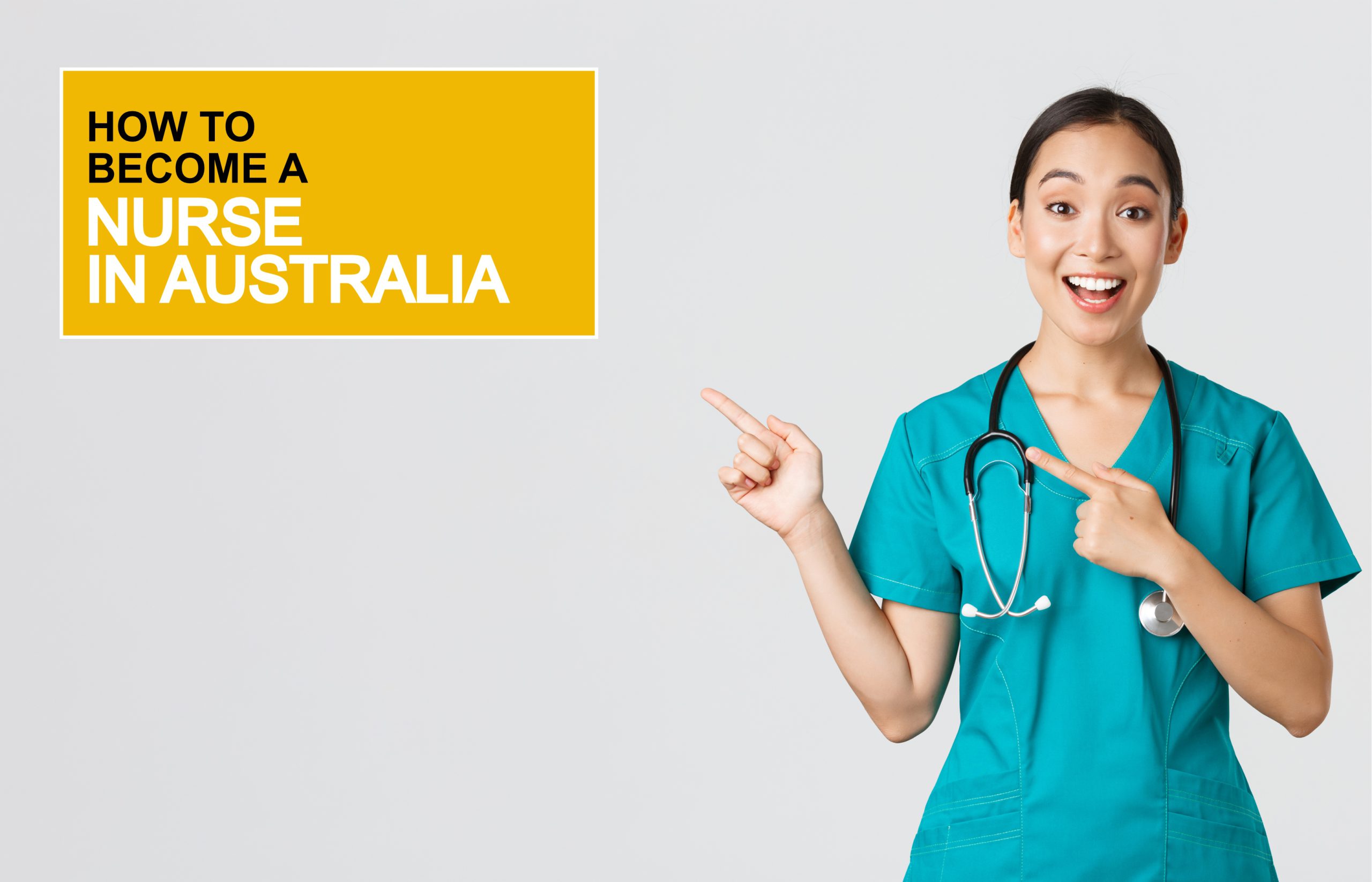 Posted on 18th October, 2022

6 Minutes read
How to Become a Nurse in Australia
Countless nurses throughout the world who are currently registered might well have ambitions of moving to Australia and practising there. There has been a notable increase in the number of students from outside Australia who are coming to the country to study nursing. They are justified in doing so.
Respect, career possibilities, income, work-life balance, visas, and residence options are just a few of the reasons why you should become a Registered Nurse in Australia.
The esteem with which nurses in Australia are held by the public and the government is admirable. In Australia, nurses of all levels can find adequate work opportunities, good pay, and a reasonable work-life balance.
Visa and residency pathway: Furthermore, once registered, you have several options for visas and permanent residence in Australia.
So, if you are a student, you must enrol in an Australian university and complete a bachelor's degree in Nursing or a Master's degree that culminates in registration. It must be noted that only a small percentage of master's Degrees lead to Registration. If you are currently a registered nurse in your country, you must go through a performance assessment technique developed by the Nursing and Midwifery Board of Australia (NMBA).
The NMBA has developed a new evaluation approach for Internationally Qualified Nurses, which begins in March 2020. The new evaluation method for IQNMs includes:
An online Self-check for all IQNMs
An introductory session for all IQNMs who are recommended to proceed with the evaluation process; and
An Outcome-Based Assessment for certain IQNMs are all part of the new assessment system for IQNMs.
So, the question is if your qualifications match then what?
If the Australian Health Practitioner Regulation Agency (AHPRA) finds that your nursing education and experience are substantially equal to those of Australia's nursing qualifications and experience requirements, then you may be eligible to work in Australia. Apply for registration by submitting the application and registration costs if you fulfil the necessary Australian Nursing Standards and have a qualification that is comparable to an authorised Australian qualification. Some examples include documentation that you can speak English, confirmation that you have not been convicted of a crime within the last seven years, confirmation that you have recently practised, and so on.
If it doesn't, then what?
If you are already a registered nurse in your home country but the AHPRA determines that your degree is not substantially equivalent to or focused primarily on the same areas of expertise as, an Australian-approved degree in nursing, then you will be required to take an assessment known as an Outcome-Based Assessment (OBA) before you can apply for Registration in Australia and submit the required fee.
In Australia, you can find a variety of educational institutions offering courses that can help you advance in your career. Just double-check that the course of study is recognised by AHPRA. The only other option is to enrol in the OBA.
In OBA (Outcome-Based Assessment), there are two phases to a test. Both a structured objective clinical examination and a multiple-choice test will be administered (OSCE). To go on to the OSCE, you must first pass the MCQ.
The transition from bridging programme to OBA: This form of evaluation was established by NMBA (Nursing and Midwifery Board of Australia) and has been adopted starting in March 2020. In doing so, it eliminated the need for making fresh recommendations for transitional services. The bridging programme or IRON (Initial Registration for Overseas Nurses) was operational before OBA. Those who have been referred to the bridging programme by AHPRA had until 2021 to complete it. It is not guaranteed that a provider will have space available in their programme even if AHPRA recommends them. Any of these recommended candidates may submit a request to participate in the OBA programme. The current registration process must adhere to OBA standards.
You may apply for registration after you have passed the Objective structured clinical examination (OSCE). Assuming you satisfy all registration requirements, you can submit an application and submit the registration fee to become officially registered.
Have Questions For Us?
We will answer everything.