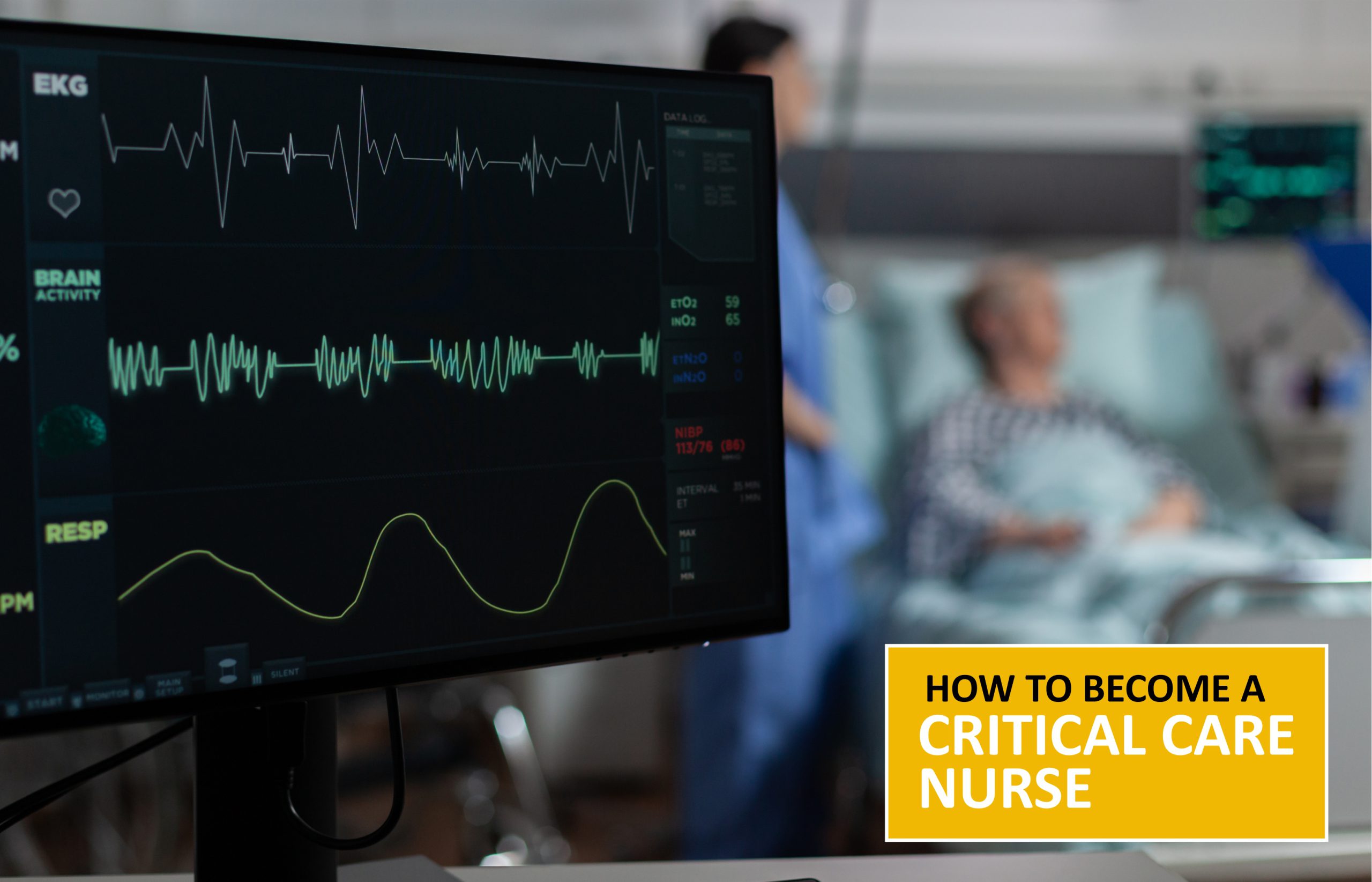 Posted on 27th September, 2022

5 Minutes read
How to become a Critical Care Nurse
Australia accepted critical care nursing as a speciality in the 1970s, its clinical setting and nursing practise vary significantly from those of most other countries. Clinical practise, education, and research in critical care nursing in Australia are of high quality; the specialised critical care nursing graduate curriculum is well structured, and nationwide specialist practise guidelines govern clinical practise.
Although many variables impact the health and prognosis of severely ill patients, it is undeniable that patient-centered care delivered by a qualified nursing staff makes a substantial impact. The Australian Department of Health and Ageing commissioned a study of Australian government health workforce initiatives in 2012, with an emphasis on how to assist Australia's implementation of a high-quality, well-distributed, efficiently utilised, and adaptive health workforce. Workforce innovation results in not just enhanced productivity, retention, and worker satisfaction, but also the security and quality of healthcare mustn't be compromised.
In this blog, you will find all the information you need to pursue a career as a critical care nurse.
Role of a critical care nurse:
Immediate medical attention is crucial for anybody experiencing a life-threatening medical emergency, such as a heart attack, stroke, shock, severe trauma, respiratory trouble, or death. Critical care nurses have the education and experience to deliver this level of care at hospitals and other facilities where patients have access to the most advanced diagnostic tools and treatment options.
Care for patients who are at immediate risk of losing their lives is the primary emphasis of critical care nurses. Surgical, trauma, coronary, medical, paediatric, burn, cardiothoracic, and neonatal intensive care are all sub-specialties within critical care nursing.
Since intensive care unit patients require such specialised attention, critical care nurses often collaborate with other medical professionals such as physicians, consultants, physiotherapists, and dietitians to provide the best possible treatment.
Critical care nurses report to:
A critical care nurse is someone who works in the emergency department or intensive care unit of a hospital or clinic and reports to the ICU nursing manager or higher-ranking healthcare professional. Some critical care nurses may report to divisional managers, depending on the scope of their responsibilities.
Basic preliminary tests, such as collecting blood samples or checking blood pressure, are often the responsibility of critical care nurses. In this blog, we'll discuss some of the most significant details of the Australian critical care nursing education and certification processes.
How to Become an Australian Critical Care Nurse.
There are numerous pathways to becoming a critical care nurse; although, a simple guideline that you can implement is applicable here:
A Graduate Certificate in Advanced Nursing- Critical Care from a recognised educational institution is required to practise as a critical care nurse in Australia.
You have to be 16 years of age or higher.
Successful delivery of coursework equivalent to a 10-year certification in Australia is necessary.
To enrol in this training program, an overseas student must possess an IELTS band score of 5.5.
Students must demonstrate language, literacy, and numeracy (LLN) ability at Orientation.
Applicants above the age of 22 will be accepted without minimal academic requirements but will be examined individually to satisfy the standards.
What is the regular timeline for becoming a critical care nurse?
The time it takes to qualify as a critical care nurse is variable. Becoming a registered nurse (RN) is a prerequisite for working in critical care; a Bachelor of Nursing degree can be earned in three years. Depending on the school you attend, you can be able to earn your degree in as little as two years by taking accelerated courses.
While the majority of RNs get work experience before seeking further degrees, a small percentage enrol in graduate programmes shortly after earning their bachelor's in nursing. If you attend school full-time, earning a Master's in Nursing will take you two years; if you go to school part-time, it will take you four. It usually takes a year to finish a graduate certification programme. Becoming a critical care nurse might take as little as three years, although most nurses spend 4 or more years in school.
How much does a critical care nurse make per year?
The critical care nursing salary depends on factors such as where she works, how much education she has, and what her responsibilities are. According to PayScale, RNs working in ICUs may expect an average hourly pay of AU$39.66. If you have a master's degree in nursing or a graduate certificate in critical care, you may be able to negotiate higher compensation. According to the Australian Government's Job Outlook, nursing is a sector that has had rapid expansion over the previous years and is prepared for even more rapid expansion over the next five.
Critical care nurses may work in a number of healthcare institutions where their responsibilities are typical in their daily routines. Furthermore, critical care nurses may be assigned additional responsibilities that are unique to their healthcare facility.
FAQ's
A critical care nurse also known as an intensive care unit nurse's job may be quite stressful at times. The ability to multitask and deal with the stress of caring for seriously ill patients are essential skills for intensive care unit nurses to have.
A critical care nurse is someone who works in the emergency department or intensive care unit of a hospital or clinic and reports to the ICU nursing manager or higher-ranking healthcare professional.
Have Questions For Us?
We will answer everything.