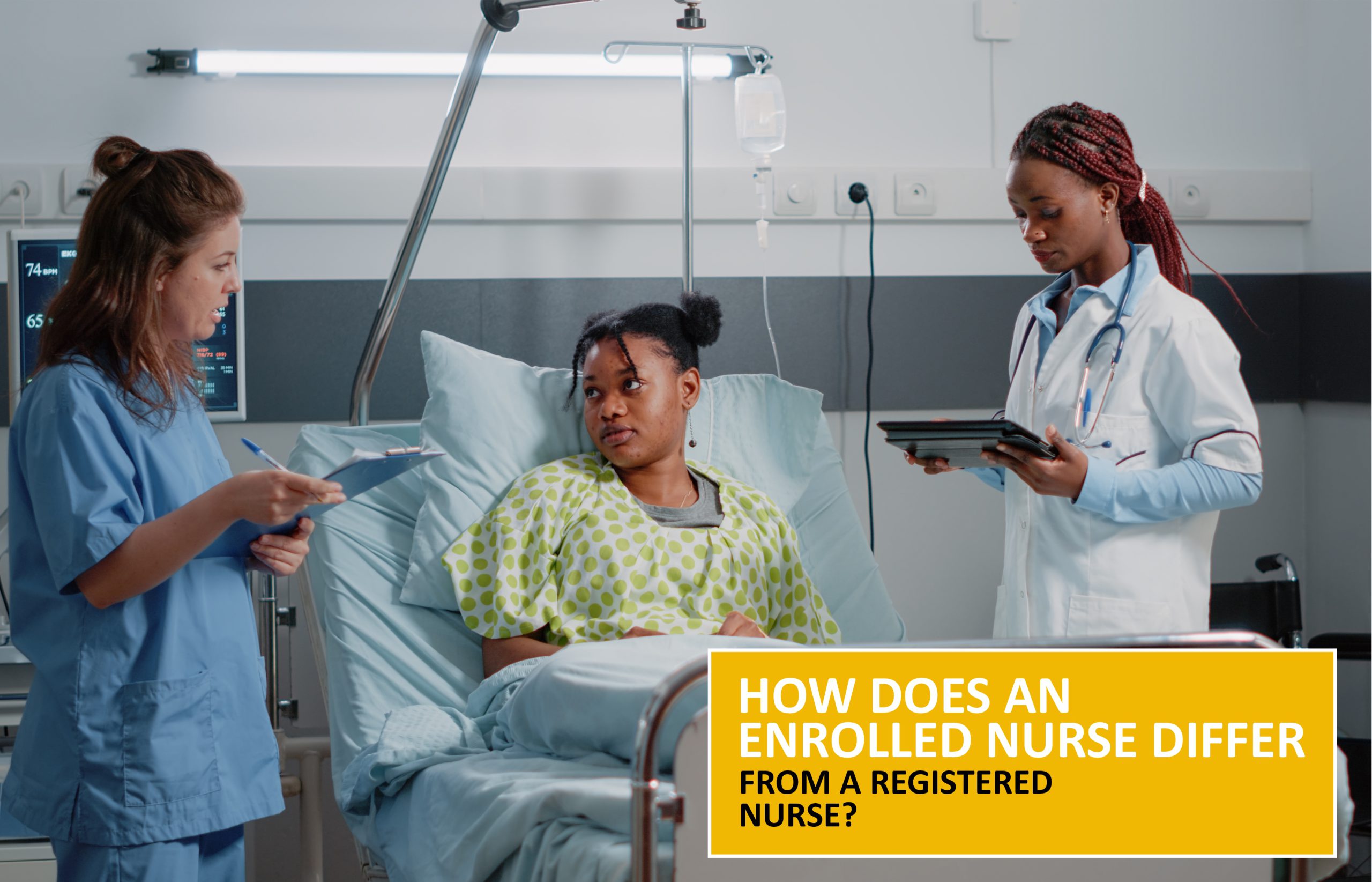 Posted on 29th September, 2022

7 Minutes read
How Does an Enrolled Nurse Differ from a Registered Nurse?
The distinction between a registered nurse and an enrolled nurse is sometimes contradicted, and some even mistake the two terms. What about a Registered Nurse vs. Enrolled Nurse? The distinction between a registered nurse and an enrolled nurse is less dramatic than you would think.
The level of qualification attained by each individual is the primary difference between an enrolled nurse and a registered nurse.
Enrolled Nurse: What Is It?
The Enrolled Nurse is often referred to be as the foundation of the healthcare profession. An Enrolled Nurse, also known as an EN, generally carries out a very broad variety of tasks and is highly competent and experienced. A Diploma in Enrolled Nursing will have been earned by an EN through some kind of training facility. An EN often offers nursing care while functioning under the supervision, assignment, and supervision of the registered nurse. What ENs perform depends greatly on the kind of institution or healthcare organisation they work for, the State in which they are appointed, and whether they operate in acute care, elderly care, primary care services, assisted living facilities, or other types of settings. Additionally, roles differ depending on whether an individual serves in the public or private sphere and in an urban, regional, rural, or distant location.
The following aspects define the area of practise for enrolled nurses.
Nurse's educational background;
Their level of clinical competency.
The level of clinical judgement involved.
The rules are established by the state or territory where the enrolled nurse works.
Facility regulations and guidelines.
The following commitments are core components of their job:
Deliver interventions, effective treatments, and medications based on patient nursing interventions.
Administrating medicine through oral, IV, or injection.
Monitor patients while taking their temperature, pulse, blood pressure, respiration, and blood sugar levels, documenting any variations and reporting them.
Assisting with clothing, personal hygiene, taking a shower or bath, and overall comfort.
Encourage patients to eat but also aid them with rehabilitative and exercise regimens.
Dealing with emergency situations and standard first aid.
Empower individuals to have a healthy lifestyle by training them.
Make sure the surroundings are secure.
What is a registered nurse?
A registered nurse in Australia may work in administration, as a team leader or operational manager, write nursing interventions, and do a variety of other things in addition to EN duties. An RN's duties will include administering medication, evaluating patients, and providing extremely sophisticated nursing or diagnostic procedures. They can assume relatively substantial tasks and have a good level of decision-making flexibility since they are registered and licenced in line with the Nursing Act competency criteria.
Advantages of being a licenced or enrolled nurse:
Being a licenced or enrolled nurse has various advantages in Australia. In addition to offering a good quality of living—nurses' salaries are in the top 20% of those earned by Australian workers—it is also a highly valued and respected profession. Your degree from an Australian institution will be recognised globally since Australian nursing education is perceived to be state-of-the-art.
Which is better for you: Registered Nurse or Enrolled Nurse?
The degree of nursing you choose will mostly rely on how active you wish to be in classrooms and your long-term goals.
The remuneration of a registered nurse, which will be greater, must also be taken into account. Consider a few useful statistics as well. According to Health Workforce National's 2025 forecasts, enrolled nurses retain more patients than registered nurses do. To meet the country's healthcare demands, somewhere in the range of 5,000 new ENs are required per year.
If you are a health care worker who does not yet have a licence, becoming an EN is typically the next big step in your career progression. From that position, you may work your way up to become a registered nurse. Due to the fact that it requires expertise in a wide variety of fields, becoming an EN may be an exciting, dynamic, and difficult occupation.
Collaborations between the Enrolled Nurse and the Registered Nurse: Often, the RN and EN will collaborate, with the EN operating under the RN's direction. As an enrolled nurse, you are still able to take responsibility for your own decisions and are obligated to provide the patient with the care they need. Depending on the organisation where they work, the EN's position may change. For instance, an EN may potentially be able to deliver medication through IV, but if the employer forbids this, they must adhere to the employer's scope of practise.
FAQ's
Patients in a range of health, aged care, welfare, and community settings receive fundamental nursing care from Enrolled Nurses, who are supervised by Registered Nurses. Enrolled Nurses are responsible for providing essential medical services. The EN is responsible for monitoring, measuring, and documenting vital data of patients, as well as reporting modifications in the patient's conditions to registered nurses and medical professionals.
Becoming an EN is typically the next major upgrade if you are currently a non-licenced health care provider. You can advance to become a Registered nurse from there. Operating as an EN can be challenging, dynamic, and engaging since it involves so many different disciplines.
According to the Australian Industry and Skills Committee, enrolled nursing is currently one of the top five occupations that are in demand within the healthcare sector. These ranking places enrolled nursing alongside other nursing specialties such as maternal and paediatric care nursing and registered nursing.
Have Questions For Us?
We will answer everything.