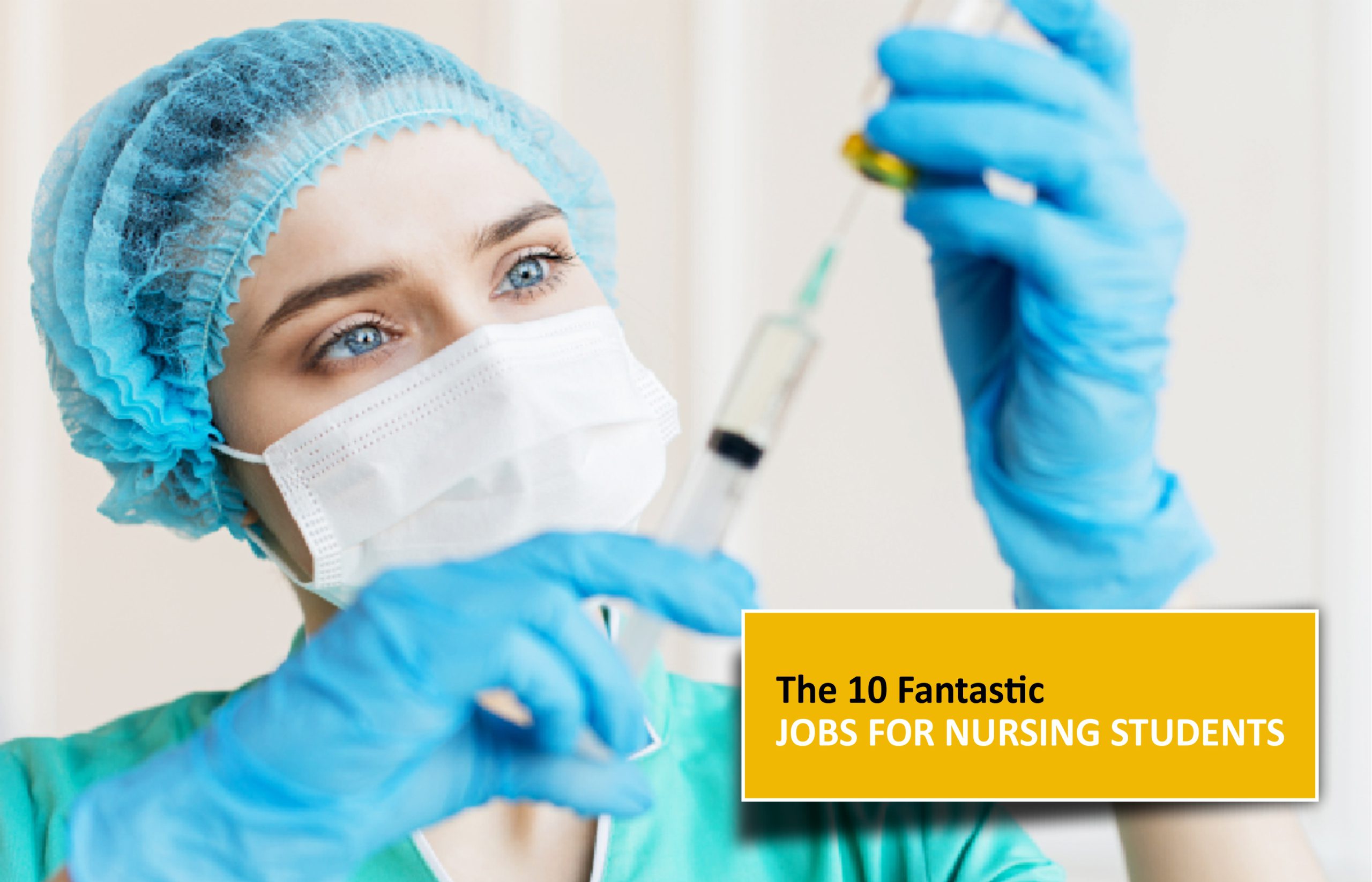 Posted on 12th July, 2022

8 Minutes read
The 10 Fantastic Jobs for Nursing Students
Nursing is a high-demand profession that consistently proves to be financially and emotionally rewarding. It also gives practitioners the chance to impact people's health and well-being. Cracking a job offer while studying
nursing education
is a terrific method for aspiring nurses to gain valuable experience that can help them later in their job search.
Before you graduate, get your feet wet with part-time jobs for nursing students to gain vital experience. Another fantastic advantage of working while studying for a nurse degree is that you can gain experience in your profession & ensure that nursing is the career goal you dreamt of!
Best Jobs to Pursue for Nursing Students to Get Experience:
Getting a part-time job is a terrific opportunity to get valuable experience as a nursing student. Here are ten jobs to help you gain a feel for the professional world!
1. Summer Camp Nurse Assistant
It is one of the top nursing jobs for individuals interested in pursuing a paediatrics speciality in the future. As the assistant, you'll be the camp nurse's aide. Depending on the camp location, you may also partake in public health and health education-related activities with campers and staff.
2. Phlebotomist
For nursing students, pursuing phlebotomy is perfect part-time employment because these professionals are in charge of collecting blood for donations & testing protocols. It has become the finest occupation for nursing students since it allows them to obtain essential healthcare experience by dealing with patients & performing necessary medical procedures.
3. Home Health Aide
One of the best hospital jobs for nursing students to pursue is home health aide. Home health aides provide some of the most critical care a patient may receive. They help people who are physically or psychologically ill, wounded, disabled, or confined to their homes. They work under a nurse who oversees the patient's care.
4. Transporter
Patient transporters, who work with other nurses and physicians, is one of the best jobs for nursing students. If you have good communication skills, are sociable, or enjoy connecting with different people receiving treatment, becoming a transporter is an excellent student nurse job.
5. Dietary Aide
As a dietary aide, you'll begin your career in the medical field by preparing meals for patients who must follow dietary restrictions imposed by doctors. You could work as a dietary aide in a hospital, an assisted living home, outpatient care, or municipal health departments.
6. Orderly
As their name implies, orderlies assist in one of the most important job opportunities for nursing students – ensuring order. They typically assist in the sanitization of various rooms, determine patient needs & the sanitization of equipment before use.
7. Psychiatric Aide
It is an ideal graduate nurse job for those passionate about mental health. And, because nurses are so important in tackling the mental health issue, every aspiring nurse could benefit greatly from some psychiatric hospital experience.
8. Occupational Therapy Aide
They are the ones who work closely with occupational therapists & therapy assistants and are among the best part-time careers for nursing students. Patients will be assisted by occupational therapy assistants who prepare them for treatment & assemble equipment as needed.
9. Personal Care Aide
Just like home health aides deliver crucial care to their customers and patients, personal care aides do the same. Personal care aides assist their patients with any services they may require, such as shopping, general housework, grooming, meal preparation, and other duties.
10. Monitor Technician
As a monitor technician, you'll supervise patient heart rate monitors in the Intensive Care Unit (ICU). It is an excellent opportunity for people interested in cardiac care to obtain significant knowledge and insight for a future profession.
Final Thoughts:
There are multiple choices and jobs for nursing students available that will provide vital experience and allow them to excel in the field. What happens after you've earned the necessary nursing work experience? It's time to polish your resume and set out to triumph!
FAQ's
For nursing students, there are several options and employment opportunities that will provide them valuable experience and enable them to succeed in the sector. They can opt for diverse part-time opportunities including the Summer Camp Nurse Assistant, Phlebotomist, Home Health Aide, Transporter, Dietary Aide, Orderly, Psychiatric Aide, Occupational Therapy Aide, Personal Care Aide, Monitor Technician, and in many other related sectors.
The nursing industry offers a wide variety of jobs. More experienced staff or nurses with further schooling typically make more money than other hospital staff. Earning more than a registered nurse or nursing assistant salary, for instance, is possible if you get a degree in nursing. A rewarding specialisation and increased earning potential can both emerge from pursuing a master's in nursing. Some of the best nursing jobs include clinical nurse educator with national average salary of $97,872, nurse practitioner with $123, 501 average salary, $84,004 for neonatal intensive care unit nurse, and clinical nurse specialist with an average salary of $103,550. (Source: au.indeed.com)
Nursing is a well-respected profession that calls for a thorough understanding of medicine and a dedication to continuing education. Most people choose to pursue careers in nursing because it appeals to those who like helping others, are curious about the human body, or want to earn a decent living. Being a nurse is an attractive career for people who want to work in the medical sector but don't want to be doctors, surgeons, or specialists because it requires less time than other medical professions.
Even in the best of circumstances, nursing is a demanding profession, so why not attempt something extreme to entirely forget about your job? They can reduce their stress levels by engaging in activities like reading, biking, cooking, and other sports, and motor activities. Anyone can do this in their spare time, much like a crossword puzzle or brainteaser might be a great diversion for five minutes to get your mind going. After you figure things out, you might enjoy a sense of accomplishment.
Have Questions For Us?
We will answer everything.