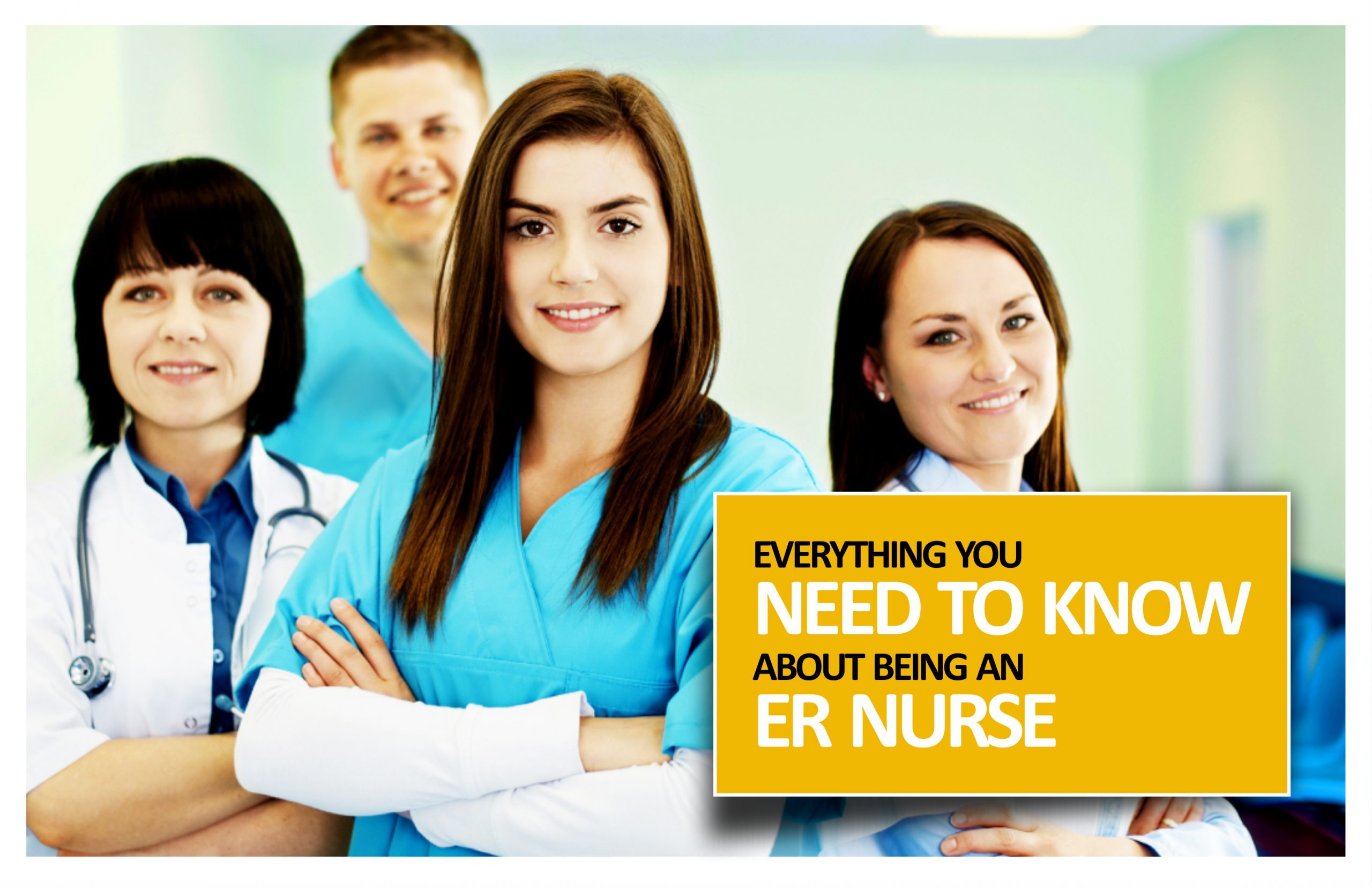 Posted on 12th August, 2022

8 Minutes read
Emergency Nursing: Everything You Need to Know About Being an ER Nurse
If you're thinking about breaking into the nursing industry, you must have undoubtedly conducted extensive research on the diverse specialisations that are readily available. Every specialisation necessitates its own unique set of abilities and characteristics, which is particularly essential for individuals working in emergency nursing. The fast-paced, occasionally challenging environment in which emergency nurses operate requires a special skill set beyond that of a regular nurse. You're contemplating a career as an emergency department nurse owing to your ability to keep composure in stressful conditions. However, the idea of working in an emergency room is frightening. What if you can't take the stress? Is that element of the work overstated? As you learn the ins and outs of emergency nursing, you need all the information to make that decision. Learn more about the individual characteristics required for this intriguing nursing specialization.
What are the responsibilities of emergency nurses?
Patients who need emergency care because of trauma, injury, or serious medical issues are treated by emergency nurses. These professionals must be able to recognise the most effective technique to stabilise patients and relieve pain quickly since they operate in emergency settings. No matter where you work, your responsibilities as a nurse are the same, although in an emergency room, everything is expedited. For the best treatment possible, emergency nurses collaborate with a team of specialists, including radiologists and orthopaedic experts, while often examining and treating patients practically instantaneously.
It's not always exciting to work in an emergency department. In a normal emergency room, the unusual and unexpected cases they handle in a single day may occur over the course of a couple of months. Depending on the facility, emergency nurses may be required to spend a significant amount of time on tasks like room preparation and maintaining electronic healthcare information. Careers in emergency nursing may also include playing a crucial influence on public awareness. Some emergency nurses take part in community initiatives that encourage health and reduce the likelihood of accidents, including those that raise awareness of alcohol abuse, child passenger safety, firearm safety, bicycle and helmet safety, and domestic violence preventative measures.
What skills are required to become an emergency nurse?
In an emergency department, everything happens rapidly, making it essential for nurses to be able to respond effectively. Hospitals are looking for ER nurses who can learn quickly, multitask well, and remain calm under pressure. Even though these nurses must be prepared for anything, they must care for patients who have been in fatal crashes, suffered from strokes or heart attacks, or delivered babies. They also take care of simple things like changing the bed sheets and keeping an eye on the patients' vital signs.
ER nurses must be proficient at setting up intravenous lines, transfusing blood, fixing bones, and stitching wounds to treat these conditions. In addition, they must be well-versed in rescue breathing and cardiopulmonary resuscitation. Like in other specialties, ER nurses oversee screening patients before a doctor gives them medicine. Effective and caring communication with patients and their families is essential because emergency nurses often interact with patients who are in a serious condition or are in a great deal of pain. The critical care unit nurses, who often treat the same patients, need to interact with the emergency room nurses. These nurses work as a team to provide care for patients during their hospital stays and to discuss what patients may do to prevent visiting the emergency department again.
The emergency room may be a stressful place to work, especially if you're not used to working in such a fast-paced setting. If this sounds like you, a career in emergency nursing could be just up your alley. Before you can take on the challenges of the ER, you must first get upskilled with an advanced Emergency Nursing certificate to acquire all the advanced techniques and hands-on expertise.
However, one of the most crucial traits an ER nurse may possess is fundamental to all nursing specialties: empathy. There is nothing worse than requesting emergency services and not being greeted with a smile, being acknowledged, or having someone recall that you don't want them to be there. To be human, you must have compassion, be patient, and not be afraid of anything.
FAQ's
Emergency Care is a vital component of the health system and acts as the first point of contact for many individuals throughout the globe. Especially when there are logistical or financial impediments to healthcare access, individuals may only seek treatment when exhibiting severe disease or injury symptoms.
Emergency nursing is a subspecialty of professional nursing that focuses on the care of patients experiencing medical crises, i.e., those that need immediate medical intervention to prevent permanent impairment or death. In addition to evaluating a patient's injuries efficiently and thoroughly, they formulate a patient management plan. Common duties include bone setting, fluid replacement, wound care, and the administration of several medications.
Have Questions For Us?
We will answer everything.
Get in Touch
We are here
to help you!
Get an answer on courses, costs, careers as well as facilities, entry requirements or just about anything else relating to studying at IHM.
We are here to help you!