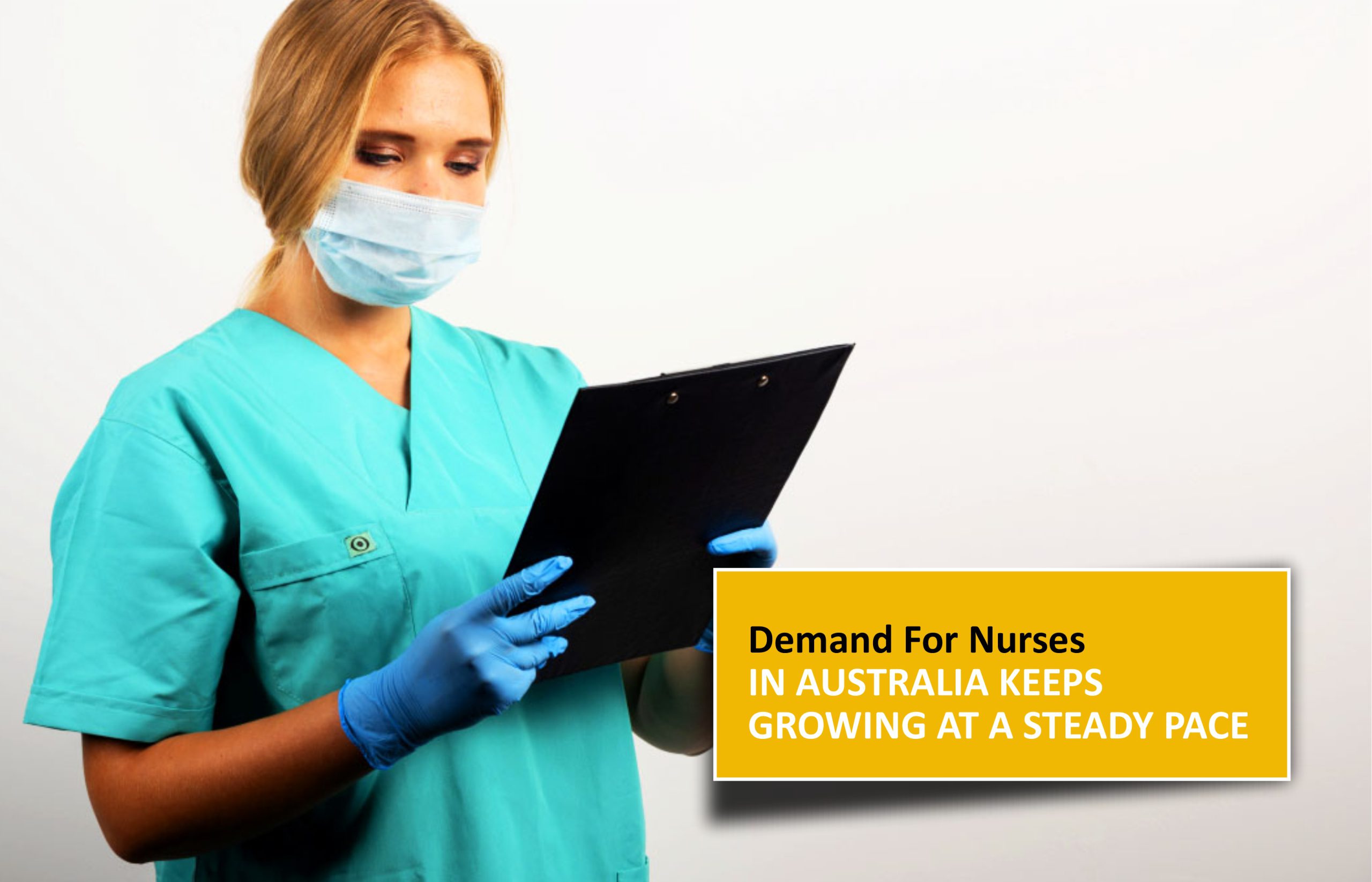 Posted on 18th July, 2022

7 Minutes read
Demand for Nurses in Australia Keeps Growing at a Steady Pace
Healthcare is Australia's massive & fast-growing sector when it comes to the demand for nurses. As per alarming statistics, Australia will face a "catastrophic" nursing shortage over the next decade.
With robust population growth and an ageing population living longer lives with more complex illnesses, demand for registered nurses far outnumbers supply, putting pressure on private and public health care systems.
Why is there a huge demand for nurses in Australia?
Australia's population has more than doubled in the last 50 years and is predicted to grow at a similar rate year after year. The older population lives longer than ever before, putting additional strain on healthcare facilities.
The nursing profession has undergone significant changes due to advances in healthcare and shifting public expectations. The patient loads of nurses are characterised by more complex health presentations. Their capacity to successfully manage them is a key component of meeting the expanding demands on the healthcare system.
The government is enlarging its healthcare offerings to relieve the strain, including constructing several new hospitals. It might require qualified people, necessitating urgent hiring protocols to ensure that complete services are covered. In contrast, the government started targeting Australian nurses, the demand has increased & the search has widened to source skilled migrant employees.
So, what does it mean for registered nurses?
In Australia, nurses are in demand and may always be wanted. As per Health Workforce Australia (HWA), there might be a shortfall of more than 100,000 nurses by 2025 & a deficit of more than 123,000 nurses by 2030. People live longer today and demand more healthcare as they age, which necessitates a steep demand for nurses.
As per a detailed workforce study, the Australian government & healthcare sector hopes to close the deficit to roughly 35,000 people by 2025.
Nurses thus have some real opportunity to seize the moment and advance their careers. Because of the increased nursing demand for a broader skill set, nurses who want to expand their knowledge and certifications will have more options.
What specialisations can you opt for?
A Master of Nursing degree allows healthcare practitioners to master critical skills quickly. Postgraduate diplomas provide nurses with extra leadership abilities, empowering them to make changes and impact nursing care to benefit patients.
Also, nurses in the field now have access to online Master of Nursing degrees due to tertiary education's flexibility. While the general demand for nurses in the future is likely to increase, experts predict that three main areas of vocational specialisation will be in high demand shortly.
1. Aged Care Nursing
There are already nursing shortages in the senior care sector & demand will only grow as the population increases. Official technicians in Australia assume that by 2057, the no. of Australians ageing 65+ might get more than double. As a result, aged care nursing is undoubtedly one of the finest nursing specialisation options.
2. Critical Care Nursing
It is an area of specialty where nurses are in high demand due to its very nature. This high-pressure job necessitates quick reaction times to provide the best possible results for patients. Because of the emotionally demanding nature of this profession, critical care nurses have a high turnover rate, which means they are always in demand.
3. Mental Health Nursing
As per the Health Workforce Australia, they believe that this division may have critical workforce demands & future shortages of resources. There aren't enough nurses to meet demand in this sector, particularly in rural and remote locations, and this could be your chance to help! The nursing field has a promising future ahead. You may make a difference and adapt to the current demand for nurses in healthcare by turning your enthusiasm into a postgraduate degree. Do make use of this opportunity and make your career better with us!
Have Questions For Us?
We will answer everything.