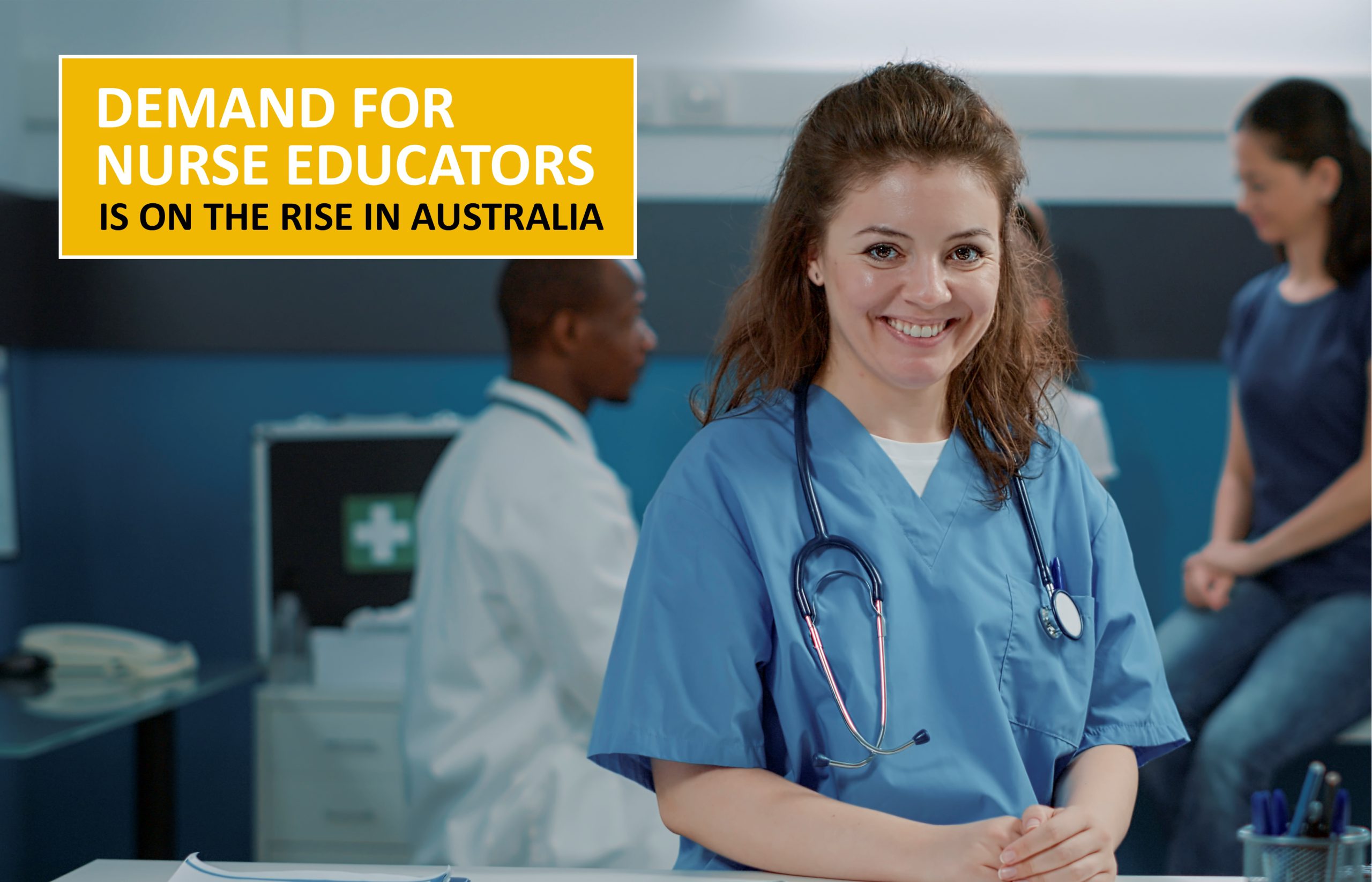 Posted on 11th October, 2022

7 Minutes read
Demand For Nurse Educators Is On The Rise In Australia
Nurse educators, or nurses who train professionals, are now in greater demand than ever because of the severe staff shortages that the country is experiencing in the healthcare industry. As an increasing number of healthcare professionals obtain university qualifications in order to enter the profession and as working nurses pursue additional studies in order to further their nursing career, the field of nurse education is a flourishing sector of employment that shows no indications of slowing down in the foreseeable future. According to the most recent employment outlook released by the Australian government, the number of jobs available for nurse educators is expected to significantly increase over the course of the next five years.
Job advantages: Nurse educators are responsible for evaluating, planning, putting into action, and evaluating nursing education and training. In addition to this, they are responsible for coordinating student placements and providing assistance. In order to give instruction, they make use of a variety of cutting-edge technical solutions, such as telehealth communications and online tools. Although working in nurse education eliminates one from providing direct patient care, the role of nurse educators is essential for the development and improvement of the nursing workforce in the forthcoming years. As the most important aspect of nurse education, nurse educators are in a position to steer and prepare a large number of registered nurses with the knowledge and abilities necessary to implement nursing best practises, ultimately leading to better patient outcomes.
As a direct consequence of this, it should come as no surprise that a profession in nursing education is one that offers a tremendous amount of satisfaction and fulfilment. An appealing compensation, a position that is mainly independent, less stress on the job, and daytime hours as opposed to night shift are all important attractions that are pulling an increasing number of nurses away from the patient bedside and into educational jobs.
Competitive salary package: As a result of the demand for nurse educators in Australia being higher than it has ever been, pay tends to be highly competitive. It is clear that the competitiveness in the nursing profession becomes fiercer as one continues their education. Obtaining a degree in nursing is one definite means of ensuring that one's wage will be increased in the future. Although it will take more time, and you will need to take into account the financial implications, you will discover that degrees are well worth the investment in the long run. compensation competitiveness in the nursing profession becomes more fiercer as one continues their education. Obtaining a degree in nursing is one definite means of ensuring that one's wage will be increased in the future. Although it will take more time, and you will need to take into account the financial implications, you will discover that degrees are well worth the investment in the long run.
Your choice of employment opportunities: You will have access to a wide variety of different job prospects if you decide to pursue a career in nursing education. There are employment openings available for skilled nurse educators anywhere there is a need for the education and training of nurses.
Some nurse educators practise in the higher education sector, which includes vocational education and training, colleges, and universities, where they collaborate as lecturers and researchers. Other nurse educators practise in the lower education sector, which includes hospitals and community health centres. In addition, nurse educators work in clinical settings, including critical care hospitals and medical centres, where they help nurses improve their skills as a component of their ongoing training and education. This may include assisting nurses in meeting the continuing professional development requirements.
Educators in nursing work in every facet of the healthcare industry, from the public sector to the private sector, in both government and non-government healthcare facilities. They also work for privately owned nursing academic institutions, private healthcare organizations, pharmaceutical businesses, and medical device manufacturers. In addition, nurse educators have the opportunity to focus on their specific field of practise, which may include areas such as elderly care, postoperative care, critical care, emergency care, general practise, mental health, drug and alcohol treatment, or even rural and remote nursing.
Leadership opportunities: If you have a nursing education, one of the most satisfying career paths you may take is that of a nurse educator. However, this is only one choice among a wide variety of others available to you. There are a variety of different professions available to think about pursuing if teaching is not something that interests you. Having a degree enables professionals to take on more advanced clinical duties, as well as jobs in management, leadership, and research.
Extensive demand globally: One of the many reasons why working in this industry is so appealing, particularly at the moment, is that there is such a strong need for qualified nurse educators. The shortage of nursing faculty is one of the factors that has contributed to the nationwide nursing shortage. Many educational institutions have admitted that they have turned away qualified applicants simply because they do not have enough teachers to instruct a greater number of students who are interested in becoming nurses.

The anticipated retirement of more than one-third of the present nursing faculty by the year 2025 is going to exacerbate the educational environment even more, which will make the demand for new professionals who are competent in their jobs more urgent than it has ever been.

As a result, those who are interested in teaching might consider pursuing an advanced degree and beginning their professional lives in the field of nursing education at this point in time. There is a need to hire skilled instructors and academics, and employment vacancies in the education sector are now available.

FAQ's

The scarcity of nursing professionals is mostly caused by the following four factors:

Those nurses who have reached retirement age or who have decided to quit the profession.
The growing elderly population will demand a higher standard of medical care in the near future.
A lack of nursing professors is putting a restriction on the number of pre-licensure students who might want to enrol.
Overstressed nurses experience burnout.

According to a salary expert, the average clinical nurse educator's salary in Sydney, Australia is $106431 or an equivalent hourly rate of $51. According to their research on compensation, it is anticipated that a Clinical Nurse Educator's earning potential would improve by 13% over the next five years.

Hospitals that provide general medical and surgical care have the best paying industry sectors for this profession. Nurse educators working in these hospitals earn an average of $123,760 per year. Hospitals for mental illness and drug abuse typically provide salaries of about $94,380 per year.
Have Questions For Us?
We will answer everything.