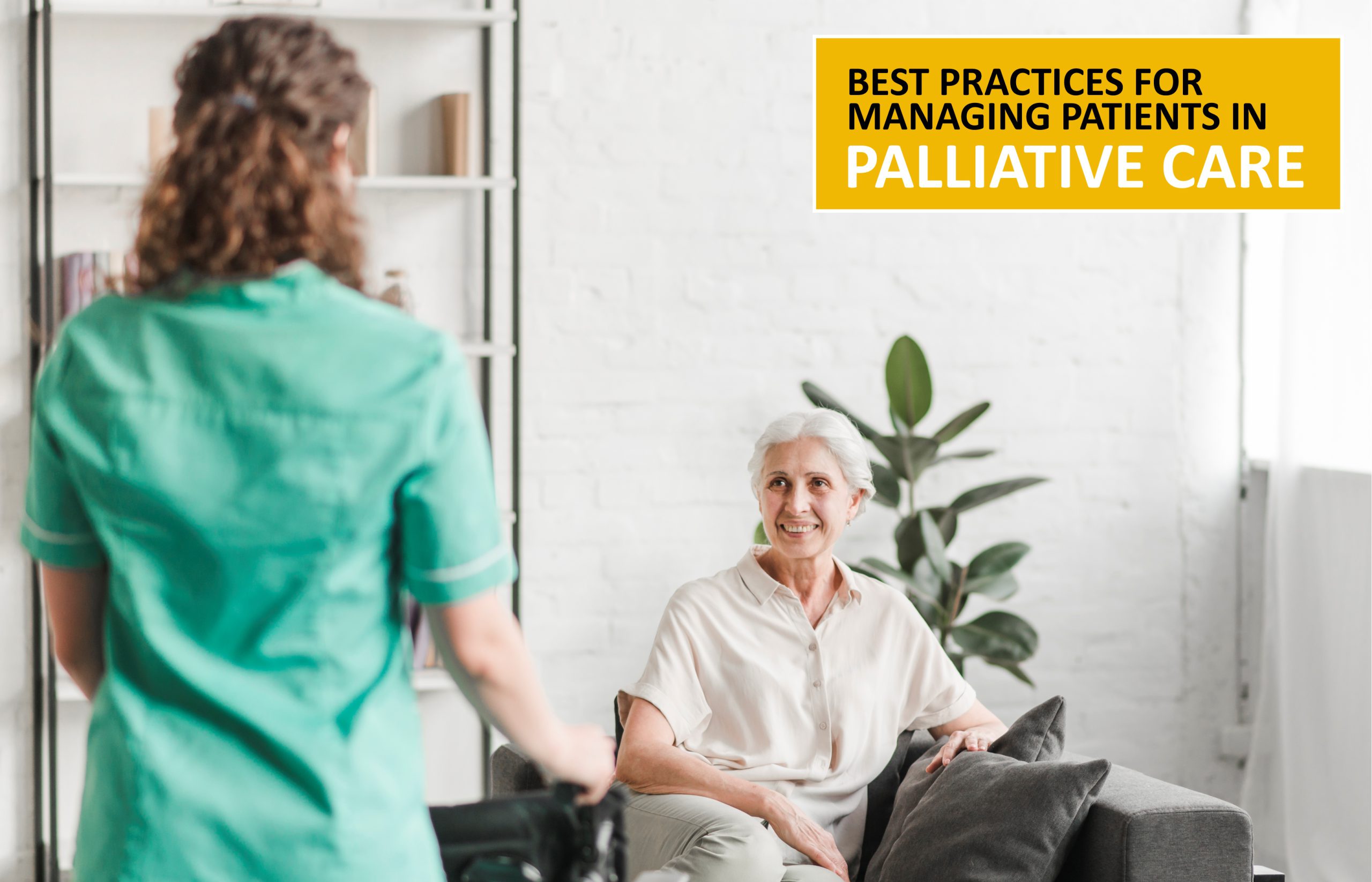 Posted on 27th September, 2022

8 Minutes read
Best Practices for Managing Patients in Palliative Care
With a focus on the individual patient, palliative care aims to improve comfort and ease of suffering. Integrating patient and family objectives into the care plan, encouraging communication, actively managing conditions, fostering transcendence and optimism, addressing patients' and families' concerns of abandonment, and maintaining a therapeutic presence are all essential components of advocacy.
Did you know- According to WHO, the number of persons in need of palliative care is estimated to be 40 million annually; 78% of these individuals reside in low- and middle-income nations. Worldwide, only about 14% of people who need palliative care currently receive it.
Nurses have a responsibility to assist all of their patients reach the highest possible quality of life. It is imperative to show patients that their individual objectives are a top priority by formulating a treatment plan with them at the outset of therapy, especially when dealing with a chronic condition. A patient's discomfort, nausea, and other distressing symptoms might be lessened with the right preparation and execution of a strategy.
The palliative care paradigm is the origin of these attempts to mitigate patients' symptoms. However, we use the term "Supportive Care" because we think all patients, whether they are undergoing treatment for a curative illness, a chronic disease, or a disease that has reached the end of its life expectancy, must be screened, and aided with effective symptom management. It's important to treat the patient, not simply the ailment.
Some specialised techniques: The following are some techniques for managing symptoms that may help a primary care or specialty care nurse provide more holistic care for their patients. According to professionals in the field of palliative or supportive care and hospice, these are the gold standards:
One medicine should be used exclusively for pain treatment. Single agents, like oxycodone and morphine, are less complicated to administer and titrate. Do not take any medications that include acetaminophen in combination.
For patients on long-acting medications, it is important to have a backup plan in case of the pain returns before the next scheduled dosage.
Those with Parkinson's disease should not use Haldol since it is not safe for them to take, although it is the drug of choice for treating nausea in everyone else.
Lorazepam is useful when used with opioid pain relievers.
When administering opioids, it is critical to pair them with powerful laxatives for the patient's comfort.
A proper diagnosis is essential. Urinary retention is one condition that may create agitation that can be mistaken for pain.
Learn about the neurotoxicity of narcotics. Changing narcotics for patients experiencing side effects like hallucinations or myoclonic jerks is usually effective.
The patient may not be absorbing the narcotic effectively if you have to keep increasing the dosage to relieve discomfort. Changes to the current administration method should be considered. One should start with a modest dosage and gradually increase it until the desired effect is reached.
In Australia, a total of 77,000 palliative medicine services were provided to 15,800 patients in 2020-21 (Source: aihw.gov.au)
Some recommendations suggest that managing patients in palliative care ought to be embedded into standard-of-care treatment strategies in order to accomplish the objective of increased usage of hospice services when such services are suitable. One standardised model that has been shown to be effective for patients who have a terminal condition consists of the following practises:
Indicating the prognostic value at the first appointment.
Assigning an individual from the physician's office to make certain that advanced regulations are addressed.
Scheduling a hospice communication visit within the first regular sessions.
Encouraging to explain the patient's prognosis, coping mechanism, and treatment objectives at each transition in care.
Take care not to put the responsibility on the person receiving end-of-life care or the attending physician for the manner in which it is administered.
Clinical education for both physicians and nurses must continue to include the essential components.
One way in which health practitioners can strike a balance between these competing priorities is by ensuring that patients have adequate access to palliative care, along with preventive medical care that is provided in accordance with curative therapy as part of a larger management strategy that is guided by clinical practise guidelines.
When evaluated at an earlier stage in the illness's progression, palliative care offers the greatest chance of success. Effective palliative care not only enhances patients' life expectancy but also minimises the number of avoidable hospitalizations and other uses of medical services.
It is necessary to deliver palliative care in a way that is consistent with the values underlying universal health coverage. Palliative care must be included in the standard offering of fundamental medical services that must be available to all individuals, regardless of economic insecurity, sickness, or age, as established at the national level. For economically disadvantaged and socially excluded population groups, the human right to palliative care must be accounted for within the framework of social security and financial assistance programmes.
Palliative care service delivery includes several different components, one of which is specialist palliative care. However, to create a palliative care system that is sustainable, of high quality,and easily accessible, it is necessary to include it in the healthcare system, communities, and home-based care, as well as the process of supporting healthcare practitioners including family and community volunteer groups. It must be considered an ethical obligation for medical personnel to provide palliative care to their patients.
FAQ's
Patients and their caregivers are supported by palliative care through the utilisation of an interdisciplinary team approach. This involves addressing basic needs and delivering counselling for those dealing with the loss of a loved one. It provides patients with a support system that enables them to live as fully and as proactively as possible till the end of their lives. In accordance with the human right to health, palliative care is specifically acknowledged.
People who are currently coping with a life-threatening condition, such as cancer or heart failure, may benefit from receiving specialised medical treatment known as palliative care. Patients who are receiving palliative care may get therapy aimed to cure their severe disease in addition to receiving medical care for their symptoms, which is known as palliative care.
Have Questions For Us?
We will answer everything.