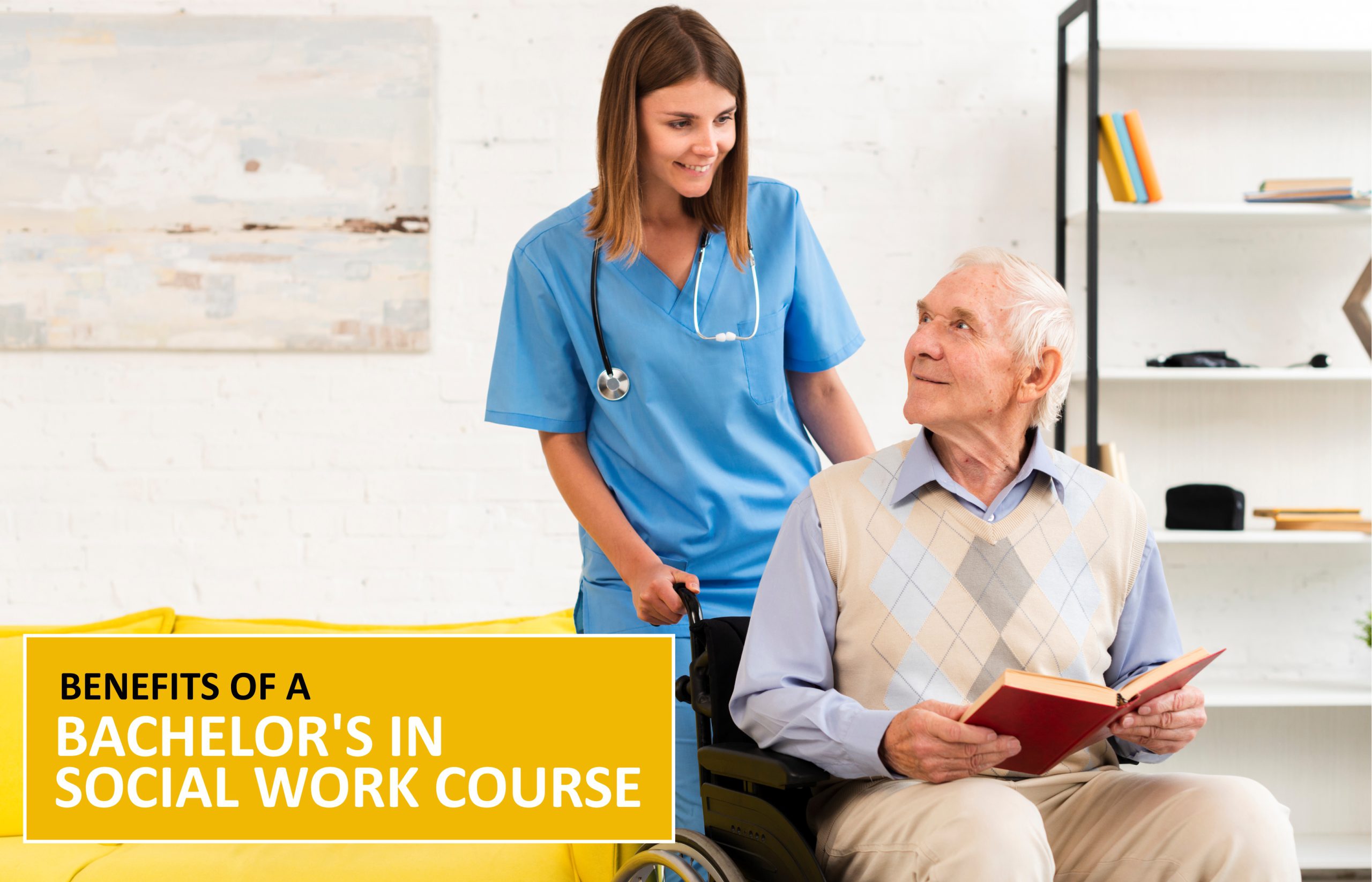 Posted on 21st October, 2022

6 Minutes read
Benefits of a Bachelor's in Social Work Course
Do you find comfort in interacting with other individuals and have a great desire to assist those around you? If you responded "yes" to any of these questions, you must give some thought to earning a bachelor's degree in social work. The discipline of social work focuses on assisting individuals in overcoming obstacles and struggles that they face in their everyday lives. These include but are not limited to things like poverty, dependency, unemployment, handicap, abuse, mental disease, and so much more. In addition, a significant focus is placed on the professional practice of issues of equity and social justice.
Students who major in social work learn not only how to assist others, but also how to educate and collaborate with those individuals in an attempt to improve their living conditions and the places in which they find themselves. Social workers assist members of the community in developing new skills or enhancing existing ones. This has the effect of shifting people's mentalities and encouraging them to adopt a more proactive stance.
Here are some of the benefits of a bachelor's in social work course:
1. You will get the knowledge necessary to have a positive contribution:
Understanding individuals in society and working to make their lives better are the two most important aspects of social work. Social workers pay attention to the requirements of individuals, ranging from young toddlers to adults battling addictions, and then assist those individuals in developing coping mechanisms and improving their quality of life. Since taking this class, not only do people have a better understanding of how to have a constructive influence on society, but also have a greater appreciation for how rapidly one's circumstances may change.
2. Numerous employment opportunities are available:
Earning a degree in social work would provide you with the skills and knowledge necessary to successfully perform a wide range of professional responsibilities. These positions include working with child protection, with elderly people, in hospitals, or in the foster care industry, among other possible settings. These are just a few examples of the many kinds of jobs that may be found in this industry.
3. You may acquire talents that may be used in a variety of contexts:
Employers will place a significant emphasis on the skills that you will develop during the course of your education. Skills such as how to speak with a client, how to solve problems, how to empathise with others, how to work in a team, and how to manage time effectively may be translated to a wide variety of tasks within the field of social work as well as to other fields of employment.
4. Social workers are essential in today's environment:
As there will always be individuals who are in dire need, there will also always be a demand for those who have expertise in the particular subject. This means that job growth would not be too difficult to get, and you will always be capable of accruing a decent variation.
5. You are going to learn things about yourself that you were completely unaware of before:
You will find yourself in unusual and, at times, challenging circumstances while you work in social work. The ability to grasp how to deal with various circumstances will improve as a result of taking this course. You may discover that you are a leading expert in dealing with violent behaviour, or you may discover how to handle your individual emotions at the end of a long day. Either way, you will gain something valuable from this experience. This course will teach you things about yourself that you were previously unaware of, and you will have a better understanding of both your strengths and limitations as a result of taking it.
6. You will cross paths with like-minded community members:
The class will put you in touch with others who are passionate about improving the world and advocating for the rights of others. You will have an opportunity to interact with a wide variety of learners, all of whom have the same goal of influencing positive change in the world and of having a significant impact on the existence of another person. Not every class is able to do so.
7. Great opportunities:
This degree has provided students with a variety of valuable experiences, such as shadowing trained Social Workers, resilience days, excursions overseas, and a wide selection of placement alternatives for the students of this program.
8. It instils in you an appreciation for things at their true value:
The Social Work degree has exposed students to some of the most distressing aspects of human nature, and there may be moments when it will seem difficult to disengage from those aspects of mankind. In spite of this, students will have become more aware of the positive qualities that others possess, which they previously used to ignore. They start practising great gratitude for all that they have and realise that ultimate prosperity does not come from material possessions.
9. The briefings and the organizers of such lectures:
The lecturers are very knowledgeable and have a great grasp of Social Work. Furthermore, they are always available to assist in answering any concerns that you may have. Their willingness to draw from a wide variety of experiences, which they all have, helps to make the lectures they give engaging as well as extremely useful. In addition, the courses are interesting and will contribute to developing a solid grasp of social work.
10. Establishments devoted to simulation:
The last module of the first year will focus on ensuring that you are equipped with the appropriate abilities to deal with service users. The simulation rooms, which are built up as living rooms and medical wards, will provide you with the opportunity to work in them. When you need to hone your abilities in preparation for upcoming placements, you can find these facilities, which are stocked with cutting-edge equipment, to be quite helpful.
Volunteering is one of the most effective methods to determine whether or not a degree in social work is the best choice for you. If you are still unclear about this, one of the greatest things you can do is look into it. You will have the ability to collaborate with people and groups and prioritise the requirements of others above your own needs as a result of this. If you find that helping others via volunteer work is a positive and satisfying experience for you, this is a fairly good indicator that you could also find enjoyment in a career in social work.
Have Questions For Us?
We will answer everything.