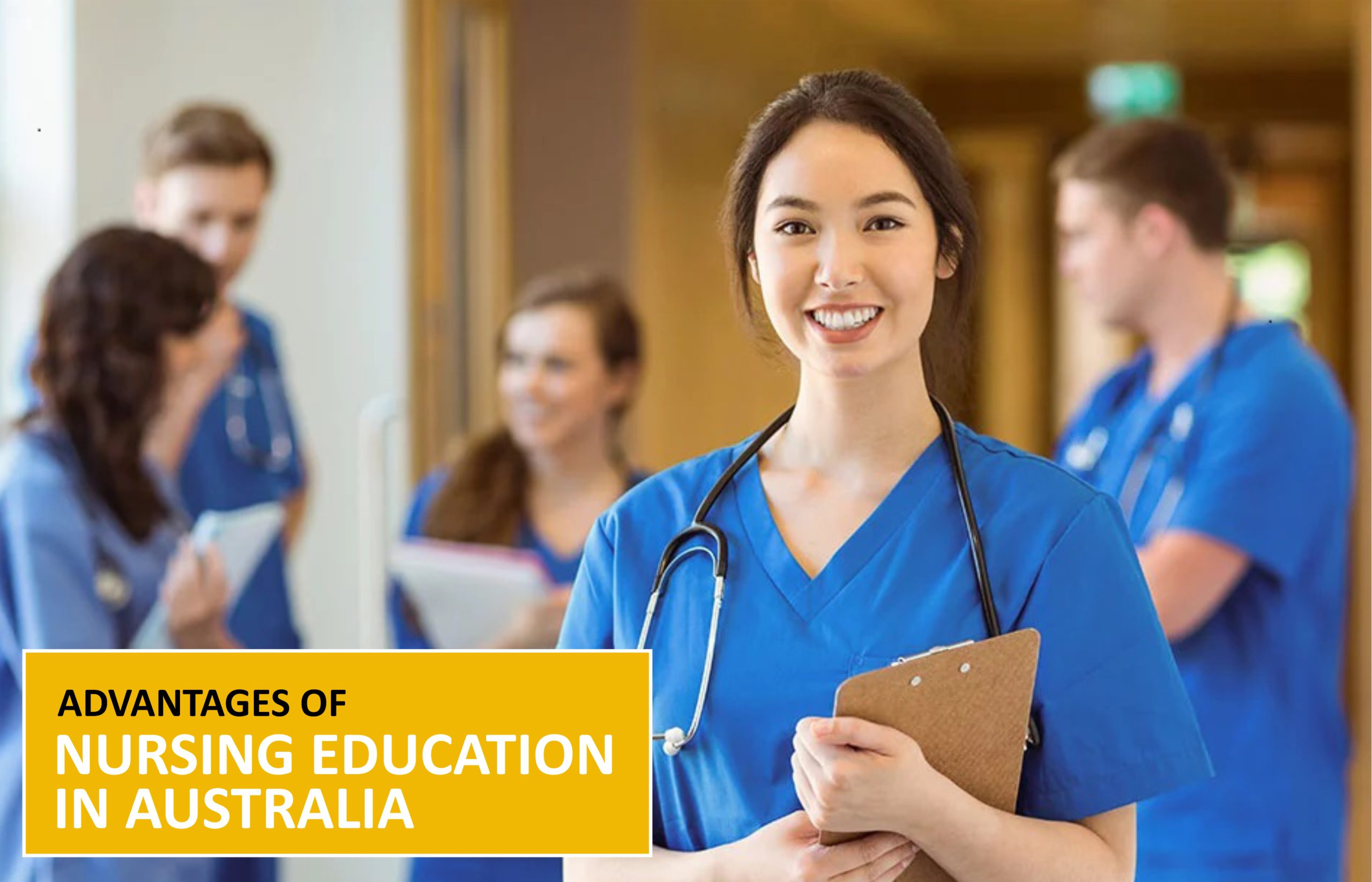 Posted on 21st October, 2021

8 Minutes read
Advantages of nursing Education in Australia
In a developed country like Australia, a career in nursing is rewarding and enriching. Nurses are appreciated and loved by the Australian community for many reasons; firstly, humanity is at the heart of everything that nurses do, and secondly, the nursing profession is known to be ethical, honest, and trustworthy. Nurses make up the largest workforce in the health system, and they are essential to the health care system. Their presence alongside patients during significant life events such as births, illness and recovery and the fact that they interact the most with patients, puts them in an ideal position to advocate for patient care and inform others about patient progress and needs, including doctors. Nurses often are the critical link between doctors and patients.
The nursing programs of Australia are popular and recognised across the globe. Courses such as the Graduate Diploma in Nursing and the Master's in Nursing currently offered at IHM meets global standards and are designed to impart industry-relevant skills to candidates, making nursing a lucrative career option within Australia and abroad. Australian nurses are highly sought after in other parts of the world. The demand for nurses with comprehensive knowledge and practice skills is growing worldwide due to community expectations for quality healthcare and the increased complexity of healthcare delivery. Additionally, the ageing population nationally and internationally, the growing number of people experiencing chronic illnesses, the emergence of new infectious diseases, and the demand for health promotion and illness prevention have all contributed to an increased need for highly qualified and experienced nurses.
As part of some nursing courses offered at IHM, students can practice their clinical skills in simulation laboratories on specially constructed mannequins under the guidance of experienced educators. Student nurses can also participate in professional experience placements to gain the clinical exposure required to prepare them to be safe and competent clinicians and meet the Australian regulatory requirements. Professional experience placements allow student nurses to learn practical skills in the real-world setting and apply their knowledge to practice, learn critical skills, work with other healthcare professionals, and achieve the required competencies for registration. Under the guidance of registered nurses, students can practice the knowledge and skills acquired from lectures and clinical lab sessions into practise with actual patients. Professional experience placements help shape student nurses into future professional nurses by enhancing the students' confidence, clinical skills, organisational skills, and preparation for practice in the nursing profession.
A career in nursing makes for a diverse profession and one that allows our students to grow professionally. At IHM, many of our student nurses commence job opportunities as assistants in nursing and following their completion of study in specific nursing courses, they can register with the Australian Health Practitioner Regulation Agency (AHPRA). AHPRA is the professional body for nursing in Australia. Upon registration with AHPRA, students continue to grow professionally by seeking opportunities for employment in various health practice settings, including hospitals, community health settings, aged care, and long-term care facilities. In addition, graduate nurses have opportunities to work in various nursing disciplines, including medical/surgical, orthopaedics, paediatric, neonatal, mental health, and emergency, among other areas.
There are numerous reasons why Australia remains high on the international list for students to study nursing. Firstly, there is a high demand for nurses in Australia, with predictions that by 2030, there will be a shortage of 109,000 nurses. In addition, healthcare is one of Australia's fastest-growing employment sectors. This demand for healthcare services will continue to increase, given Australia's aging population, which presents plenty of opportunities for new and experienced nurses to find employment and advance in their area speciality. Secondly, opting for a nursing career in Australia makes for an enriching experience due to the high quality of life in the country. In addition, exposure to better working conditions, safety and pay are enticing factors for students to want to study and work within nursing roles in Australia. In Australia, the income of nursing professionals is among the top 20 per cent of all Australian employees in all sectors, with a first-year registered nurse earning on average between $55000 to $72000. Furthermore, studying nursing in Australia opens opportunities for students to bring their family members into the country where children can enjoy high-quality education and excellent health care. For international students, studying nursing in Australia comes with many advantages; it can lead to a rewarding career option, long-term employment, and the possibility of permanent residency for successful applicants.
Related Blog:
1. The Top 10 Pros & Cons of a Nursing Career
2. Ways To Level Up Your Nursing Career
Have Questions For Us?
We will answer everything.