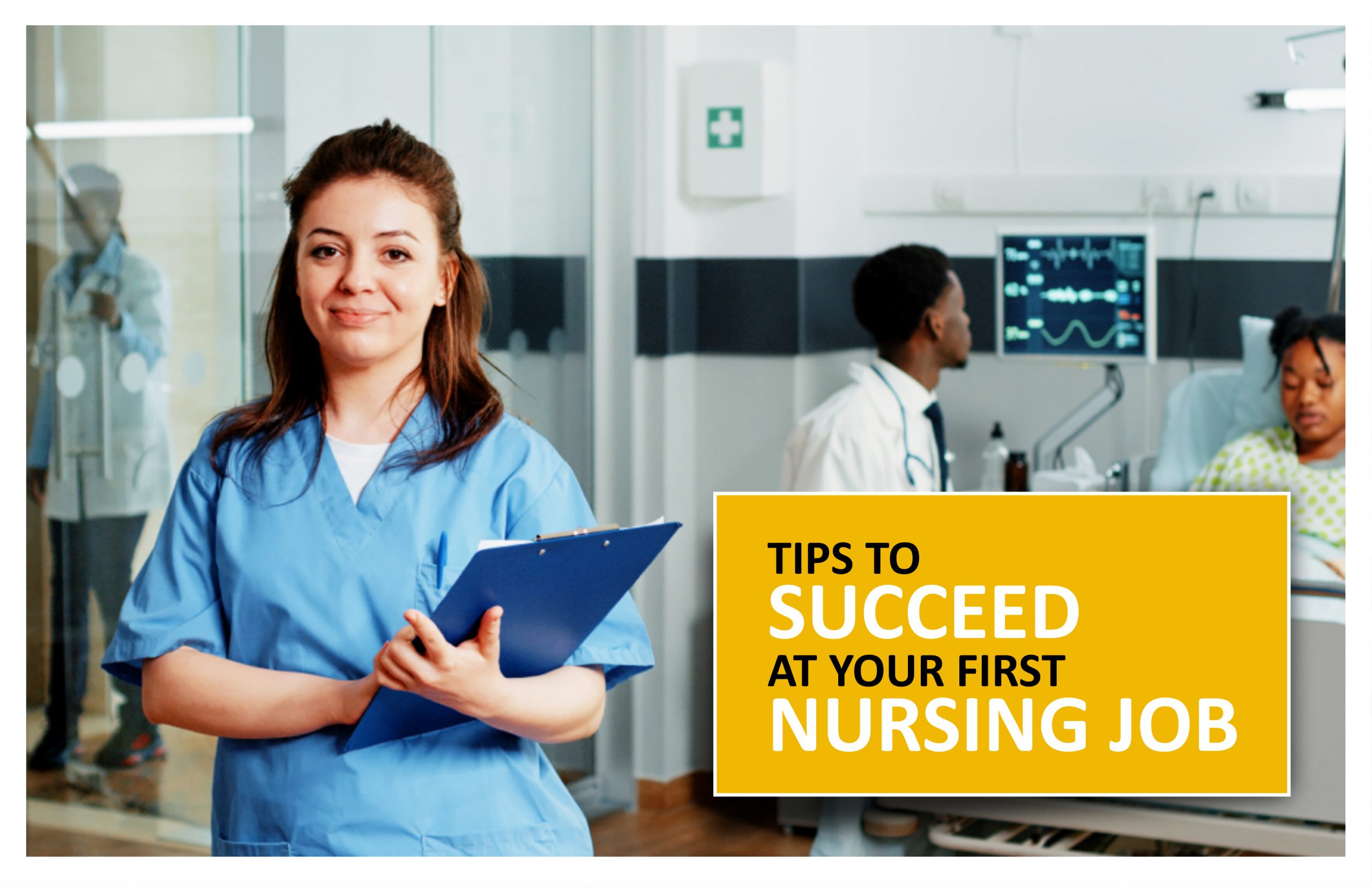 Posted on 16th August, 2022

6 Minutes read
6 Tips to Succeed at Your First Nursing Job
Starting a new nursing career is an exhilarating experience full of potential and hopes for the future, but it is also highly unpredictable. You have just graduated from nursing school and are ready to begin your first shift as a registered nurse. You must be feeling a mix of excitement and anxiety right now. Preparing for success is an excellent strategy to battle anxiety. To increase your chances of success, take the advice of highly experienced nurses. They can assist you in avoiding possible blunders and propose tactics that will facilitate a seamless transfer to your new surroundings. Here are six ideas for achieving success in your first nursing position.
1. Be open to learning: One might genuinely think that if you have graduated from nursing school, you are approachable at this stage. Never allow this practise to slip away. You will be surrounded by experienced nurses with an abundance of expertise. Consider taking in the lessons they are willing to teach you and start employing them right away. Work closely with your chosen mentor or preceptor to benefit from their knowledge. Mismatches can happen, so if you're not clicking, talk to your unit manager about being assigned to a different mentor. Once official mentorship has ended, look for informal mentors.  Find experienced nurses who are ready to mentor you and provide you nursing interview tips as well.
2. Observe and understand: In your nursing job, situational awareness will serve you well. Ensure you devote enough time to observing the unit. Observe the team's communication style. Observe how the team collaborates. Adapt your working and communicating methods appropriately. Remember that it is your responsibility to adapt to your environment, not the other way around. You can learn a lot by observing how experts reach an agreement, interact with challenging patients, and engage with doctors. Examine what works and what doesn't.
3. Show your reliability: Being punctual is a terrific way to demonstrate your reliability. Even better, arrive at least 20 minutes ahead of time! Prior to your shift, review patient records and get input from your preceptor. Taking the initiative is one of the most important things you can do to show that you are the ideal candidate for the position.
4. Have some fun: In an ethical and professional manner, humour can be an effective method to calm your patient and yourself as well. Find happiness and satisfaction wherever possible.
5. Participate as a team player: This requires minimal elaboration. Offer to help before being asked. Aid your fellow nurses. You will immediately earn the confidence and admiration of your colleagues. Develop goodwill by volunteering to assist co-workers who are in a challenging position. Hopefully, they'll reciprocate. Learn about your colleagues. Socialization is crucial. You don't have to go out to dinner every night or send birthday presents, but you should get to know people. As a novice nurse, you are prone to getting dumped on, thus being a team player might help you avoid this.
6. Give it time: It is typical for a novice nurse to feel overwhelmed. Nursing school can only provide so much preparation. Accept adversity, adapt, be flexible, and develop. This is the beginning of what should be a long and fruitful career, so allow yourself time to adjust.
Cultivating an effective attitude might help you think clearly about your nursing career. While being a new nurse might be difficult, remember that you have countless reasonable explanations to be proud of yourself.
FAQ's
Provide an example from your experience that demonstrates how you handled a difficult circumstance. If you lack prior patient nursing interventions, go to a period in your life when someone was upset with something you did.
I should be hired because I have a strong desire to work specifically for your medical centre. Firstly, I like your mission and vision statement, the assertion that you deal with impoverished communities, and the fact that you essentially do not send anyone away. In the current era of inequality, this is a genuinely remarkable achievement. Furthermore, I live within a 10-minute walking distance, making it simple for me to arrive at my job as a last-minute substitute or if assistance is required in emergency circumstances, essentially at any hour. And lastly, I know the management of this establishment, and I truly enjoy how they operate it. I feel my drive is stronger than that of other job hopefuls since I essentially chose this opportunity myself.
Have Questions For Us?
We will answer everything.
Get in Touch
We are here
to help you!
Get an answer on courses, costs, careers as well as facilities, entry requirements or just about anything else relating to studying at IHM.
We are here to help you!