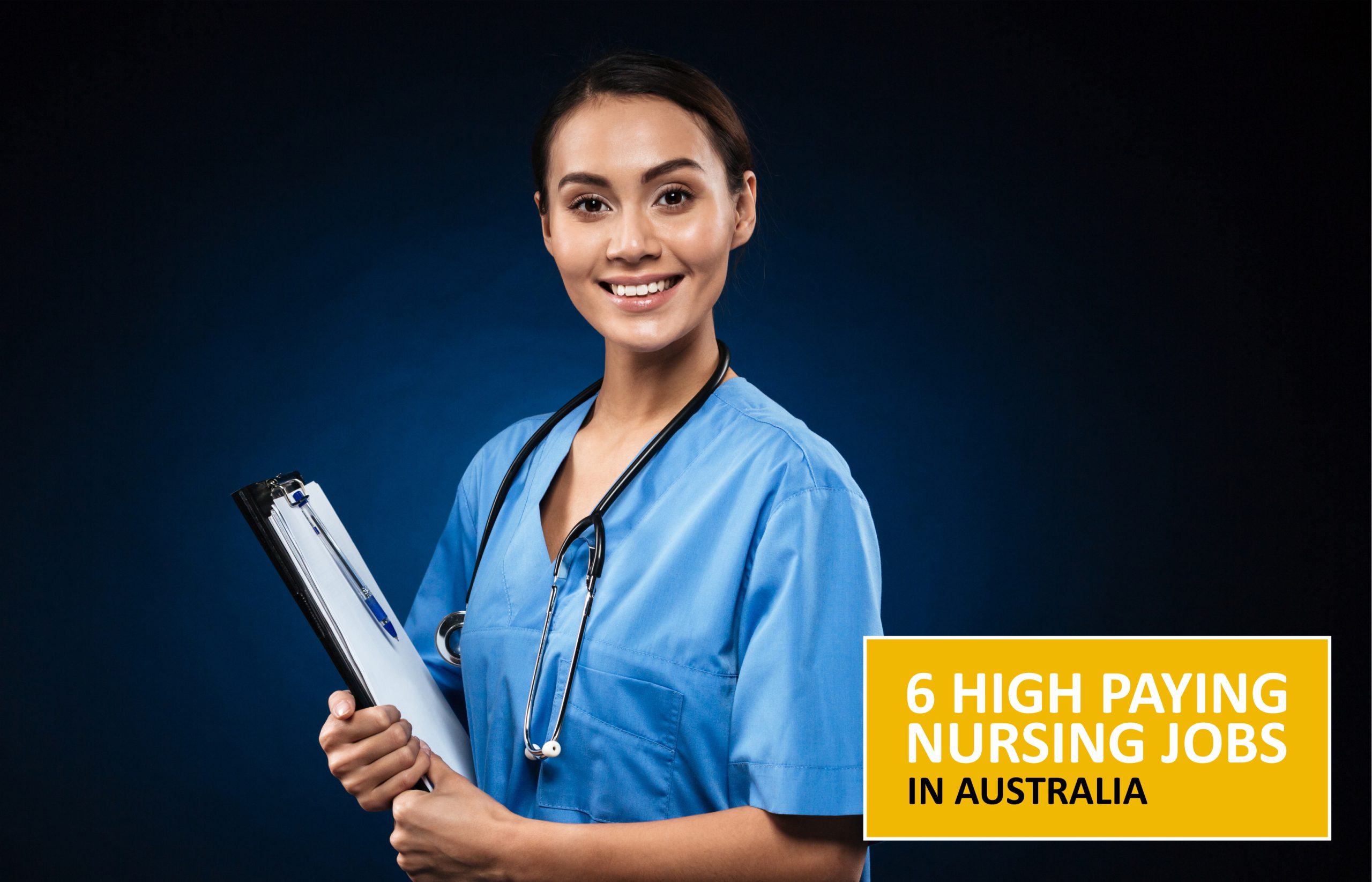 Posted on 23rd September, 2022

5 Minutes read
6 High Paying nursing Jobs in Australia
The nursing profession is in great demand and has consistently been shown to be both financially and psychologically satisfying for its practitioners. It's a chance to improve people's lives and health in profound ways.
If you are an international nurse interested in a career in Australia, you will be required to first register with the competent authorities before you can continue applying for jobs in the healthcare industry. The curriculum has the potential to significantly alter nursing students' professional values and principles. To help you decide which career path is most suited for your skills, experience, and objectives, we've compiled a list of the top 10 highest-paying nursing jobs in Australia.
1. Certified Registered Nurse Anaesthetist: It's hardly surprising that anaesthetists have such high salaries, given the high stakes and complex nature of their work. Surgeons rely on the medical expertise of anaesthetists to provide patients with a general or local anaesthetic before, during, and after surgical procedures.
According to PayScale, the average salary for an Anesthesiologist in Australia is AU$194418.
2. Clinical nurse manager: The role of a clinical nurse manager is to oversee and direct the activities of nursing staff. Their management responsibilities include not just healthcare but also reporting and financial arrangements. Care policies, staffing schedules, hiring, and performance reviews are all common responsibilities of clinical nurse managers. They often collaborate with other medical professionals such as physicians and specialists in interdisciplinary medical teams.
The national average salary of clinical nurse managers in Australia is $111,668 as per the data collected by indeed.au.
3. Registered mental health nurse: Nurses with specialised training in mental health may provide medical diagnoses, help develop treatment plans, and even write prescriptions. They also do their best to inform patients and loved ones of the many treatment choices available for mental health issues. A registered nurse with a speciality in mental health might work in a hospital's psychiatric ward or set up their own private practise.
The median earnings for a mental health nurse in Australia is $97,537 per year, or $50.02 per hour, as reported by au.talent.com. Average annual salaries range from $79,450 for entry-level workers to $119,436 for the most experienced employees.
4. Paediatric Nurse: Nurses in this speciality assist paediatricians in caring for patients. They may be found working in a wide variety of settings, including hospitals, schools, private clinics, and more.
In Australia, a paediatric nurse can expect to earn a median annual pay of $96,262, or about $49.37 an hour. au.talent.com reports that annual salaries range from $79,964 for entry-level roles to $121,195 for the most senior employees.
5. Neonatal Nurses: These caregivers are experts in the care of infants. They provide care for newborns in a nursery setting before the infants are transferred to their parents.
According to salary experts, it has been estimated that a neonatal nurse practitioner with 1-3 years of experience can expect to make an average income of $107,806. Consequently, a senior-level neonatal nurse practitioner with eight years of experience can expect to make an average income of $191,603.
6. Orthopaedic Nurse: Nurses specialising in treating patients with mobility issues due to illness or accident. They help in the areas of surgery, physical therapy, and rehabilitative services for these patients.
Working in the nursing field requires a combination of individual and organisational capabilities. Nurses who have mastered their craft might well be offered promotions and higher pay as a result of their expertise.
Have Questions For Us?
We will answer everything.