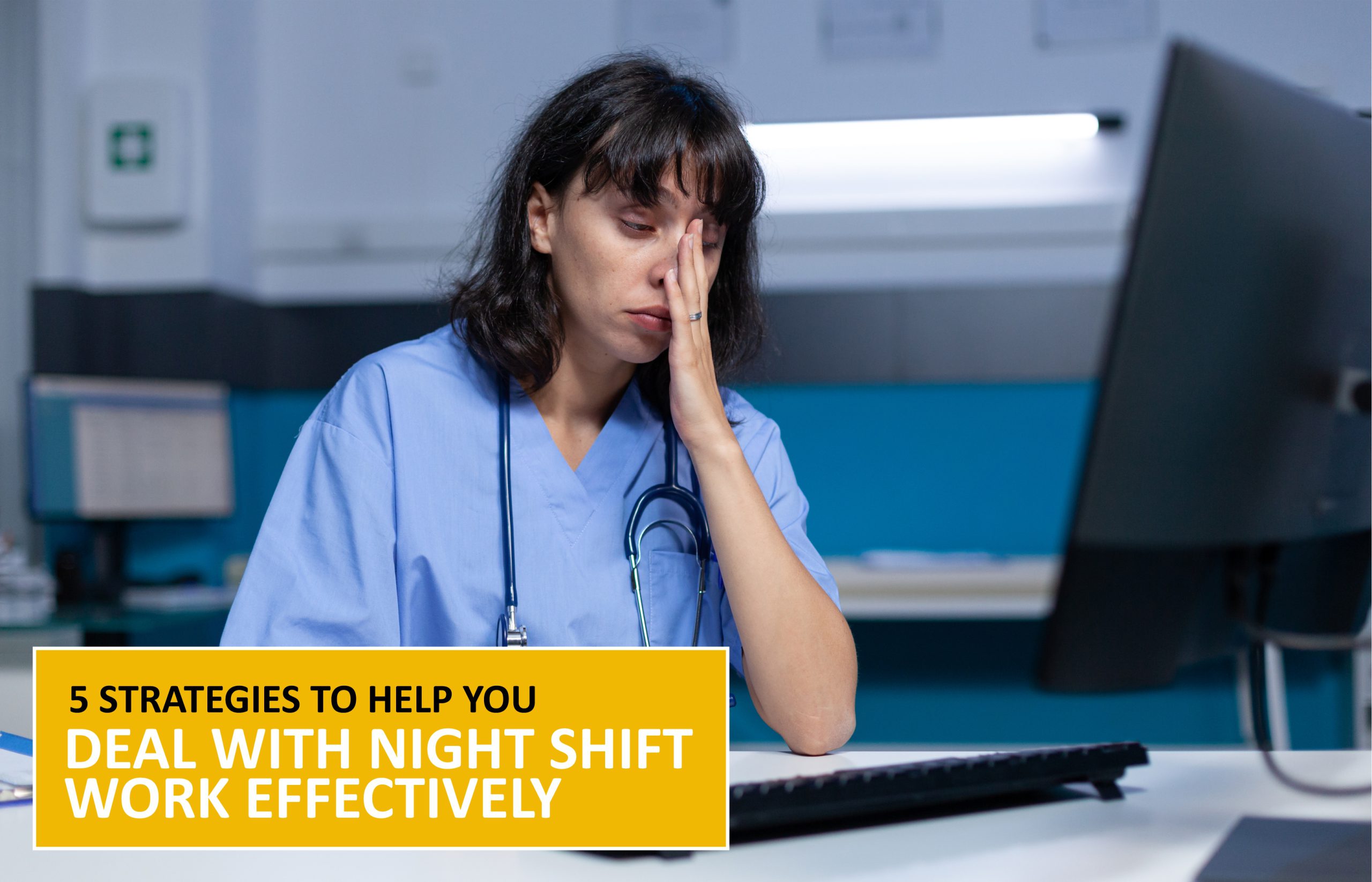 Posted on 19th October, 2022

8 Minutes read
5 Strategies to Help You Deal with Night Shift Work Effectively
What is it that firemen, nurses, truck drivers, emergency responders, and those who work in aviation traffic control all have in common? A substantial number of them are required to perform overnight shifts. It doesn't matter whether you're an early bird or a night owl; working night hours can be overwhelming for everyone. We have gathered a list of alternatives that people can use to effectively manage the stress that comes with working night shifts.
Newly recruited nurses are often expected to perform the night shift in healthcare settings such as hospitals and long-term care institutions. Although some people thrive on the nocturnal lifestyle, most nurses find that working overnight shifts is difficult. It's possible that a significant portion of your time off will be spent recuperating from your time on the job. There are, however, methods that you may work the night shift while maintaining your health and taking care of your own health will allow you to provide better care for the people you are responsible for.
1. Set a Sleep Schedule:
The most important thing you can do to get your body ready for the long, taxing hours of a night shift is to establish and stick to a regular sleep schedule. Throughout the next several days, take short naps. Then, on your very last night off, stay up as late as you possibly can, sleep in as late as you want, and maybe even take a long nap before your first shift. It is beneficial to combine your shifts together and maintain a night shift sleep routine even on days when you do not have a shift scheduled. Your body will be able to adapt to one schedule this way, rather than always having to adjust to new conditions.
Supporting research: According to the researcher, Paola Ferri, he published a report titled, The impact of shift work on the psychological and physical health of nurses in a general hospital: a comparison between rotating night shifts and day shifts, Risk Management and Healthcare Policy, Sept. 14, 2016, which concluded that nurses who worked rotational hours, consisting of a series of night shifts followed by day shifts failed to improve levels of job satisfaction, decreased quality and quantity of sleep, and higher incidences of getting exhausted. They also had a significantly increased likelihood of suffering psychological and cardiovascular problems.
2. Caffeine must be used in moderation:
Those who are attempting to retain the levels of energy necessary to carry out their tasks throughout the night will find that coffee and tea are essential to their success. However, in order to prevent falling asleep in the midst of your shift, you must be sure to drink just in moderation. It is advised that you avoid consuming caffeine in the morning if you want to avoid the problem of being unable to fall asleep when you arrive home.
According to a sleep expert, Jessica Vensel Rundo, the majority of us are awake throughout the day as a result of the internal clock that is enclosed inside our bodies keeping us alert. Therefore, regardless of how exhausted you are after working through the night, your body's signals for wakefulness will always compete with your urge to sleep.
3. Exercise:
It is essential to have a regular fitness regime if you work the night shift since doing so may raise your chance of developing cardiovascular disease as well as other diseases. Some individuals have trouble falling asleep after exercising, so it's best to get your workout in before your shift rather than after. A balanced exercise routine that combines cardio, strength, and flexibility training may lower your risk of developing heart disease and other chronic health issues, help you maintain a healthy weight, and enhance your mood and cognitive functioning.
4. Make sure that everyone in your home is on board:
Involve members of your family or your household in the maintenance of your routine. They will be able to see when you will be working when you will be sleeping, and when you will be awake if you print out your work and sleep schedule and display it on the refrigerator. You should make an effort to select a daily meal that you can have with members of your family so that you can continue to feel connected even on the days that you have to work.
5. Maintain a consistent schedule:
It's a good idea to make a timetable for the other components of your day-to-day life by making use of a time-management technique. You are able to schedule your self-care activities such as working exercise, practising yoga or meditation, or even taking a sleep, and you are also able to schedule your chores around the home such as cooking and cleaning.
The simplest way out: Making the transition to working the night shift might be difficult at first. Finding a roadmap, a colleague, or a friend who can provide guidance or can just listen to your problems might be extremely beneficial. You could also find it useful to formulate your unique nursing philosophy so that you have something to fall back on when things become difficult. It is essential that you look for expert assistance in the event that you need guidance on the management of any ongoing psychological or physical issues.
What will happen if you follow the aforementioned strategies?
You are now in a position to achieve success, which means that you can respond gracefully to difficult circumstances and take pleasure in the interpersonal relationships you develop while working the night shift.
Have Questions For Us?
We will answer everything.