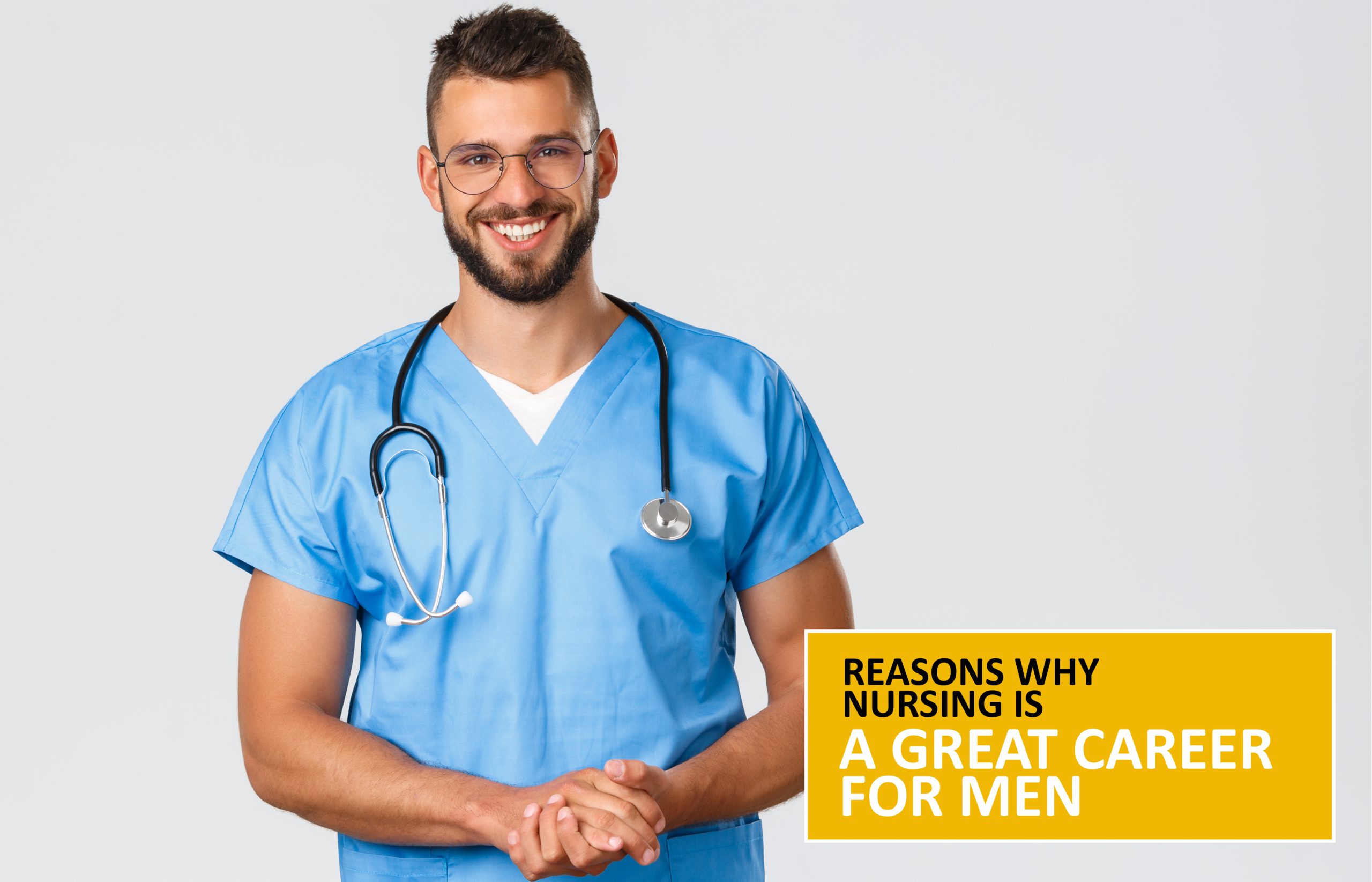 Posted on 27th September, 2022

7 Minutes read
5 Reasons Why Nursing is a Great Career for Men
Most people carry the false perception that nursing is a profession that is only dedicated to women. As a result, being a male nurse is something that tragically continues to be clamped down. Since there are numerous advantages associated with male nurses that many do not take the time to consider, we have decided to list some of those advantages below.
Why is nursing a great career for men?
1. Make an impression in a positive way: The profession of nursing has traditionally been represented by a larger percentage of women. This might be attributable to the history of nursing, which stretches back to the 1800s when Florence Nightingale gathered women to care for British troops. During this time, the profession was known as "nursing." By default, nursing became a profession that was deemed to be appropriate for women, in the same context as becoming a receptionist or a professor at a school.
Despite this, it is not always the case that only women should work in the nursing profession. The proportion of men working as registered nurses is steadily increasing from one year to the next, and the fact that they are doing so makes them noticeable in a positive sense. When a man chooses to become a nurse, similar to when a woman chooses to pursue a profession that is generally predominated by males, it gives them the opportunity to defend against the established quo and demonstrate their ardour and dedication for their chosen line of work.
2. Male Patients: It's common knowledge that some female patients prefer not to have a male nurse there, but it's easy to overlook the fact that the reverse is also true. The vast majority of males would rather have a male nurse than a female one. A guy also has a considerably more difficult time securing a male nurse due to the widespread availability of female nurses. Therefore, he is usually grateful whenever this occurs.
3. Choice of Specialties: As you gain additional registered nursing experience, you can draw the conclusion that there is a distinct nursing specialty in which you are primarily interested or that you are motivated to work with a certain treatment regimen. If so, there are several options for specialisation.
For instance, you could opt to pursue a career as a trauma nurse, a certified registered nurse anaesthetist, or cardiac nurse. As an alternative, you could determine that a job as a nurse educator or nurse advocate is best for you. The variety of nursing specialisations accessible to you will allow you to achieve your goals no matter what they may be.
4. Easier Job Search: Given the gender imbalance in nursing, nursing career for men will likely get priority for employment in healthcare facilities. In the same way, male applicants may have an easier time getting into nursing school than female ones, just because there are fewer men applying overall.
5. Career Progression: Although working as an RN can be a satisfying and meaningful job in itself but there are alternatives to advance your expertise and take on more responsibility if you so want. You can take on more independent roles and demonstrate your leadership talents by taking classes to become a Nurse Practitioner or a Doctor of Nursing Practice.
Of course, if you choose to further your profession, your earning potential grows, so does your employment prospects. However, career possibilities for Nurse Practitioners, Nurse Midwives, and Nurse Anaesthetists are predicted to improve by 45% between 2019 and 2029, implying that you will have lots of options to work as an advanced nurse.
You may be asking why fewer guys are opting for careers in nursing since there are so many positive aspects of opting for a male nursing career. It's mostly because of the stigma. But if you want to be a nurse and aren't too concerned about what other people may say, then you must definitely pursue this career path.
FAQ's
Nationwide demand for registered nurses, particularly those with a Degree in nursing, is and will remain strong. The U.S. Bureau of Labor Statistics predicts that employment for registered nurses will increase by 15% between 2016 and 2026, which is a much greater pace than the national average for all professions.
To be very frank, it seems that the benefits of this line of work outweigh the drawbacks. There are several advantages to becoming a male nurse that aren't available to female nurses. And now, at last, males are starting to acknowledge it as well. Moreover one-fifth of today's nurses are male, and that percentage is rising. Many men are now starting to see that nursing is a noble and rewarding career option.
The discipline of nursing has been plagued by an unfavourable public perception. Nurses are female while doctors are male. There has been a shift in recent years, however, and currently women make about half of all medical school graduates. Although males only make up around 7% of the nursing workforce, that percentage is on the rise. And here's why. There is a statistically significant gender gap in the average length of time spent working as a nurse (5.5 years). Perhaps some of the female students leave school to start a family and never come back. Maybe they're looking for similar employment because they view it as a steppingstone to a different profession. Whatever the case may be, nurses in the past have not been adequately trained for a long and fruitful profession. As a career option, it appeals to men. As a result, more medical facilities are actively hiring male nurses. Fewer excuses for absences and less emergency leave are available to them.
Have Questions For Us?
We will answer everything.